On Thu. night, June 18, we filmed a reading of Polar Bears, Black Boys & Prairie Fringed Orchids as part of the nationwide Juneteenth Theatre Justice Project that began airing on June 19 (Juneteenth). We left the video up through Mon., June 22, when we hosted a virtual talkback. Take a look at what the cast and director have to share about the project, and listen in to questions from the audience:
Also airing Juneteenth was a Catalyst Sessions interview with David M. Jenkins that covered a range of topics like the Juneteenth Project, the role of theater in social change, and where you can expect us to head (and not head) in the coming months:
On that note: you'll notice Jenkins offers "big news on Monday" above and you may have seen him make reference to that elsewhere. That was, in fact, the plan but the rise in cases of covid-19 over the past week has forced us to delay that announcement. Stay tuned after the 4th of July weekend, when we hope to be able to make our next steps official. We have some very exciting plans ready to go, not quite a return to the Shimberg but we assure you it beats the heck out of Zoom, but of course our first priority is to the health and safety of our performers and audiences. It was beyond disappointing to see that spike, but as we've said we are keeping things flexible so that we can remain reactive to the latest developments and recommendations.
Please ensure that you are doing all you can to help contain the spread of the virus by wearing a face covering, maintaining social distance, regularly washing your hands, avoiding touching your face, and staying isolated if you are feeling ill or have been in contact with confirmed or suspected infected folks. The longer the public ignores these protocols, the longer places like Jobsite will be shut down and our artists unemployed.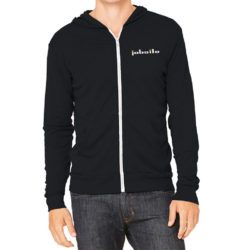 New merch is in! We have a limited quantity of lightweight, super comfy zip-up hoodies that we're selling as a fundraiser to help us get through the foreseeable future with no ticket revenue. We appreciate your support in this very difficult time!
Artistic Associate Salem Brophy wrote this heartfelt post as to why the Black Lives Matter movement means so much to him.
We continue to scour our archives for old show footage, interviews, and so on to add to our One From the Vaults series. There are some real gems here. Recently added are an HD-quality review reel for The Maids (2016) and a behind-the-scenes peek at boom! (2010) that includes a bit of a scene. If you are unfamiliar with vimeo playlists, select the down arrow at the top left to choose a video, or the forward arrow at the top right to advance to the next in the series.
Do you have special  request? Something you'd like to see more of, or see again? Someone you'd like to hear from? Drop us a comment!
WE NEED YOUR HELP. If you're enjoying this content while the theater is shut down we urge you to leave a "tip" by donating any amount whatsoever. Every $1 counts at a time like this. Whatever we can raise now while we cannot sell tickets (where 65% of our annual revenue comes from) will help ensure that once we can re-open that we won't skip a beat. It is now clear to us over three months into to the closures that most folks will not pay/tip/donate for online content, but we must find the way to carry on if we are to return intact.