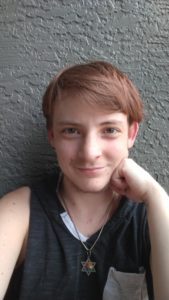 Salem "Newt" Brophy is an ensemble member and Artistic Associate whom you might remember from roles in HIR and Othello, as well as backstage work on a number of productions including managing all of the prop and quick-change mayhem last season with The Complete Works of William Shakespeare (abridged) [revised]. He approached David Jenkins early on in this current movement about what Jobsite planned on doing, and asked if he could submit this letter. We're hoping to help be part of the solution, not just in relation to this moment but in how we can be part of making the theater a more egalitarian space for everyone. Stories like Salem's, and the conversations that may result, are part of that work. We can, and must, do better.
A friend of mine was tear-gassed in Lakeland last Sunday. His name is Sam.
Another friend of mine, from my home state established on Narragansett land, has close to no friends on her majority-white campus, and most of the ones she has do not understand or care about her fear. Her name is Amber, and I've known her since she was in kindergarten. When I think of her, I still see a baby, with a gap in her teeth and round cheeks, despite the fact that she's a grown woman now. Someone who would want to hurt her won't see what I see.
I sat all weekend listening to a police scanner, watching streams, refreshing the Twitter of the Tampa Bay Times, just trying to stay ahead of it all, for Sam and for others I know who are out there. I don't want them out there — more than that, I don't want them to have to be out there, let alone in the midst of a plague. But what other avenue is there?
Every attempt to secure accountability since before Trayvon Martin's murder has ended the same way: no justice.
My partner's dad is a Black man living in Boston, one of the worst places in the country to be Black. My girlfriend has numerous horrifying stories of how he has to navigate the world, how once cops are added to the equation, the stakes immediately become dire. Another friend is afraid every time she watches her brother leave the house. Yet another friend lives in Los Angeles, and has chosen to brave the brutality of the LAPD, despite the certainty that they will directly target him. I asked him to call me and keep me on the phone while he drives home, so that there will be a witness if he is stopped. He has had squad cars and helicopters called on him before, guns pointed in his face.
These are the realities for every person of color in this country. No Black American lives in peace.
I am so tired of being afraid for my friends and chosen family. They, like other Black and Native Americans, are even more tired of being afraid.
Now, in this moment when they are once again demanding justice, my people yet again demand peace and quiet. My people did not listen when they were quiet. My people ignored them when they were peaceful. My people were not satisfied when they were non-violent. My people demanded respect for flags, badges, monuments, and property, but were silent when peace was not allowed Black and Native communities. Now, my people are watching our cities, the ones we built on their bones, burn, and we have the nerve to be aghast. We have the nerve to be afraid.
My people are the ones who built this moment; we piled high the sticks and left the matches out, then left everyone else out in the cold. We do not have the right to indignation when they light the fire.
My friend Sam was tear-gassed last Sunday. It will not be the last time. In this moment, my friends and chosen family are afraid, and I am afraid for them. But I know that this is the right path, because white people are afraid too. Not for our lives, but for our status. It's time we surrender it. If you are silent, you are complicit.
My fellow white people (I hate that phrase) who call themselves "liberals" and "allies": now is the time for action. Stand beside or step aside.
I stand unequivocally with the protestors. I stand against police brutality, and acknowledge the brutality inherent in the policing system. I pledge my commitment to centering Black and Native voices, artists, and stories in my theatrical and artistic pursuits. I pledge to reify my ideals and values, and vow to confront my own internalized bullshit. I will not half-ass or compromise on my efforts toward justice and decolonization.
Black Lives Matter. No justice, no peace.