Allow me to take a moment to brag on a few folks whose work largely goes without credit. I don't mean to say that's something special to this show, it's just that often the work that goes on behind the scenes is unnoticed. Perhaps, in a way, that simply means they're doing their jobs well. So well that it's seamless, swiftly carrying the audience away to rural Ireland in 1936. Certainly folks would notice if light and sound cues began going out of sequence, or if a garment was barely hanging on an actor by a safety pin, or if lights or scenery were jarring the audience out of the world of the show. We often say design is ignored unless it is bad.
Not only is Dancing at Lughnasa a show that showcases the talents of five of our best regional actresses (I almost loathe to use the term, but it's less clunky than "women actors" when I have to be specific), it does the same for the region's design and technical staff.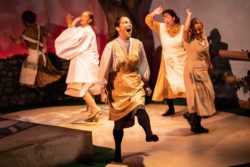 Katrina Stevenson often pulls double duty as costumer and actor (just as I typically do my own sound and video), and once again we see why her fine work both on and off stage is always so lauded by the press and our patrons. It's no simple feat to dress 8 actors while you're also trying to breathe life into a character of your own (trust me, I tend to completely shut down/neglect everything else around me while I'm preparing to open a show as an actor), yet by the time we got to tech weekend you wouldn't have guessed that it was any kind of effort for her at all.
Jo Averill-Snell hasn't worked a whole lot for us as a lighting designer, but we're working to fix that — we've already hired her for three shows next season (Edgar & Emily, (abridged) <revised>, Constellations). You may remember her exquisite lights this time last year in Cloud 9. Here she once again has gone above and beyond to set the reality (or, perhaps more accurately the non-reality) of this world, whisking us from one mood to the next on a razor's edge. Sometimes gently, sometimes in stark contrast to what just came before it. When Jo and I first met and she asked me what I was seeing, I simply told her that I didn't want her to be held to any kind of rules that would come with any kind of reality, since this is a memory play the sky could be the limit in terms of what she wanted to do. She smiled subtly and said, "I was hoping you'd say that."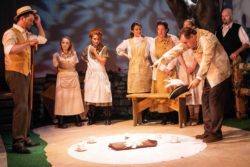 Kristen Kochanik Garza began and ended this season as Technical Director. I lost her in the middle due to an opportunity for her to return for her Masters degree, and I guess I should just be thankful for her builds of both this show and Brian Smallheer's movie theater design for The Flick. In addition to simply handling the build, this was also Kristen's first complete scenic design for us, and I'm impressed with how she was able to get what is actually a bigger set than the room would normally accommodate to work. Always on schedule and always exceeding expectations, she is a true craftsperson we're happy to have on board whenever she can squeeze in the work. Her attention to detail is always second to none.
Speaking of "crafts," Teah Banks continues to surprise me with hidden talents. She not only handles the stage management duties for Lughnasa, but she is also the de facto props designer and served as our resident knitting tutor for Rose and Agnes. Teah has probably covered every inch of this city on the hunt for props, pillaging every thrift store and specialty shop, between this show and HIR earlier this year. What she couldn't find she made, from the battery that powers Marconi to most of the groceries that Kate brings home in the first act. We're very happy to have her on board as one of our resident stage managers. If I can brag on her a little more for a moment, Teah was at one time one of my theater students at USF before first serving as a stage management intern and then an assistant stage manager. HIR was her first full mainstage show for us, and I'm happy to say that we have her locked down for half of the shows in our 20th Anniversary Season (alternating by show with Matthew Ray). It's been a delight to watch this relatively quiet, shy student develop into a diplomatic, tenacious leader who I don't worry about leaving in charge.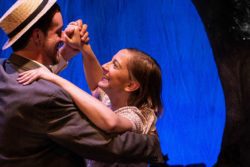 I think it's fitting that this show features so many strong women not just on stage, but behind the scenes. I believe that this is the first show in our history with (sans yours truly, if you count me as sound designer) a team solely consisting of women powering all areas of tech and production. Dancing at Lughnasa is on stage through July 8, you owe it to yourself to get lost in this magical world created by these amazing artists.
— David Jenkins