By Brian Friel
Jun. 15 – Jul. 8, 2018
Thu. – Sat. 8pm, Sun. 4pm
Tickets: $29.50
Preview Performances: Jun. 13 – 14 | Wed. – Thr. 8pm | Tickets: $18
Shimberg Playhouse, Straz Center for the Performing Arts
The virtues of Dancing at Lughnasa [are] many.... It captures a family's joys and sadnesses, and the quickness with which one state can lead to the other, with an unsparing loveliness ... a magical glimpse into characters frozen in time, like fossils lifted out of the ground and briefly injected with life. It features some strong performances.... At times, a sense of fleeting beauty captivates. – Tampa Bay Times
Theatre Tampa Bay Nominated
Winner
1991 Olivier Award Best Play
1992 Tony Award Best Play
1992 New York Critics Circle Best Play
1992 Outer Critics Circle Best Play.
What It's About
This extraordinary play is the story of five unmarried sisters eking out their lives in a small village in Ireland in 1936. We meet them at the time of the festival of Lughnasa, which celebrates the pagan god of the harvest with drunken revelry and dancing. Their spare existence is interrupted by brief, colorful bursts of music from the radio, their only link to the romance and hope of the world at large.
The action of the play is told through the memory of the out-of-wedlock son of one of the sisters, as he remembers the five women who raised him: his mother and four aunts. He is only seven in 1936, the year his elderly uncle, a priest, returns after serving for twenty-five years as a missionary in a Ugandan leper colony. For the young boy, two other disturbances occur that summer. The sisters acquire their first radio, whose music transforms them from correct Catholic women to shrieking, stomping banshees in their own kitchen. And he meets his father for the first time, a charming Welsh drifter who strolls up the lane and sweeps his mother away in an elegant dance across the fields. From these small events spring the cracks that destroy the foundation of the family forever.
Run Time
Dancing at Lughnasa runs approximately two hours and 25 minutes, including a 15 minute intermission.
Why It's For You
We've made many, many trips to the Emerald Isle over the years, primarily through the mayhem-fueled plays of Martin McDonagh (most recently
A Skull in Connemara
). We've got a soft spot for the west country, and this beautiful, bittersweet play is a comforting, cozy way for us to end our 19th season. In telling the story of five sisters, it also gives us a great platform to showcase the wealth of great women who make up our ensemble. The show subtly and deftly touches on themes of the family, of faith, of progress, and ultimately of our unique desires to be free.
Why We Chose It
We all have friends and family networks. You don't have to have five siblings to understand the many complicated dynamics in any social group. We all have desires, yearnings, urges that we tamp down for one reason or another. Anyone who witnesses this play is moved, watching these Mundy sisters in that moment of release, shrieking out into the night sky and giving over to the primal power of music and dance. Set in the 1930s, this play provides us an escape in a time we can all use it, yet still holds relevance and speaks to our interpersonal conflicts today. This play is full of crisply drawn characters, a fascinating story, and poetic dialogue. It will surely suck you into this world long gone by.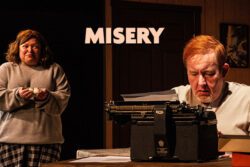 "MISERY is a rollicking production that welcomes your nostalgia and then upends your expectations, making the familiar feel fresh and new, thanks in large part to Bohnenkamp and Jenkins' enormous talent"
Read More »
David M. Jenkins – Director
Kristen Garza – Technical Director
Teah Banks – Stage Manager
Cast
Emily Belvo – Chris
Caitlin Eason – Rose
Michael C. McGreevy – Michael
Jonelle Meyer – Agnes
Brian Shea – Father Jack
Nicole Jeannine Smith – Kate
Katrina Stevenson – Maggie
Adam Workman – Gerry
Crew
Jo Averill-Snell – Lighting Designer
Teah Banks – Props
Samantha Ehrnman – Charge Artist
Kristen Garza – Scenic Designer
David M. Jenkins – Sound Designer
Katrina Stevenson – Costume Designer
Blog Us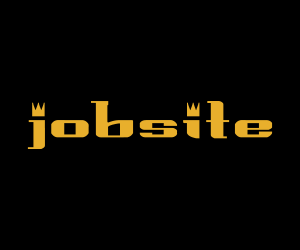 Want to add a groovy graphic like this to your blog or website?
Jobsite provides a variety of cool banners that you can put on your website. AND they update automatically. So just drop it in once, and when we're ready for our next show, we'll update the graphic, and it'll automatically update on your site too!