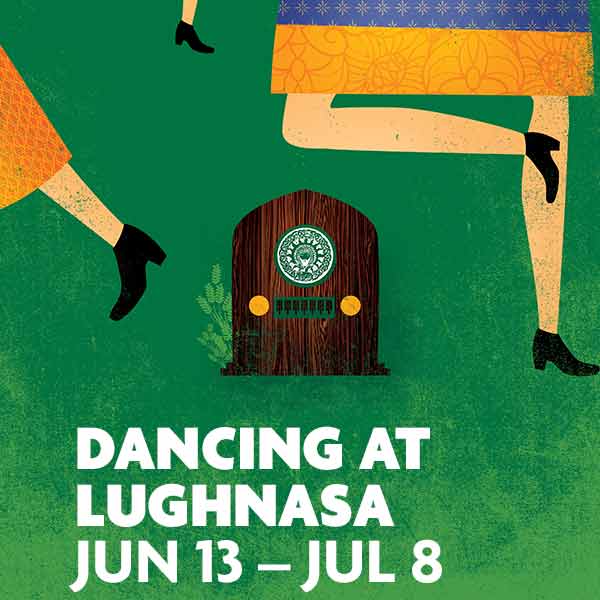 By Brian Friel
Jun. 15 – Jul. 8, 2018
Thu. – Sat. 8pm, Sun. 4pm
Tickets: $29.50
Preview Performances: Jun. 13 – 14 | Wed. – Thr. 8pm | Tickets: $18
Shimberg Playhouse, Straz Center for the Performing Arts
Theatre Tampa Bay Nominated
This extraordinary play is the story of five unmarried sisters eking out their lives in a small village in Ireland in 1936. We meet them at the time of the festival of Lughnasa, which celebrates the pagan god of the harvest with drunken revelry and dancing. Their spare existence is interrupted by brief, colorful bursts of music from the radio, their only link to the romance and hope of the world at large.
The action of the play is told through the memory of the out-of-wedlock son of one of the sisters, as he remembers the five women who raised him: his mother and four aunts. He is only seven in 1936, the year his elderly uncle, a priest, returns after serving for twenty-five years as a missionary in a Ugandan leper colony. For the young boy, two other disturbances occur that summer. The sisters acquire their first radio, whose music transforms them from correct Catholic women to shrieking, stomping banshees in their own kitchen. And he meets his father for the first time, a charming Welsh drifter who strolls up the lane and sweeps his mother away in an elegant dance across the fields. From these small events spring the cracks that destroy the foundation of the family forever.
Why It's For You
We've made many, many trips to the Emerald Isle over the years, primarily through the mayhem-fueled plays of Martin McDonagh (most recently A Skull in Connemara). We've got a soft spot for the west country, and this beautiful, bittersweet play is a comforting, cozy way for us to end our 19th season. In telling the story of five sisters, it also gives us a great platform to showcase the wealth of great women who make up our ensemble. The show subtly and deftly touches on themes of the family, of faith, of progress, and ultimately of our unique desires to be free.
Why We Chose It
We all have friends and family networks. You don't have to have five siblings to understand the many complicated dynamics in any social group. We all have desires, yearnings, urges that we tamp down for one reason or another. Anyone who witnesses this play is moved, watching these Mundy sisters in that moment of release, shrieking out into the night sky and giving over to the primal power of music and dance. Set in the 1930s, this play provides us an escape in a time we can all use it, yet still holds relevance and speaks to our interpersonal conflicts today. This play is full of crisply drawn characters, a fascinating story, and poetic dialogue. It will surely suck you into this world long gone by.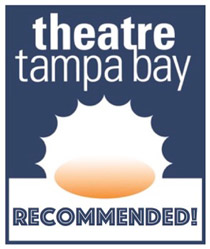 David M. Jenkins – Director
Kristen Garza – Technical Director
Teah Banks – Stage Manager
Cast
Emily Belvo – Chris
Caitlin Eason – Rose
Michael C. McGreevy – Michael
Jonelle Meyer – Agnes
Brian Shea – Father Jack
Nicole Jeannine Smith – Kate
Katrina Stevenson – Maggie
Adam Workman – Gerry
Crew
Jo Averill-Snell – Lighting Designer
Teah Banks – Props
Samantha Ehrnman – Charge Artist
Kristen Garza – Scenic Designer
David M. Jenkins – Sound Designer
Katrina Stevenson – Costume Designer
I have enjoyed your productions since I moved to Tampa 7 years ago, and this Friday past you and your incredibly talented cast gave me a beautiful gift in your funny and tragic story that will stay with me for a very long time. Every second they were on stage they were fascinating to watch. They weren't acting the characters; they were the characters and were never out of character. Everyone not only met the requirements of the part, but gave so much more. You saw their back stories, there relationships to each other and their reactions to what was happening to what was going on for all of the other characters. The other thing that came through loud and clear was, even if they were upset with one of the other, you always saw how much they cared and loved each other. What a great way to end your season. – John Aspinall
Terrific production! Saw it last night. Congrats all. I am sure you will have a great run. – Cathy Hansel-Edgerton
Absolutely loved it! What an AMAZING cast!! 
 – Amy Howland
Awesome talent, set and story. Come one come all! A MUST see! – Kristen Olson Swanson
I foresee a series of sold out shows! This show is a winner! – Lorinda Toole Gamson
One of the best ensemble performances I've ever experienced … my attention riveted to every scene, every character, every performer – and this cast deserves very special attention and praise. The ensemble's energy, projection, and the way they work so emotionally and skillfully off each other was truly amazing to witness. I am somewhat hearing impaired, but had absolutely no trouble, not only because the acoustics of the small auditorium are wonderful – but the enunciation, and energy of projection this cast gives made it effortless to watch. Why am I compelled to name the actors? [They] all gave stellar performances … This work gave me an opportunity to "stay present," "in the moment," because of the quality of the work the cast and director created — compelling one to be suspended in a time warp of those days in 1936 in this little town in Ireland. We witness universal themes played out in meaningful, memorable scenes that touch the heart and inspire our thinking. Bravo! – Jim Calandrillo
Over the next few weeks, this has to be on your "must-see" list. Jobsite's "Dancing at Lughnasa" is a tender, hilarious, nostalgic, wistful, sad, sharp, glorious evening, softly revealed as a memory of the absolutely winning Michael C. McGreevy. Everybody in it is great, there's not a weak link, and they effortlessly share the prickly familiarity of a bona fide family … you beLIEVE them all, at every turn. A few actors whom I have been watching for many years do the best work here I have ever seen them do. David Jenkins has played masterfully on each instrument in this wicked Cèilidh band. And Jo Averill-Snell has lit the thing in gauzy colors that literally make it look like a memory. I don't know how she did that, but she did … It looks like a warm summer memory of family and childhood and things experienced but not then understood. The 12-year-old accompanied me, and beamed throughout. Admittedly this particular 12-year-old has spent an unusual number of hours in the Shimberg, but still, parents should be cautioned that this thing is just great for kids (I'd say over 10), and adults should be cautioned that it's naughty enough. We need more plays like this, far more plays about sweet Irish dancing sisters and far fewer plays about angry dockworkers. Don't miss it. – Ned Averill-Snell
I was so moved by this production. Memory plays are always so hard to get right – I've seen this play a few times and never felt, until last Saturday, that it hit the mark. What a lovely cast on such a brilliant set. Michael McGreevy broke my heart with his performance. One could see why the ladies were all in the thrall of Adam Workman, such a charmer. For anyone who has traveled those back roads through the West coast of Ireland, where the next county is in America, you will understand the loneliness, the isolation and the yearning these dear women feel . Bravo Jobsite, well done. So excited to have our tickets for next season. – Clare Ward-Jenkins
Totally enjoyed the production – Sheila McCoy
A must see. – Kathie Moon (@Youkalikat)