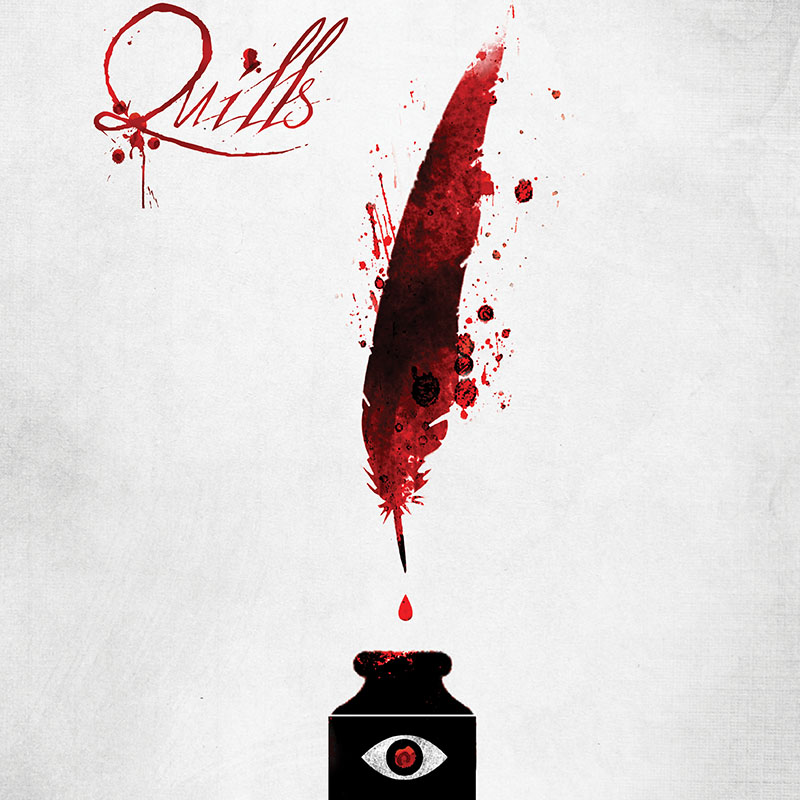 By Doug Wright
Directed by David M. Jenkins
Extended! Oct. 20 – Nov. 13, 2011
Thu. – Sat. 8pm, Sun. 4pm
Tickets: $24.50
Shimberg Playhouse, Straz Center for the Performing Arts
Perversion. Pleasure. Pain. They soak the tales that drip from the ink-laden quills of the notoriously irreverent Marquis de Sade. Doctor Royer-Collard, head of Charenton Asylum, is visited by Renee Pelagie, wife of the asylum's most notorious inmate. Furious that her husband's sadomasochistic pornography has tarnished her reputation, she offers the Doctor any amount of money, if only her husband can be kept from writing.
After confiscating the Marquis' quills and paper, the Abbe de Coulmier is surprised to find lascivious new stories circulating in public. The source? A lusty young seamstress has been smuggling material out of the asylum. Immediately, the Abbe bars the girl from seeing the Marquis, but ever resourceful, the Marquis pens his stories on his bedclothes in wine, blood and worse. Driven to a fury, the Abbe strips bare the Marquis and his cell, leaving nothing but stone and straw.
Undaunted, the Marquis devises a fantastic plan to whisper his stories from lunatic to lunatic, until the girl can pen the Marquis' grisly tale. As the Abbe's religious devotion clashes with the Marquis's dedication to freedom of expression, the audience is treated to a tale of wit and irony, blasphemy and philosophy. Doug Wright's remarkable work forcefully challenges themes of censorship, power, and extreme measures of rehabilitation.
Warning
Quills theatrically depicts the last days of the infamous Marquis de Sade in the Charenton Asylum. It intensely examines, though often through dark humor, aspects of human sexuality, censorship, and art. It contains graphic verbalized sexual imagery culled from his writings, staged violence and nudity. It is only for adult audiences and is not for the squeamish or easily offended.
We recommend researching the play further if you are concerned that the material would not be suitable for you or anyone in your party. This is not a staged version of the film, which was based on the play and in many respects is not as provocative as the live experience.
David M. Jenkins – Director
Miriam Rochford – Stage Manager
Cast
Giles Davies – The Marquis
Jon Gennari – Mssr Prioux / Lunatic
Matt Lunsford – Abbe de Coulmier
Owen Robertson – Dr. Royer-Collard
Nicole Jeannine Smith – Madeleine Leclerc / Madame Royer-Collard
Katrina Stevenson – Renee Pelagie
Crew
Danika Bartsh – Intern
Bridgette Dreher – Scenic Artist
Christen Hailey – Props / Special Effects
David M. Jenkins – Sound Designer
Greg Newcomb – Poster Artist
Brian M. Smallheer – Scenic and Lighting Designer
Katrina Stevenson – Costume Designer
We just wanted to let you know that we thoroughly enjoyed Quills! It was one of our favorites. And it certainly was the best Halloween show yet!! Every single actor was perfect for their part. They all did a great job! – Dona Haig
Congratulations to the cast and crew of Quills. Great performance tonight. Best of luck to you and your run! – Matthew Ray
The writing superb. The acting phenomenal. The costumes exquisite. The set design intriguing. Thank you! – Mayra Caylo
A wonderful evening of theater. Thank you all! – Caroline Jett
Had date night with my love last night! We went to see the Jobsite performance of Quills. One of my favorite movies and it was AWESOME to see it performed on stage with such amazing actors. Great job guys – Tracy Brummett
Owen was believably villainous. Katrina gave good lip. Matt was to Quills what Montgomery Clift was to I Confess. Jon was especially dapper. Nicole was both sweet & shocking. & Giles Davies was GILES DAVIES. David Jenkins put together a wonderful show. – Desiree Fantal
What a fantastic show. Kudos to the cast. Mr. Davies gave a performance worthy of Broadway and Matt Lunsford was the best we've seen since his tour de force in Pillowman. Thank you cast and crew job well done – Beth Hyde-Hood
Absolutely delightful, top to bottom. The show takes so many wonderful surprising turns: poetic, humorous, sincere, melodramatic, dark, twisted, and frosted with so much fun! Great performances, production and direction. It's what theater around Halloween should be. See it! – Shawn Paonessa
Amazing performance by Matt Lunsford. The whole show was fantastic. – Mike Corrao
Incredible show today! – Courtney Caton
The show is fantastic! Great job!! – Katie Cosby Brown
Just saw jobsite Theater's production of Quills. Absolutely wonderful! Go see it before it's too late. – Spencer Meyers
Quills was insane. If you live in the Tampa Bay area, go see it before it closes next weekend. – Rebecca Harrell
Saw Jobsite's Quills last night and it was outstanding. Everyone did a great job; Giles and Matt were amazing. You have one more weekend to check out this show due to it being extended. Go see it. – Kim Smallheer
Bravo to the cast of #Quills at @JobsiteTheater! Esp. Giles Davies & Matt Lunsford – definitely check out this show if you're in Tampa! – LPMc
Saw Quills tonight at @jobsitetheater. Tremendously wonderful performances. Much prefer the play to the movie, now – skajaw
Thank you to all the cast for a truly provocative and beautifully presented performance. I have been enriched. – Marguerite Longoria
Just a note to express our delight and appreciation regarding your remarkable performance…. Thanks for a delightful evening. – Steven and Iris Pastor
I saw Quills last night at Jobsite Theater. It was a truly great show! Go check it out. There is some marvelous acting, design, and directing! Don't miss this. They open tonight! – Megan Lamasney
It was BRILLIANT. Thank you for such a wonderful evening! – Betty-Jane Parks
When Giles Davies is in his wheelhouse, run, don't walk to the theatre. And this is one of those shows. And with beautiful performances by Matt Lunsford and Nicole Jeannine Smith, it was a truly well-spent night at the theatre. – Rebecca M. Engle
Great show last night! Giles Davies and Matt Lunsford – Outstanding! Bravo! – Maryanne Smith
Kudos to all! You guys rocked the house tonight! Great effects, surprising humor, tantalizing titulation (is that a word) a little bit of everything! Well done! – Jeanne Adams
Quills can take its place beside Pillowman, The Goat & Yellowman as one of Jobsite's greatest shows. Matt Lunsford does his best work ever. – David Hood
Truly fantastic acting in Quills! – Kelly Lamb Feinerman
FANTASTIC! I will see this play at least 1 more time. – Jeff Curtis
Just got out of your show. It was phenomonal! I will be coming back to see more definately! Keep up the great work. – Kimberley Russell
Quills was so good!!! I am so glad we made it!!! The entire cast was amazing… 🙂 – Amy McLaughlin
…another amazing, riveting performance. My friends were mesmerized also! Congrats. – Francine Wolf
I just got home from watching Quills at Jobsite Theater and I have to say….one of my FAVORITE shows I have ever seen. The acting….is just…im speechless. Watching it again next sat:) I have to see this again. – Jessy Quinones
Now I am not sure which is better: the play or the movie? Jobsite Theater has, once again, exceeded my hopes and expectations. The cast and crew of Quills presented me with a wonderful solo night out and stirred a tumult of emotion within my head. They have, due to popular demand, extended the shows run for another weekend! Go! Get your tickets now! See it before it is gone!!! – Kristina Sizemore
Great casting job at last night's performance of @jobsitetheater!!! My friend Tom and I really enjoyed the show! – @gel_17