We couldn't be more excited to get our 20th Anniversary Season up and running! In the event you're not familiar with the 1998 Off-Broadway phenomena, the 2000 film, our 2013 original production, the 2014 Broadway revival that starred a rotating cast of A-listers like Neil Patrick Harris and Michael C. Hall, or the national tour that just closed last summer we wanted to offer a bit of a primer on the show and what you can expect. Even if you know the show you might find this guide and some of the trivia within it interesting!
The Elevator Pitch
The gold glitter standard of queerglam rocker musicals, Hedwig and the Angry Inch follows German immigrant-turned-Kansas-trailer-park-wannabe-rock-goddess Hedwig Robinson during one life-changing night of her musical act. Full of TMI, towering go-go boots and cult hits "Exquisite Corpse," "Wig in a Box," "Tear Me Down" and more, this campy romp reveals the blistering realities of self-acceptance that defy gender identity.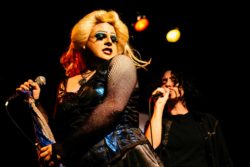 Hedwig and the Angry Inch tells the story of "internationally ignored song stylist" Hedwig Schmidt, a fourth-wall smashing East German rock 'n' roll goddess who also happens to be the victim of a botched sex-change operation, leaving her only "an angry inch."
This outrageous and unexpectedly hilarious story is dazzlingly performed by Hedwig (née Hansel) in the form of a rock concert/stand-up cabaret routine backed by her husband Yitzhak and the hard-rocking glam band "The Angry Inch." It's a rollercoaster ride: funny, touching, and ultimately inspiring to anyone who has felt life has given them an inch when they deserved a mile.
Why It's For You
Have you ever loved and lost? Struggled with who you want to be versus who the world wants you to be? Been made to feel like a misfit or loser while knowing full well that you're a shining-star rock and roller? This show's for you. Fans of a true rock musical, fans of 70s glam (David Bowie, Velvet Underground, etc), fans of things like Rocky Horror and Priscilla Queen of the Desert, you will all certainly be fans of this.
Why We Chose It
We've produced large musicals in the much larger Jaeb Theater since 2014. While those shows were all huge artistic successes that racked up loads of awards, we had difficulty paying the bills simply because how much more it costs to produce there.
As we looked to our 20th birthday we decided to reclaim our home in the Shimberg Playhouse and focus our efforts there. 2013's production of Hedwig enjoyed a sold-out run and was a major factor in our decision to start consistently producing funky musicals as an annual thing, even before thinking about the Jaeb. This success with Hedwig was even before the cult-hit show caught a second wind on Broadway in 2014 in a major production starring NPH. Why wouldn't we make this choice? Also, most people's five favorite words in theater: 90 minutes with no intermission.
Our 2013 Production
We originally ran Sep. 4 – 29, 2013, in a production that received exceptional reviews:
just plain fun … loud and rousing … surprisingly tender […] Thank Spencer Meyers, who as Hedwig emphasizes his character's pathos, victimization and solidarity with the audience … No dragon lady; just underdog. How can you not wish her well? – Creative Loafing

The punk gods have descended upon Tampa, and the results are loud, rude and deeply moving … a

true theatrical experience … hilarious … Meyers is a performer able to make you believe every step of Hedwig's outrageous journey. – Tampa Tribune

Hedwig captivated the audience…. [The Angry Inch] provided the live backbone to seamlessly execute the story…. Setting aside notions about gender and love permits the audience to realize that [it] is not only a story about Hedwig, but a story about us all. – Tampa Bay Times
That production also received four Creative Loafing Best of The Bay Awards:
Most Winningly Shameless Actor: Spencer Meyers
Best Theater Rockers – Jobsite Theater
Best Theater Production, Reader's Poll Runner-Up
Best Actress, Reader's Poll Runner-Up – Amy Gray
What to Expect in 2018
If you were one of the almost 2,000 people who caught us the last time, this production serves up both the new and familiar. While this production sees Spencer Meyers (Hedwig), Amy Gray (Yitzhak), and Elwood Bond (drums) return to their roles the rest of the band, The Angry Inch, is all-new. This production utilizes a 4-piece band instead of 3 giving it an overall richer, fuller sound. Jeremy Douglass serves as music director while playing keys and 2nd guitar, Mark Warren plays lead guitar, and Nader Issa is on bass.  If you saw our 2016 production of LIZZIE, these folks represent 4 of the 6 members of that killer band. We're also working with an all-new sound system and have made some other modifications to ensure the best sound possible.
Technology has come a long way in such a short time, increasing our capability to offer a much more robust video projection design than just 5 years ago. The set and costumes are all new as well, though all designers remain the same from 2013. Brian Smallheer offers the set and lights, Katrina Stevenson the costumes, and David M. Jenkins handles video in addition to helming the director's chair. Check out the full cast and crew here.
It's always a luxury to come back and do a show for a second time. Fans of the 2013 production will likely notice some changes, but we don't wanna spoil too much. 🙂
History of the Show
(source: Wikipedia) The character of Hedwig was originally a supporting character in the piece. She was loosely inspired by a German female babysitter/prostitute who worked for Mitchell's family when he was a teenager in Junction City, Kansas. The character of Tommy, originally conceived as the main character, was based on Mitchell himself: both were gay, the sons of an army general, deeply Roman Catholic, and fascinated with mythology. Hedwig became the story's protagonist when Trask encouraged Mitchell to showcase their earliest material in 1994 at NYC's drag-punk club Squeezebox, where Trask headed the house band and Mitchell's boyfriend, Jack Steeb, played bass.
They agreed the piece should be developed through band gigs in clubs rather than in a theater setting in order to preserve a rock energy. Mitchell was deeply influenced by Squeezebox's roster of drag performers who performed rock covers. The setlists of Hedwig's first gigs included many covers with lyrics rewritten by Mitchell to tell Hedwig's story: Fleetwood Mac's "Oh Well"; Television's "See No Evil"; Wreckless Eric's "Whole Wide World"; Yoko Ono's "Death of Samantha"; Pere Ubu's "Non-Alignment Pact"; Cher's "Half Breed"; David Bowie's "Boys Keep Swinging"; Mott the Hoople's "All the Young Dudes"; and the Velvet Underground's "Femme Fatale." A German glam rendition of Debby Boone's "You Light Up My Life" once served as the musical's finale.
Mitchell's second gig was as fill-in host at Squeezebox on a bill featuring singer Deborah Harry of Blondie. It was for this occasion that Mike Potter first designed Hedwig's trademark wig, which was initially constructed from toilet paper rolls wrapped with synthetic blond hair. Mitchell, Trask, and the band Cheater (Jack Steeb, Chris Wielding, Dave McKinley, and Scott Bilbrey) continued to workshop material at venues such as Fez Nightclub and Westbeth Theater Center for four years before premiering the completed musical Off-Broadway in 1998.
The 1998 production won the Village Voice, Obie Award, and Outer Critics Circle Award for Best Off-Broadway Musical. The 2014 Broadway revival was nominated for 8 Tony Awards, winning four of them (tied with A Gentleman's Guide to Love and Murder for the most) including Best Revival, Best Actor, and Best Actress.
Digging Deeper
If you want to go deeper than what the show is "about" and start talking about maybe what it "means," we can do that, too (through clearly YMMV, and not everyone wants to read into things). Hedwig explores all of human identity through a specific story of queer identity. John Cameron Mitchell has explained that Hedwig is not a trans woman, but genderqueer. "She's more than a woman or a man," he has said. "She's a gender of one and that is accidentally so beautiful." While Hedwig is meant to be a queer voice, Mitchell emphasizes that she is not meant to be specifically transgender: "Everyone knows that there is a metaphor with Hedwig. She's forced into this [sex change] operation. … It's not a choice. Hedwig doesn't speak for any trans community, because she was, you know, mutilated."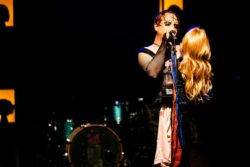 The themes here are universal, which we believe is a large part of the appeal of this show. It also challenges the notion of rock culture as being separate from "the theatre," something we as a company really appreciate and have a history of offering. Hedwig also adds to the number of cultural products that questions dichotomous views on things like sex and gender. Instead of a conventional transgender narrative that looks at an individual's account of gender dysphoria, Hedwig and the Angry Inch focuses on the main character's journey of finding love by looking within. Hedwig's search for her 'other half' is linked directly to Plato's Symposium in the song 'Origin of Love.' In league with the Western emphasis on individualism, Hedwig and the Angry Inch questions what it means to be divided in an individualist society. Mitchell notes the recurring motifs of "the divided self, the divided city of Berlin … divided gender …" the theme of dualism runs throughout the show. Yet Hedwig ultimately disavows this notion of external completion, instead arriving at acceptance and self-love.