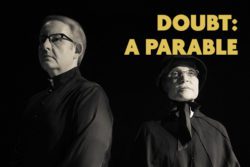 When we shut our doors Mar. 13, the opening of DOUBT, we assumed this was a brief pause and we'd be out for one or two months. Now approaching the 7th month we're still not sure when we'll be able to resume our mainstage season. 
We sincerely hoped to have had DOUBT back up already. However, we are still unable to get a contract from Actors Equity Association for one of our lead performers. As that decision goes, so does the fate of the production. We know that if we return with DOUBT anytime now through at least the spring that we will go up in a reconfigured-for-distance Shimberg Playhouse with a maximum total of 26 physical seats in the room and the ability to sell a limited quantity virtual tickets allowing folks who do not wish to attend in person access to a stream.
We are currently unable to produce any other full plays in the room with these restrictions. We previously postponed Liza Birkenmeier's Dr. Ride's American Beach House from Sep. of 2020 to Sep. of 2021, and we now must unfortunately make the same decision for our scheduled production of Dr. Jekyll & Mr. Hyde. We are simply not in a position to offer these shows right now in an economically viable manner. We have already invested over $30,000 in DOUBT, and are certain that anything less than a miracle will surely mean that we will not be able to make that up. Still, we will try to do what we can.
Passholders for the 2020-21 season do not need to do anything at this time. The Straz Center will move tickets to the new corresponding dates in 2021. If the new date doesn't work for any reason, passholders always enjoy unlimited free exchanges. Single tickets were not yet on sale.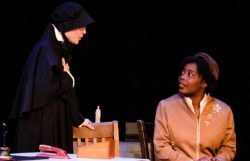 For those holding DOUBT tickets, we are hoping that reschedule will come as early as Dec., but the decision is ultimately out of our hands. 
If you miss Jobsite, we hope you'll consider joining us for our outdoor live return of The Complete Works of William Shakespeare (abridged) [revised] on the Riverwalk Stage Oct. 2-10 and both of the Job-side Productions in the reconfigured-for-distance Jaeb Theater — Frankenstein: The Modern Prometheus and Twilight: Los Angeles, 1992.
We have also launched our Jobsite Digital Shorts series, allowing you a chance to enjoy the work of our ensemble from the comfort of your home while still providing them a critical means of income. 98% of American artists have suffered a loss of work due to the pandemic and over two-thirds are still completely unemployed. 100% of the proceeds from Jobsite Digital Shorts goes directly to the artists.
In addition to the shows and series above, you can help Jobsite survive this disastrous time by making a gift to our Annual Campaign or picking up some merchandise. Every bit helps!
Thank you for your continued support of Jobsite!