Bid a warm welcome to Jessica Watzman, the newest contributor to Blogsite! We'll just let her introduce herself and perhaps her strongest connection to the company. Meet Jessica on Saturday night at our Jobsite Rocks! 20th Birthday Bash! Tickets are still available.
My Life was Changed by Jonelle Meyer's Underpants
By Jessica Watzman
One lucky person in the Tampa Bay area can add "crossing my arms behind my back while holding a back scratcher in each hand and attempting to eat bread rolls using the back scratchers as my arms" to their resume, and her name is Jonelle Meyer.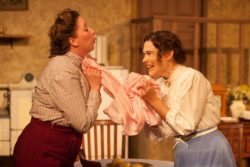 If you've frequented Jobsite productions over their twenty year history, you've probably seen Meyer in a role or two, albeit not while she demonstrated this unique talent. This talent is reserved for intimate dinner occasions with friends. I happen to be one of those lucky friends, and Jobsite played a part in bringing us together.
Let's start at the beginning. It all began with a pair of underpants.
The Underpants. Jobsite produced The Underpants by Carl Sternheim and Steve Martin in the fall of 2016. Also in the fall of 2016, I enrolled in a course at the University of South Florida called "Theater and Society". In this class, we read scripts for productions occurring around Tampa Bay, discussed the scripts, saw the play, and wrote essays about them. Best class ever? You betcha. My professor selected The Underpants as one of the shows we would study that semester, and approximately half of my essay raved about the resplendent talent of the actress playing Gertrude (hint: it was Meyer). I got an A.
Fast forward to graduation. I began working as an entertainer at The Florida Aquarium. Here, I met an important figure in my life. We bonded over turtle costumes, learning lines, and sofishticated puns. She's a person who generously offers advice about acting and theatre that she's learned through her years of performing professionally around Tampa Bay and as a member of the Jobsite ensemble. She quickly became a close friend, and connected me to an immeasurable number of you all in the local theatre community. You guessed it, it's Jonelle Meyer.
Though I have since parted ways with The Florida Aquarium, Meyer and I remain close friends. It's pretty cool that this time around, she's aware that I'm writing a paper about her. Meyer was recently seen in Dancing At Lughnasa at Jobsite. She is also a member of the sketch comedy troupe, Some Sort of Show, who take part in Jobsite's 20th anniversary party, Jobsite Rocks!, on December 1st at 7 p.m. at Jobsite. For more information click here. Come enjoy the party and say hello to us!