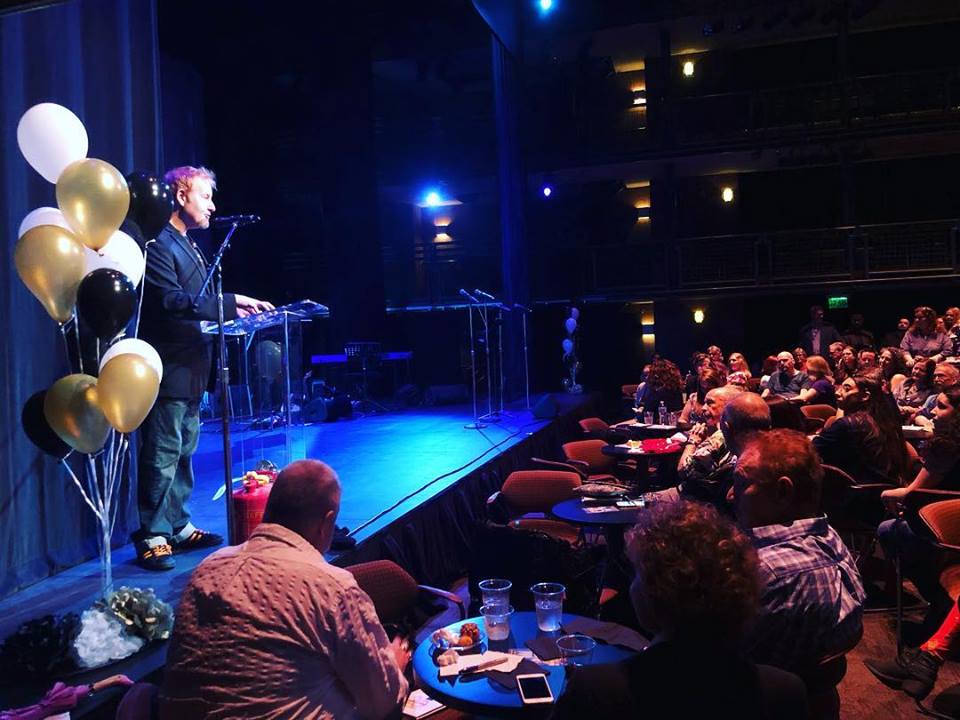 This past Saturday we celebrated 20 years with over 200 of you at our Jobsite Rocks! 20th Birthday Bash. It was an incredibly special night for me personally, and an important night for the future of the company. It was special to see so many old friends and new, to have folks come from all over, and to see the staggering generosity and love of this community. It was important to connect and reconnect, to honor and celebrate, to bring together our artists and audience. It was also important because we had a rather large outstanding fundraising gap to fill before the end of the year and we got darned close to it, raising over $17,000 on the night.
To everyone who had anything at all to do with the event — organizers, sponsors, staff, performers, guests — THANK YOU. YOU make Jobsite rock. We've shared the videos shown throughout the night: 1998-2003, 2003-2008, 2008-2013, 2013-2018, and a full 20 year retrospective set to "After All These Years" from Pericles: Prince of Tires. If you were one of the folks who had portraits taken by Pritchard Photography, here's a link to his shots!
We're also very thankful for the support of Alessandra McGrath and Nick Cacciatore in association with Bavaro's for the great food as well as our drink partners: Ulele Spring Brewery, Southern Brewing & Winemaking, Rollin' Oats Tampa, 82 West Distillery, The Independent, Jug & Bottle Dept., Florida Avenue Brewing, and Brew Bus.
If you were not able to attend the event and would like to contribute before the end of the year we still need your help as we try to close out our 2018 Annual Campaign. We're around $3,000 shy of that goal with three weeks left to go. As an added incentive we are entering everyone who donates at the Worker level ($100) or higher between now and midnight Fri., Dec. 21 into a random drawing for a pair of tickets to see the Feb. 21 performance of Hamilton: An American Musical at the Straz Center. These tickets cannot be exchanged or resold. We will draw a lucky winner around noon on Sat., Dec. 22 and notify the winner via email. We also have just a few 20th anniversary retrospective photobooks remaining for $25 plus shipping. When those are gone, they're gone — we will not re-order.
With the big night in the books we've turned our full attention to Othello. I'm spending this week in one-on-one sessions with the cast to talk vision, character, and process in advance of Saturday's first full read-through. We should also have promotional photos to share soon, so stay tuned! If you do not yet have tickets I strongly urge you to make a plan and pick them up soon. Our Shakespeare productions are among our most popular and shows are already filling fast. This will not only ensure you get the night you want, but that get it at the best possible price since individual tickets increase by performance based on demand.
Of course, season passholders never have to worry about any of that … Just sayin'. 🙂
I hope that everyone's enjoying the fantastic weather and what feels like a great start to the holiday season!
-dj