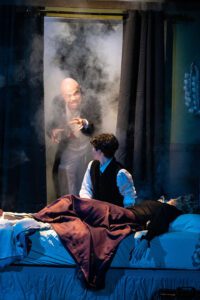 Jobsite Artistic Associate Paul J. Potenza is no stranger at all to local audiences for his intense characterizations — just this season appearing as both Renfield in our DRACULA and as John Merrick in Tampa Rep's The Elephant Man. He's also quite an accomplished director, leading the cast and creative team for our next show, William Goldman's adaptation of Stephen King's novel MISERY. 
You've earned a lot of frequent flyer miles with Jobsite over the years. Is there a show in all that time that stands out to you as a director that you find yourself most proud of? Tell us why.
Paul: SUBURBIA by Eric Bogosian immediately comes to mind for many reasons. It was the first play I was entrusted with to direct. Our Jobsite players were all core members and were in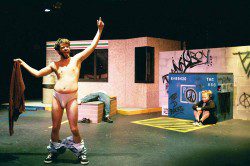 their 20's.  The play is about a group of post high school kids still living in their hometown, STILL hanging out at the same 7/11, and still trying to figure it all out or perhaps not thinking about anything at all other than what is right in front of them. Growing pains or rather growing UP pains.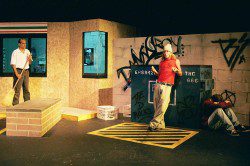 Jobsite "kids" (everyone at Jobsite was/is a kid to me as I am MUCH older than most) were living a pretty bohemian lifestyle with the exception that they were really smart and well educated. Most. The play went very well and a trust was established and I that trust is not to be taken for granted. It needed to be earned. Thankfully, I've been rewarded with that trust many wonderful plays since.
With such an iconic story like MISERY, one that lives rather vividly in people's minds both from the novel and the movie — both which are already quite different from one another — what do you think is special or unique about the stage play that audiences may not expect?
Paul: Understanding that people will come to see MISERY with familiarity and certain expectations our audience knows that Jobsite has a flair for storytelling. They will not have experienced this story told with LIVE ACTORS, the close proximity to the action and all our production values. The lighting design and original music will put you in the house. It's a visceral experience. Yes, there's a lot to live up to but I'm good with that.
This is a chilling, harrowing story but at the same time is chock full of rather dark humor. How do you find yourself navigating those comic moments with the actors to get the most mileage out of both the laughs and chills?
So at this juncture (editor's note: just before the start of the second week) of our rehearsal process as a director I'm now LISTENING to my actors sing this play. There is some very obvious comedic wordplay between Annie Wilkes and Paul Sheldon and it displays itself very clearly in the text THEN I'm seeing , feeling, and HEARING my actors bring these characters to life and in a flash we're all laughing our asses off. I'm literally walking around the rehearsal hall yelling, "where the hell is my ass?!?"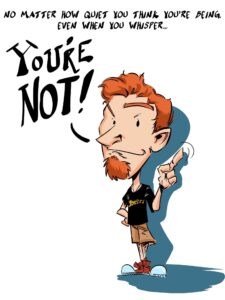 Summer, David, and Josh all have exquisite timing and feel for the material and I'm a pretty good listener. The horror lives inside and outside of this caring captor and patient prison banter. It's disturbing to the point that you may be tempted as an audience member to talk to the actors but please don't … they can totally hear you!
 

 

 

Paul J. Potenza has worked as an actor and director in the area for over 30 years. He performed in the first play to grace the stage of the Shimberg Playhouse: Eric Bogosian's Sex, Drugs, Rock & Roll. Potenza has worked with many Bay area theater companies including Eckerd Theater Company, The Loft, Tampa Players, Stageworks, freeFall, American Stage, and most recently with Tampa Rep. He is happiest about his continued collaboration with Jobsite. In 2011, Paul was honored to win best actor in the first Jeff Norton Awards for Felix Unger in The Odd Couple, which also garnered him a Creative Loafing Best of the Bay award. Favorite roles include the MC in Shockheaded Peter, Edgar Alan Poe in Edgar & Emily, Ulysses in Annapurna (which won him a 2015 Best of the Bay Award), Jack in Race, The Player in Rosencrantz and Guildenstern are Dead, Michal in The Pillowman, Nick the Fire Captain in The Guys, Johnny in Frankie and Johnny in the Clair de Lune, and Arnold in The Boys Next Door. Most recently for Jobsite, he portrayed Renfield in Dracula. Paul is a Goldsmith by trade and has owned and operated Design One Jewelers in Clearwater, now in its forty-third year in business. Potenza shares his life with his wife Roz (the artist in the family), and their dogs Pinot and Bean who own all of the furniture in the house.