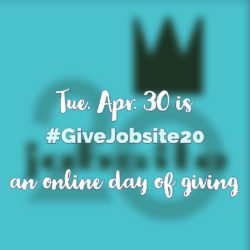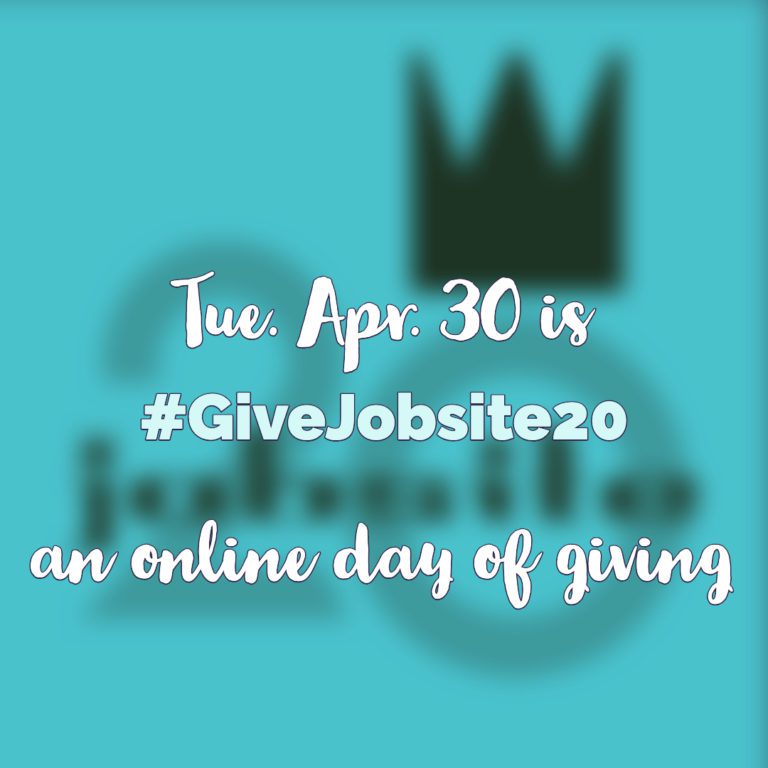 #GiveJobsite20 is replacing the community-wide event #GiveDayTB. This online day of giving has been a critical part of our Annual Campaign, and so we have decided to keep the tradition alive ourselves this Apr. 30. We are hoping that all of our friends and fans will support us in one way or another as we seek to make a significant dent in our 2019 Annual Campaign goal of $80,000. We hope to raise $10,000 online from the general public on Tue., Apr. 30, which will be matched 100% by funds contributed by our board of directors. That means it's possible that we can raise 25% of our 2019 goal in just one day!
The wonderful thing about online days of giving is that we can reach a lot of people all over and make our goal "crowd-sourcing" style — if everyone is able to give just a little, the end result is HUGE. We're hoping that folks will consider giving at least $20 on Apr. 30, a way of congratulating us on our 20th Anniversary Season.
We've always been a humble organization, the little theater company that could in many ways, and our base of support has always been a supportive network of friends, family members, community members, and fellow artists who believe in our work. While we may not attract a list of "major donors" that larger institutions do, our strength has always been in the numbers of our faithful supporters. Together, we've done something few other arts organizations our size can claim.
Here's a simple way to think of it: if we can rally 500 fans to donate $20 each on April 30, we will have raised a total of $20,000 once you factor in the $1 for $1 match!
In addition to showing your support through a donation on Tue., Apr. 30, there are a number of other ways that you can help!
"Like" and share our event on Facebook. leading up to the event. Target the weekend of Apr. 27-28 when more folks are looking as well as the big day itself on Tue., Apr. 30. Let folks know you plan on making a contribution and encourage them to do the same.
Enter our contest to win a pair of Rocks Star passes to the 2019-20 season — which aren't even on sale yet — we'll use your video to help spread the word about #GiveJobsite20, and you can use it to add a personal touch to your posts.
Camera shy or technologically challenged? Simply tell your story about what Jobsite means to you in a post or email to those who you think might support us with a donation. Maybe it's a story about your first experience, or your most recent, or your favorite show, maybe your favorite artist, or simply what you like about what we offer to the community at large. Keep it short, simple, and honest. You'd be surprised how many folks in your networks might want to join in.
Repost from our Instagram account, or retweet us from Twitter — every bit of signal boost is meaningful!
Check with your employer to see if they offer matching contributions to not-for-profits. Many do, and that means your gift would have FOUR TIMES THE IMPACT! If you donate $20 and your employer matches it, you will also get a $40 match from the funds put forth by our board! That means $80 for us from your $20 donation!
The direct link for donations on the day of the event, from 12:00a until 11:59p on Tue., Apr. 30, is https://www.jobsitetheater.org/givejobsite20.