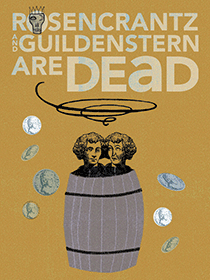 By Tom Stoppard
Directed by Katrina Stevenson
Extended! Apr. 3 – 27, 2008
Thu. – Sat. 8pm, Sun. 4pm
Tickets: $24.50
Shimberg Playhouse, Straz Center for the Performing Arts
Media
Cast & Crew
Patron Reviews
Season
Winner!
Creative Loafing Top 10 Plays of the Decade
Creative Loafing Best of the Bay – Best Play
Creative Loafing 2008 Top 10 Production
Jobsite Jobby – Best Supporting Actor – Paul J. Potenza
Before winning an Oscar as a writer of Shakespeare in Love, Tom Stoppard delivered another ingenious comic retelling involving the Bard of Stratford-upon-Avon. In 1967 he dove into the world's most famous play, Hamlet, and retold it from the point of view of two bumbling support players. The entire world is a stage, and Rosencrantz and Guildenstern play their part, finding themselves unwitting pawns in history's greatest tragedy.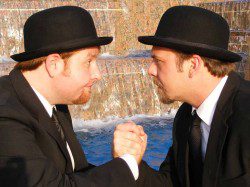 This contemporary classic of the theater was the winner of both the Tony and NY Drama Critics Circle awards when it premiered. Simply: Rosencrantz and Guildenstern are the college chums of Shakespeare's Hamlet, and this is the story of what "really" happened behind the scenes. What were they doing there in Elsinore anyway? The Players come and go; Hamlet comes through reading words, words, words; foul deeds are done; Hamlet is sent abroad, escapes death; and in turn Rosencrantz and Guildenstern find their only true exit.
Rosencrantz and Guildenstern are Dead has also drawn many parallels to another play – Samuel Beckett's absurdist Waiting for Godot, particularly in the main characters' feelings of lack of purpose and incomprehension of their situation.
In 1991, the play was turned into a film featuring Tim Roth and Gary Oldman as the title characters and Richard Dreyfuss as the Lead Player. The film won a Golden Lion at the Venice Film Festival.
Stoppard says of his play that "Quite a lot of solemn and scholarly stuff has been written about it…" but insists, "…whatever else it is, is a comedy. My intention was comic, and if the play had not turned out funny I would have considered that I had failed."
"This is a most remarkable and thrilling play. In one bound Mr. Stoppard is asking to be considered as among the finest English-speaking writers of our stage, for this is a work of fascinating distinction." – New York Times

"This captivating blend of solemn soul-searching and slapstick comedy results in a night that spans the spectrum of human emotion, keeping the audience laughing throughout much of the play." – Washington Post
About the Playwright
Tom Stoppard is the author of over two dozen plays and numerous screenplays. Stoppard is considered to be a master of comic invention, visual humor, and remarkably witty wordplay. He uses his considerable skills to investigate philosophical questions in an extremely entertaining manner. In 2007 Stoppard won a Tony Award for his play Coast of Utopia and was also knighted in his home of England.
Age Recommendation
12+ Contains some adult humor.
"The current Jobsite production of Rosencrantz and Guildenstern are Dead is the best version of the play I've ever seen … every problem the play has is brilliantly solved by director Katrina Stevenson and her four main actors…" – Creative Loafing
"Stoppard's existential play… needs a steady hand to ground it long enough for audiences to enjoy the frivolity, and Jobsite's cast and crew did just that." – Tampa Tribune
"It's fun, fast-paced and relentlessly clever … Jenkins and Paonessa [have] never been better than they are here under Katrina Stevenson's direction … If their performances weren't so strong, Paul J. Potenza might steal the show with his manic and crusty turn as the Player…" – St. Petersburg Times
Media
Previews
Modern-Day Play Clarifies Why Rosencrantz And Guildenstern Are Dead – Tampa Tribune
Rosencrantz and Guildenstern by Jobsite Theater: What REALLY happened in Hamlet – St. Petersburg Times
Rosencrantz and Guildenstern are Dead – Creative Loafing
On the Air
Listen to the Ros & Guil cast and director on WMNF's 4/4/08 Art in Your Ear. (Fast forward to the 6m30s mark.)
Related Posts
Cast & Crew
Katrina Stevenson – Director
Cast
Jason Evans – Polonius / Tragedian
Jaime Giangrande-Holcom – Ophelia / Horatio
Kari Goetz – Gertrude / Alfred
David M. Jenkins – Rosencrantz
Matt Lunsford – Hamlet / Tragedian
Michael C. McGreevy – Claudius / Tragedian
Shawn Paonessa – Guildenstern
Paul J. Potenza – The Player
Jennifer Longmuir – Stage Manager
Crew
Karla Hartley – Lighting Designer
Spencer Meyers – Costume Designer
Brian M. Smallheer – Scenic Designer
Patron Reviews
Stellar cast. Amazing script. Congratulations, Katrina. This is a hit! – David Valdez, Ensemble Member
[David] and Shawn have an excellent dynamic. The whole show is very well done. I admit I particularly enjoyed watching Lunsford clucking like a chicken and sniffing and licking the set. What a visual paradox! I am sure you will have a great run! Congratulations! – Emilia Sargent, Ensemble Member
Great job! I can't remember what I had for breakfast. What a gift you have to remember that much dialog and keep that repartee going … A friend thought you deserved a standing ovation, which didn't happen. You guys to need to take an encore curtain call, I think. – Deborah Kobritz, season ticket holder
I think all involved should be very proud and pleased with this production. I saw R & G on the same stage waaaaaay back in the days of B.O.B. (theatrical palindrome), which is when I first fell for the show, and this production has only served to deepen my love affair. Beautiful set, Brian, beautifully lit, Karla (my original tragedian), and all actors beautifully garbed, Spencer. Kudos to all cast members who commit so fully and intelligently and often ridiculously (Matt, I'm talking to you) to this language-dense piece of modern theatre poetry. Katrina and crew, thanks for bringing a favorite to the stage and serving it well done. – Leah LoSchiavo, Ensemble Member
The actors' superb timing makes this play soar! David and Shawn have an incredible nuanced partnership. Paul's marching music has got to be one of the most intriguing choices I've seen. Go see this play for the acting and maybe walk away with some philosophy under your belt. – Chris R.
Very classy production of a sophisticated play. Clever, funny, thoughtful. Thank you for bringing Stoppard to town. Do it again. – Susan O.
Blog Us
Want to add a groovy graphic like this to your blog or website?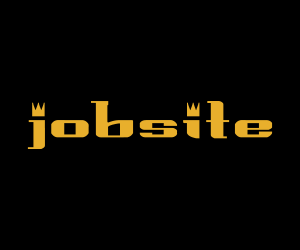 Jobsite provides a variety of cool banners that you can put on your website. AND they update automatically. So just drop it in once, and when we're ready for our next show, we'll update the graphic, and it'll automatically update on your site too!
Share: