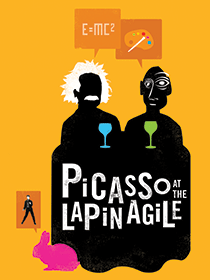 By Steve Martin
Directed by Kari Goetz
Jan. 8 – 31, 2009
Thu. – Sat. 8pm, Sun. 4pm
Tickets: $24.50
Shimberg Playhouse, Straz Center for the Performing Arts
Media
Cast & Crew
Patron Reviews
Season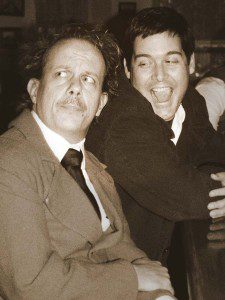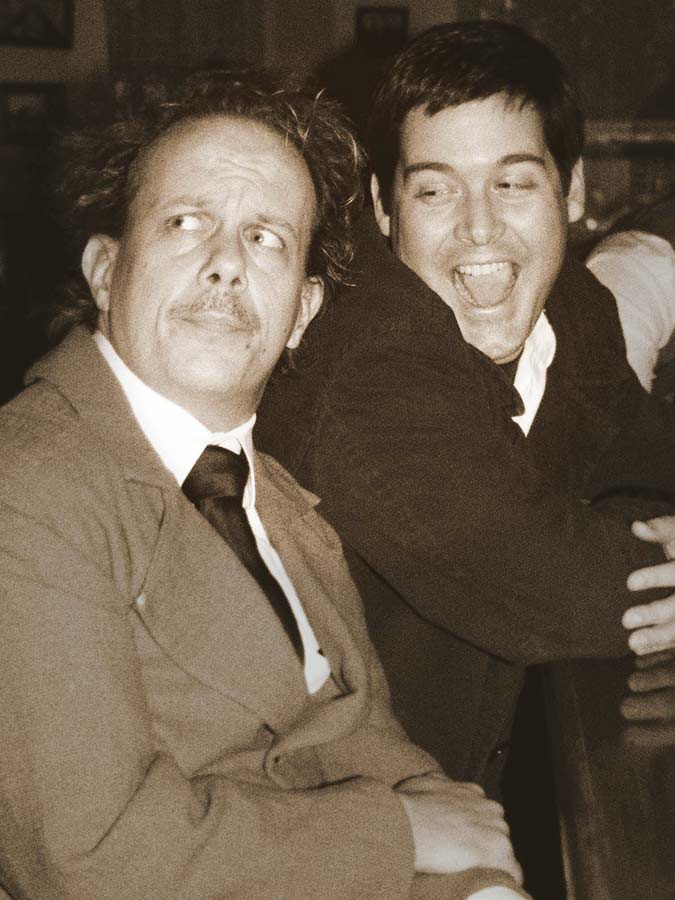 In his first comedy for the stage, the popular actor and screenwriter plays fast and loose with fact, fame and fortune as two of the 20th Century's legendary geniuses muse on humanity's achievements and prospects as well as other fanciful topics with infectious dizziness.
Picasso at the Lapin Agile offers up a fictitious meeting in 1904 between Albert Einstein (age 25) and Pablo Picasso (age 23) in the Lapin Agile, a cabaret/bar and haven for artists, musicians, poets and philosophers in the Montmartre section of Paris.
This encounter occurs just one year before Einstein presents the special theory of relativity in 1905 and three years before Picasso revolutionizes art in 1907 with his new aesthetic reflected in "Les Demoiselles d'Avignon."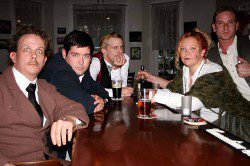 Picasso at the Lapin Agile presents a compelling examination of science and art and their impact on a rapidly changing society. The play moves with ease between the breezy and the profound, as the two men engage in a battle of ideas about probability, lust, artistic integrity and the future. Dancing a line between comedic and serious, the play's exploration of art, physics, philosophy, time, space and relationships of all kinds excites a lively combustion of colorful characters and propels the observer to consider our desires for innovation, love and beauty.
Bystanders, including Picasso's agent, his amorous fan, the bartender and his mistress, an elderly philosopher and an idiot inventor introduce additional flourishes of humor. The final surprise patron to join the merriment at the Lapin Agile is a charismatic dark haired singer time warped in from a later era.
"Steve Martin's comic wit has never been sharper." – USA Today

"A very engaging 75-minute shaggy dog of a comedy … Mr. Martin has also created a number of moments of real humor and wit … His manner is to so mix the sublime with the ridiculous that they can't be easily disentangled." – The New York Times

"Steve Martin is a gifted screenplay writer, and as Picasso demonstrated, a smart, facile thinker with a serious reach." –Variety
"…As Goetz and her cast demonstrate, this isn't a mere curio. The play is inventive, amusing and passably thought-provoking. It certainly wouldn't be produced so often if it had been penned by an unknown playwright, but it would deserve to be." – St. Petersburg Times
"In the fine, entertaining production now being offered by Jobsite Theater, author Steve Martin's charming comedy is skillfully presented, and the (fanciful) meeting of Pablo Picasso and Albert Einstein is rendered like a beguiling joke told over brandy by a kindly raconteur." – Creative Loafing
Cast & Crew
Cast
J. Duggan – Schmendiman
Jason Evans – Einstein
Steve Garland – Gaston
Chris Holcom – Picasso
Matt Lunsford – Freddy
Michael C. McGreevy – Sagot
Christen Petitt Hailey – Germaine
Geneva Rae – Suzanne
Dominic Russo – The Visitor
Jaime Giangrande-Holcom – Stage Manager
Crew
David Valdez – Assistant Stage Manager
Karla Hartley – Lighting Designer
Brian M. Smallheer – Scenic Designer
Patron Reviews
We saw the show Friday, and I thought it was very funny, surreal and off the wall. Jason and Chris nailed their roles as usual. Garland stole the show as he always does. Bravo to cast and crew. – Beth Hood
… We thoroughly enjoyed it. We thought everyone did a great job with their characters. I tell the folks I work with all the time to go catch your plays, and I will make sure I emphasize it when I see them all tomorrow. Great job! I can't wait for the next show! – Richard Rosengren
My wife and I thought the performance by all of the actors under the direction of Kari was thoroughly fun and entertaining…. Keep up the good work and ignore some of the misdirected comments by critics that should be writing on the sports pages or at the very least working at the zoo cleaning out the monkey cages. – Sam and Grace Puterman
Just wanted to drop you a line and say how much my husband and I enjoy our season tickets…. We attended [Picasso at the Lapin Agile] and found it both thought provoking and funny. – John and Lori Pate
Sandy and I purchased tickets for the Sunday afternoon show and we loved it. Best theater experience I've had in a couple years. – Brendan McLaughlin
My husband & I took a group of eight friends last weekend and we all thoroughly enjoyed the performance. The cast was terrific, and the whole show was a lot of fun. We feel very fortunate to have such talent – cast, as well as behind-the-scenes people – right here at home. – Mariella Smith
Blog Us
Want to add a groovy graphic like this to your blog or website?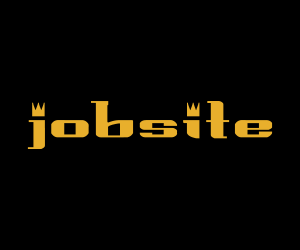 Jobsite provides a variety of cool banners that you can put on your website. AND they update automatically. So just drop it in once, and when we're ready for our next show, we'll update the graphic, and it'll automatically update on your site too!
Share: