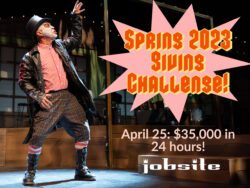 Give now to help us reach our goal!
April 25 is our annual Giving Challenge (formerly #GiveDay) where we will once again attempt to raise $35,000 — roughly one third of our 2023 Annual Campaign goal — online in a 24 hour period. This year there is an added bonus: a generous gift from the Robert E. Williams, Jr. Estate will match the first $17,500 contributed by the public — cutting our goal in half and doubling the impact of your gifts that day!
As an added perk, we'll be running drawings for cool stuff all day!
Mark your calendars for April 25 to make a gift online to Jobsite through our website or Venmo @JobsiteTheater, or if you're not comfortable or able to give online mail a check to P.O. Box 7975 Tampa FL 33673 no later than April 24 and we will count it toward our goal and the match.
All gifts made online from 12:00 am to 11:59 pm will count toward the goal, and the first $17,500 to come in from all streams will get the $1 for $1 match.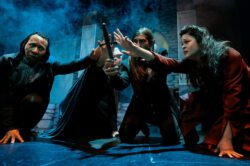 Our Annual Campaign funds are critical to our overall health and sustainability. These funds cover administrative salaries and expenses, including our education outreach, not covered by ticket sales. Jobsite is raising artist salaries 25-50% in the coming season, with weekly payroll positions like actors and stage managers seeing a 41% increase, meaning it is more vital than ever that every cent spent on a ticket goes into the pockets of our artists. We do not burden our individual show budgets with overhead and other expenses not directly tied to the planning and execution of that show, but we need to make those funds up somewhere to ensure we pay our artists every dime we can while keeping the company functional and stable.
Please join us on Tue., April 25, and have your gift matched $1 for $1. Your Friendly Neighborhood Theater Company thanks you in advance!