By David Rabe
Directed by Jason Vaughan Evans
Aug. 9 – 16, 2007
Thu. – Sat. 8pm, Sun. 4pm
Tickets: $19.50 – $24.50
Shimberg Playhouse, Straz Center for the Performing Arts
Media
Cast & Crew
Patron Reviews
Season
Winner!
Creative Loafing 2007 Top 10 Production
Eddie's world exists at the very juncture where Hollywood meets the mountains, where the almost-rich and not-yet-famous live on cheap thrills and heady ambition while searching for true love and redemption. Here, Eddie and his three best friends engage in a wild life of witty repartee and snappy come-backs, of ex-wives and future lovers, of hard partying and late nights, of sex, lies and self-obsession.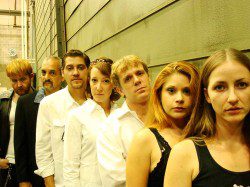 Hurlyburly is a scathingly funny and touchingly human story about the quest for meaning in our modern times. Eddie and his friends continue their entertaining and manic pursuit of sensation – until a series of encounters with destiny, decadence and even death convinces Eddie to plunge beneath the surface and discover his soul.
Hurlyburly is a perfect example of the type of work Jobsite has dedicated itself to. A script that's been seriously considered for many years by the company, the production will showcase some of the brightest talents in their impressive ensemble.
Jobsite follows in a long line of talented ensembles who have tackled this powerful, difficult script. In 1984, the original Tony Award-winning production directed by Mike Nichols features William Hurt, Sigourney Weaver, Christopher Walken, Harvey Keitel, Jerry Stiller and a very young Cynthia Nixon in. Flash forward to 1998: Hurlyburly hits the silver screen with Sean Penn, Kevin Spacey, Meg Ryan, Anna Paquin, Garry Shandling and Chazz Palminteri. In 2005, New York was again lit up by a cast featuring Ethan Hawke, Parker Posey, Josh Hamilton and Wallace Shawn.
Hurlyburly contains adult language, situations, drug use and violence and is recommended for mature audiences only.
Hurlyburly will begin promptly at the specified curtain time. Please plan on arriving early in the event of traffic or parking delays. This performance is three hours in length, including a 15 minute intermission.
"Hurlyburly bombards the audience with philosophical diatribes on the meaning of life … Each character wears a defense – be it pharmaceuticals, violence or promiscuity – to staunch his or her worries … Their joking brings a much-needed levity to the play's heavier themes … Fine acting and fast-paced direction."– Tampa Tribune
"McCarthy and Jenkins give frighteningly frantic, committed performances, offset beautifully by Meg Heimstead, excellent as always as the only appealing character (who, for reasons we never discover, cares deeply for Eddie.)" – St. Petersburg Times
"… this production is one of the most satisfying plays I've seen all year. It's tough and uncompromising and surprisingly philosophical. It's everything serious theater ought to be: candid and coherent and cold-bloodedly intelligent. You don't have to be a druggie – or employed by the film industry – to recognize its truth." – Creative Loafing
Cast & Crew
Jason Evans – Director
Shawn Paonessa – Associate Director
Christen Petitt Hailey – Assistant Director
Cast
Steve Garland – Mickey
Meg Heimstead – Darlene
David M. Jenkins – Phil
Dan Khoury – Artie
Ryan McCarthy – Eddie
Sarah McKenna – Donna
Katrina Stevenson – Bonnie
Amanda Schreiber – Stage Manager
Crew
Brian M. Smallheer – Scene/Light Design
Katrina Stevenson – Costume Design
Patron Reviews
My untutored view is that Hurlyburly is, head and shoulders, the finest Jobsite production I've seen. The utterly unabated intensity. The coherent busyness of the business and mess of the set. Convincing and gripping performances by Ryan, David and Katrina. We thoroughly enjoyed the show, and look forward to next season. – Bob Appleyard
I just wanted to let you know how deeply sickened I was by your performances last night. I have to say that when Jobsite opened this season by crucifying a child I thought we might have reached the pinnacle of our depravity … I cannot tell you how proud I am to know that I am a part of such a dynamic and talented group of scum sucking turds. – Kari Goetz, Jobsite Artistic Associate
Blog Us
Want to add a groovy graphic like this to your blog or website?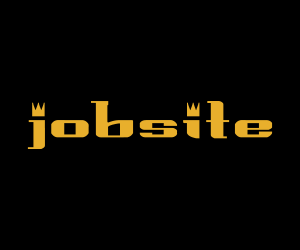 Jobsite provides a variety of cool banners that you can put on your website. AND they update automatically. So just drop it in once, and when we're ready for our next show, we'll update the graphic, and it'll automatically update on your site too!
Share: