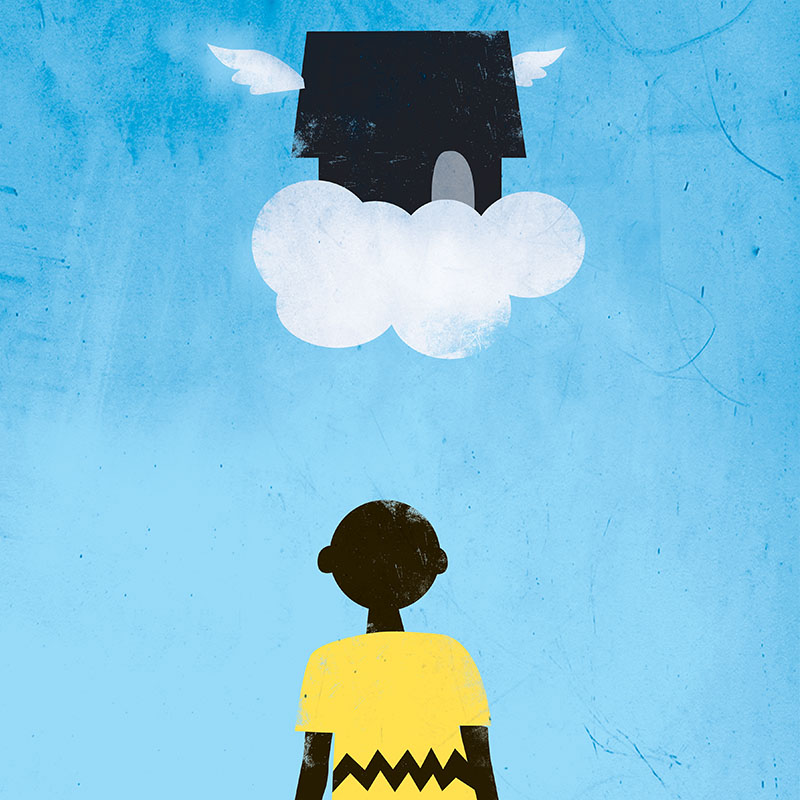 A cabaret spectacle celebrating the work of Lewis Carroll
Adapted by David M. Jenkins, Spencer P. Meyers, and Katrina Stevenson. Art Direction by Spencer P. Meyers. Music by Jeremy Douglass and Juniper Douglass. Lyrics by Lewis Carroll, Colleen Cherry, Jeremy Douglass, and Kasondra Rose.
May 12 – Jun. 4, 2023
Preview Performances: May 10 – 11
Shimberg Playhouse, Straz Center
This show is dedicated to the memory of Rachel Ann Lisi, who loved both Jobsite and Lewis Carroll
Creative Loafing Best of the Bay
Jobsite presents the "unauthorized parody" that features America's favorite cartoon gang 10 years after the events of their 50-year old comic strip with the darkly comic and poignant Dog Sees God: Confessions of a Teenage Blockhead.
When CB's dog dies from rabies, he begins to question the existence of an afterlife. His best friend is too stoned to provide any coherent speculation. His sister has gone goth. His ex-girlfriend has recently been institutionalized, and his other friends are too inebriated to give him any sort of solace.
But a chance meeting with an artistic kid, the target of this group's bullying, offers CB a peace of mind and sets in motion a friendship that will push teen angst to the very limits. Drug use, suicide, eating disorders, teen violence, rebellion and sexual identity collide and careen toward an ending that's both haunting and hopeful.
In 2004, Dog Sees God was one of the breakout hits at the New York International Fringe Festival, winning the Excellence Award for Best Overall Production, as well as Theatermania's Play Award of 2004, the GLAAD Media Award for Best Off-Off-Broadway production, Broadway.com's 2006 Audience Award for Favorite Off-Broadway Production and the 2006 HX Award for Best Play.
David M. Jenkins – Director
Krystalle Voecks – Stage Manager
Cast
Summer Bohnenkamp – Van's Sister
Jason Evans – Van
Kari Goetz – CB's Sister
Meg Heimstead – Marcy
Richard Kennedy – Matt
Spencer Meyers – Beethoven
Shawn Paonessa – CB
Katrina Stevenson – Tricia
Crew
David M. Jenkins – Sound Designer
Greg Newcomb – Graphic Designer
Joe Popp – "Linus and Lucy" Reimagining
Brian M. Smallheer – Scenic and Lighting Designer
Ken and Michelle Smith – Piano
Georgina Welch – Trumpet
In a word… AMAZING. The story is great, and the quality of acting in this show is absolutely phenomenal. PHENOMENAL! Like, it's almost scary how good these performers are. So good, it makes me want to punch myself in the brain for even thinking that I could ever pretend to be an actor. – Read more at SCReWNoRMaL
I loved the ENSEMBLE in its entirety. There were many comic moments that made me laugh in the way I need to after a long week at work. Moments that brought tears to my eyes and moments that brought back memories of my childhood and teen years (many calendars have gone by!) … I look forward to being a part of many other audiences – Lisa Rivera
This was an absolutely incredible show with an amazing and endearing cast. – Jackie Gillespie
Great job guys! I really enjoyed watching it last night!!!! F*kng Hillarious. – Roberto Mata
Dog Sees God rocked my stitches out of my groin … So realistic I remembered vividly why I hated high school – David Hood
Shawn Paonessa's understated CB was a pleasure to watch. Summer Bohnenkamp's Van's Sister should be termed "brilliant." Brian Smallheer's super lighting design was spot on while David Jenkins' sound design was literally perfect. It was great to see all of those crazy kids on stage. – David Valdez
Dog Sees God is a must see! Every actor is crisp, sharp and fascinating. Don't know how they do it, but the stellar company tops themselves with every production. Charlie Brown for big kids. Do yourselves a favor and catch it. Jenkins and company knock it out of the park AGAIN! Quality work indeed. I will see it again. BRAVO! I (I smell extension). – Ward Smith
Just saw Dog Sees God: Confessions of a Teenage Blockhead and it was amazing!!!! I recommend everyone to go see it!!! – Jordan King
Spent a great evening at the Jobsite Theater. Dog Sees God was a great show! Go see it! – Timothy Heberlein
Saw it yesterday. Loved it! – Angie Campbell
Great show yesterday! – Angela Lakin
Is it possible for a show to get better and better the more you see it? So far it looks that way! I'll be back in a few days or so for a 3rd time to find out for sure. 😉 – Timothy Allen
If you have not yet seen a Jobsite Theater production at the David A. Straz, Jr. Center for the Performing Arts or any other local theater production, this is certainly the show to check out..If you are into humor and grew up watching that poor little blockhead as a child you will find this play hilarious and the characters entertaining… – Vinny Tafuro
Last night, I was taken on the crazy ride that is Dog Sees God over at Jobsite Theater … Congrats to cast and crew for an awesome job! But damn you guys for making me weepy! Seriously, everyone should check this one out! It made me laugh loudly, cry, get angry, feel uncomfortable, feel nostalgic, and ponder life after death and human frailty. – Nicole Jeannine Smith
Saw Dog Sees God tonight at @jobsitetheater. Amazingly amazing. Yet another play I'll have to see more than once. – skajawills
Dog sees god will let you see what happens when cartoon characters stop being polite and start being real – xquitz
A phenomenal funny & potent revisit w/childhood friends facing big questions. @jobsitetheater's Dog Sees God is amazing – daidaloslost
really enjoyed Dog Sees God tonight! Very funny, very moving. – DramaDaily
Went to see Dog Sees God at Jobsite Theater last nite. All of yous need to go see this – Phil Bethea
Honestly, the show left me crying. The roles were amazingly done and I thank the cast for every moment on the stage, even the ones I turned my eyes from because I couldn't bring myself to look at something I deal with daily, in my own self-loathing way. – Read more of JB's review at Blogsite Theater
AMAZING show! Must see!!!! – Tina Shaffer
A Great show! Loved seeing it tonight! – Trey Troy
Saw an incredible production of Dog Sees God tonight in the Shimberg Playhouse at the Straz Center… Truly an excellent production! – Jim Whicker
I must again say that Dog Sees God was excellent. The incredibly talented Jobsite Theater bunch does it again. See it. – Bob Westphal
Saw it last night, its good, I laughed, I got a little misty eyed (really), an all around pleasant theatrical experience. – Mike Kennedy
Go see Dog Sees God at the Straz Center!! Went for opening night and it was AWESOME! This performance is one of the finest directed by the talented David Jenkins and the cast members of the Jobsite Theater. Mature humor combined with real life conflict is a delightfully moving performance that left me yearning for more. Seriously people, if you are looking for something to do the tickets are reasonably priced. THERE SHOULDN'T BE AN EMPTY SEAT IN THE HOUSE! DON'T MISS IT!!! – Deana Scurlock Folz
I just saw Dog Sees God: Confessions of a Teenage Blockhead with my brother Jordan King it was sooooo goood:) i loved it go see it :))) – Michaela King
See. NOW. Fantastical!! – Cheryl Blocker
Saw Jobsite's Dog Sees God last night. Another amazing performance. Absolutely loved it. Great way to end the season. – Kim Smallheer
Just loved Dog Sees God this afternoon, brilliantly written and real tour de force performances by the cast. Guess I am the right age / target audience having grown up with the Strip … have to admit teared up during the final scene. Bravo! – Keith Arsenault
Friends in the Tampa Bay area, you must go see Jobsite's Dog Sees God! Excellent! And for me personally, those kids chased my blues away! I laughed and I cried and spent the best 85 minutes I've had in a long time! Go see it! It's been extended to 8/29 – don't miss it! – Sandra Corona Johnson
Just saw Dog Sees God at Jobsite Theater — please go see it. A wonderful job by everyone involved about a VERY important subject (with a lot of laughs!) One more weekend. – Scott Cooper
Go see Dog Sees God. Fantastic direction and superb cast! – Alison Burns
Pee in ur pants funny! with touching moments too that brought tears to my eyes. – Mayra Calo
Had a great time at Jobsite Theater today seeing this show. Next weekend is the last weekend so go see it if you have a chance!! It is funny & heartwarming – a must see if you are from the Peanuts generation. I wonder if Steve Jerve liked it? – Catherine Matthews
Just saw Dog Sees God @jobsitetheater – It may have just become my favorite play – Aaron_Horne
Saw Dog Sees God: Confessions of a Teenage Blockhead by @jobsitetheater tonight @StrazCenter! It was amazingly good and so deeply moving – MACRMCCOY