Jobsite is accepting audition materials for our Sep./Oct. 2021 production of Liza Birkenmeier's Dr. Ride's American Beach House. This is a five-week contract, paid bi-weekly. We are currently unable to hire members of AEA and so ask that members do not send materials.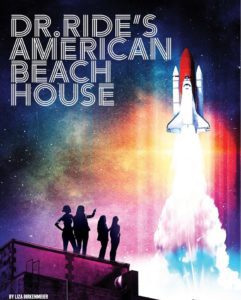 It's 1983 – the evening before Dr. Sally Ride's historic space flight. A group of women friends gather on a sweltering St. Louis rooftop, each caught in their own failure-to-launch. This enticing juxtaposition thrusts the women into the space of their uncharted desires where they bump against American norms of sex and power in this intimate snapshot of queer anti-heroines.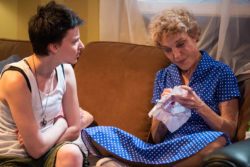 Dr. Ride's American Beach House is performed in the reconfigured for distance Jaeb Theater for two weeks, Sep. 29 – Oct. 10, as both part of our 2021 pass and the newly-launched 2021-22 season. It will be directed by long-time ensemble member, current board member, and newly-minted Artistic Associate Roxanne Fay. The creative team consists of Rebekah Eugenia Lazaridis (scenic design), Jo Averill-Snell (lighting design), and Katrina Stevenson (costume design).
**PLEASE NOTE** due to overlapping schedules, it is not possible to be cast in both Dr. Ride and the following production, Dr. Jekyll & Mr. Hyde.
All roles are female-identifying, and may be played by actors of any ethnicity. No roles are precast.
Meg (35-49): loves metal music because it's a burden to be this smart; an out lesbian and a jaded nurse. In touch with what brings her pleasure; unabashed and completely aware that she can be hilarious; her gender performance is radical for 1983.
Harriet (30-40): grumpier than usual, tired of herself; sexually (and otherwise) repressed; obsessed with her best friend Matilda and with Sally Ride's imminent trip to space; hasn't moved very far from her Catholic High School, geographically or psychologically; a waitress and a poet.
Matilda (30-40): the focal point of most parties; a fairly new mother, a failed poet, a Leo, and a former high school musical phenomenon; mostly in charge of her body and sexuality, though there's some chaos around her best friend Harriet; effortlessly in charge but easily annoyed.
Norma (60-79): a martyr for building maintenance; doesn't realize how slowly she's moving; salty, determined, not great at speaking; she needs help moving the air conditioning unit, but is otherwise sturdy and tough.
Rehearsals begin on or around Sep. 6 with virtual tablework before moving to in-person rehearsals. Actors will need a reliable device and internet access for callbacks and these initial steps.
Rehearsals are held weekday evenings and weekend afternoons, with Monday and Friday nights typically off during the process.
This call is currently exclusive to non-union performers local to the Tampa Bay area. AEA has made it impossible for us to contract their members, and we do not have the ability to offer housing, travel, or per diem for out of town performers.
All roles are paid bi-weekly on a scale comparable to AEA SAII.
Jobsite and The Straz operate with great emphasis on health and safety, following recommended practices and protocols while in rehearsal and performance.
Jobsite is committed to inclusion, diversity, and equity in our casting practices.
Audition requirements:
A

single

PDF file containing

both

a current headshot/photo and theater resume (no separate files or other formats like .doc, .png, .jpg, or .pages, please!) using the performer's name as the file name (eg Amiri-Baraka.pdf or TaylorMac.PDF).
A link to to an unlisted, private video hosted by a service like YouTube or Vimeo (

no file attachments or download links

to sites like DropBox or Google Drive, please!). The audition video should be no more than 3 total minutes in length and may be comprised of one or two monologues, your choice.
Send the headshot/resume file and video link to auditions@jobsitetheater.org with the subject "Dr. Ride casting,"

acknowledging in the body of the email that you have read and understood all of the above considerations at stipulations.

Submission deadline is Wed., May 19.

We will not follow up with submissions that do not conform to these guidelines.

We will interview and conduct further health and safety screenings on candidates we are interested in prior to a virtual callback to be held the evening of Tue., May 25.