This is a time of year when we look to beat the summer heat any way possible. This year, clearly, the summertime blues are in overdrive with most of us observing self-isolation and social distancing while we do our part to flatten the curve so we can get back to work to as soon as we can.
We all pass time in our own ways: baking, gardening, crafting, and some of us even seem to enjoy simply getting together over Zoom to read scenes from plays.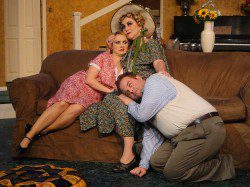 Amy E. Gray and Caitlin Eason were seen on stage together in the Noel Coward comedy Hay Fever back in 2013. Since the stay/safer-at-home recommendations have been in place we understand that Amy and Caitlin have gotten together a few times to catch up, have a bit of fun, and keep their tools sharp by reading scenes together. It started with HF and moved to more Coward before landing on a scene from Tom Stoppard's iconic Rosencrantz and Guildenstern are Dead. They recorded the reading, so we thought we'd share. But here's some context you mind find valuable!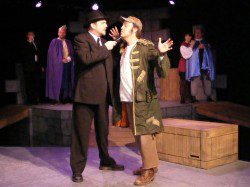 If you don't know the play, imagine a sort-of mashup between Beckett's Waiting for Godot and Shakespeare's Hamlet. Ordered to Elsinore Castle by the King and Queen to comfort the young Prince of Denmark (and secretly discover what's behind his melancholy), the two smallest characters in Shakespeare's original are now front and center of an absurdist view of Hamlet through their eyes while all the hurlyburly swirls around these two poor, confused souls. They play a lot of games to kill time, including "Questions."
Amy & Caitlin read Rosencrantz & Guildenstern from Jobsite Theater on Vimeo.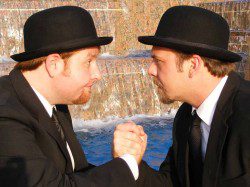 Jobsite produced this show back in 2008 with David M. Jenkins and Shawn Paonessa as the titular pair to great acclaim. It won Best Play in the Best of the Bay Awards and was named among the Top 10 Productions of the year by Creative Loafing critic Mark Leib. Later it would make his Top 10 Plays of the Decade list. Here's our TV commercial from that production. Enjoy!