"An evening of intoxicating escape." – The New York Times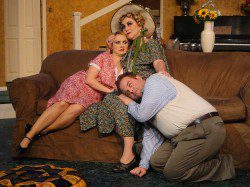 Hoping for a quiet weekend in the country with some guests, David Bliss, a novelist, and his wife Judith, a retired actress, find that an impossible dream when their high-spirited children Simon and Sorel appear with guests of their own.
A houseful of drama waits to be ignited as even the help proves helpless creating wild misunderstandings and flared tempers. The Bliss family lives up to its name as the "quiet weekend" turns into a nightmare, coming to an exhausting and hilarious finale worthy of a Feydeau farce. Misjudged meetings, secret seductions, and scandalous revelations all run riot at the most outrageous of all house parties.
"Light, luminous, charming, and hilariously funny." – New York Post
"The nine-person cast, headed by Caroline Jett and directed by David M. Jenkins, delivers stylish caricatures that make for a thoroughly entertaining evening." – Tampa Bay Times
Cast & Crew
David M. Jenkins – Director
Cast
Katie Castonguay – Jacky Coryton
Caitlin Eason – Sorel Bliss
Amy E. Gray – Myra Arundel
Chris Jackson – Sandy Tyrell
Caroline Jett – Judith Bliss
Dana Kovar – Clara
Spencer Meyers – Simon Bliss
Michael C. McGreevy – Richard Greatham
Owen Robertson – David Bliss
Matthew Ray – Assistant Director & Stage Manager
Crew
David M. Jenkins – Sound Designer
Greg Newcomb – Poster Artist
Brian M. Smallheer – Scenic/Lighting Designer
Katrina Stevenson – Costume Designer
Patron Reviews
You have done it again!! We have never laughed so hard at a Jobsite production. The whole cast was SO-O-O good. I thought John was going fall out of his chair laughing […] It was so good that John was still raving about it this morning. We are definitely coming to see it again and hope to bring friends with us!! Well done! – Dona Haig
Via Facebook
Hay Fever at Jobsite Theater was awesome!! Go see it & support local theater!! – Jan Farrell
Wow, is all I have to say about this show. From the moment the first scene began, to the final scene, I was amazed by each and every performer. I usually don't get jokes, but man did this production prove me wrong. It was like I actually watching a British comedy that you would see on PBS. If I had to give this production a rating on a scale of 1-5, I would give this show a 5 star rating! This, is a MUST SEE production! Such talented young actors (some of which I've seen in previous shows), bringing British comedy to life! Great job cast and crew, and to my favorite stage manager Matthew Ray! Keep it up Jobsite Theater! Your bound to go very far! – Joey Weeks
Very good job tonight totally enjoyable performance!!!!!! – Bob Dixon
Had a great time!! – Jennette Cronk
… the zany Hay Fever, so silly and funny. Loved the costumes, the set, and all the way over the top acting! – Susan Oliver
Enjoyed it tonight!! Great job by the cast! – Bridget Bean
Go see Hay Fever! – Dave Waterman
A very enjoyable afternoon of theater! Thanks for the laughs! – Scott Cooper
The show is a blast! If you don't like to laugh, skip this show. – Hal Freedman
Bravo to David Jenkins & the rest of the cast & crew of Jobsite Theater's production of Hay Fever. Hands down the funniest Jobsite production I've seen in 4 years!!! Thank you, it was truly a breath of fresh air. – Heather Clark
Wonderful Show last night! Hysterical, whimsical, and entertaining. Thank you for the invite!! – Rodner Salgado
Went to the show last night and LOVED it! – Brenda Krukemeier
Amazing show truly enjoyed it! – Samantha Brower
Blog Us
Want to add a groovy graphic like this to your blog or website?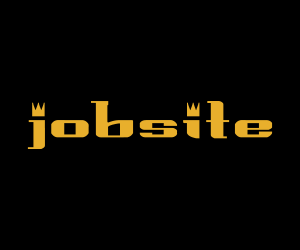 Jobsite provides a variety of cool banners that you can put on your website. AND they update automatically. So just drop it in once, and when we're ready for our next show, we'll update the graphic, and it'll automatically update on your site too!
Share: