I hope this isn't a weird way to start this post, but if you read me regularly you'll know I always say that I believe there are a lot of folks who will find any excuse to not go to the theater. It's raining. It's hot. It's beautiful outside. Traffic. Parking. The Bridge. It's a "black/gay/Jewish/chick" play.
Another stigma you sometimes hear is "oh, I heard it's long." The Flick is sometimes lumped in as one those plays (I mean, it's no Iceman Cometh or anything). Our production runs 2:45 not including the :15 intermission (so, 3 total hours). Films hit the 2:45 mark all the time: Django Unchained, for instance, mentioned in the play.  The Godfather, also mentioned, was 2:58.  Weren't all those Lord of the Rings movies like 4 hours each (kidding, sorta, I sat through them and maybe they just felt that long)? People will binge-watch entire seasons of TV in 4+ hour blocks a night.
I believe that the 3 hours you will spend inside The Flick might very well be the 3 best hours you've spent in a theater in quite a while. The director has a notoriously short attention span (she'd tell you this herself) and if anyone was going to struggle with it, it would have been her. I think we both agree that if you give yourself over and allow yourself to be immersed in the story you won't feel the length. And, hey, unlike those movies you'll get a pee break and not have to miss anything.
I'm in love with Annie Baker, as a human and a writer, something else I've not been shy about. Like the Artistic Director at Playwrights Horizon, where The Flick premiered, I'm a bit shocked how polarizing people can find her work. She writes with an honesty, such humanity, such integrity. Is it maybe her "truth" that has people conflicted? Do some folks just find her plays "too" real? Are people just too used to "90 minutes without an intermission" or snappy-snap-snap-whizz-bang-boom (that's a genre, right)? I don't know the answer.
Annie describes the denizens of The Flick as:
A female projectionist, on whom the men in the play project their fears and fantasies … this like "unattainable" girl up there in the shadows who was dying for someone to get to know her "for real" … a 35-year-old Red Sox fan who was worried he'd be working there for life … and a young film buff who came from both a different race and class background than the other characters in the play. They all started emerging from the movie theater set in my mind. Also, the main characters in the play are a black guy, a woman, and a Jew (although I no longer make Sam's Jewishness obvious). And that was important to me when I started writing the play. Three of the great "Others" of American cinema, all of them victim to extreme stereotypes. And yet what are Hollywood movies without blacks, Jews, and women? I wanted these people to be quietly (maybe even unconsciously) fighting against their respective pigeonholes. And I also grew up knowing lower-middle-class Jews, hyper-educated black people, and women who wear baggy clothes and no makeup, and yet it is so rare to encounter any of those people in plays and movies. It feels like those people are like forced to wander outside of and on the periphery of plays and movies. So I literalized that — they're like cleaning up everyone else's crap AFTER the movie is over.
As to her use of pauses or silence I might ask, have you ever worked a crap job? Have you ever had awkward co-workers? To me, real life is not always so much about what we're saying but what we're doing, and what we're not saying, and what's happening in that space when we're not talking. She notes:
I'm just trying to accurately portray the people who live in the movie theater inside my head, and I guess there's a lot of moments of not-talking in that movie theater inside my head. All the walking and sweeping and mopping and dustpan-banging … But I wouldn't call that silence. I think there's actually very little ACTUAL silence in this play. But yeah, my favorite moments in all of my plays are usually moments when people aren't talking.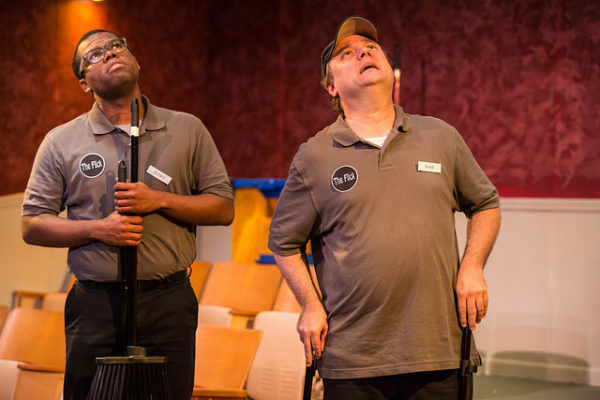 After watching rehearsals for the past week or so, I agree with Annie, I don't think there's very much "silence" at all. That stage is full of life, the relationships between the characters are always in motion, from the time the lights come up until the final blackout. Simply put, goddamn is this show good. Trust me, if you love great theater you will not want to miss it.
Bringing her play The Aliens to life at Stageworks in February was one of my greatest accomplishments, or at least I think so anyway. I think it also helped prove that her work is vital, interesting, honest, and not simply a play about pauses or run time. Hopefully anyone who saw that is less fearful of "a 3 hour play."  People want to talk trash about how uncultured we can be compared to "Great Cities" but audiences went along for that ride, even if some ultimately decided it wasn't their thing. Again: faithful readers here know I don't think any play can be all things to all people, and that's ok. No matter the genre we do, people will write in to tell me they don't like musicals/Shakespeare/edgy work/plays with swear words in them/political plays/sad plays and on and on …
I think that Annie begins The Flick with a stroke of genius, a 2 minute sequence involving a dim movie theater sans the glow of sconces and the flicker of a projector at the rear of the theater, while the Prelude from "The Naked and the Dead" plays. It makes us all slow down, sit quietly, tune in, and prepare ourselves (just don't stare into the projector lens if you wanna watch the first scene spot-free).
Due to the length of the show and out of respect for everyone's time, that Prelude actually starts before the scheduled curtain time, so we can begin in earnest on time. If you're coming to see us please make sure to arrive early!  We won't start late, that's really not fair to the people who managed to get there on time. The house opens at half-hour before any scheduled performance. Why not grab a drink, sit down and relax in the AC, and enjoy a very fun-filled mix of music from popular film through the ages?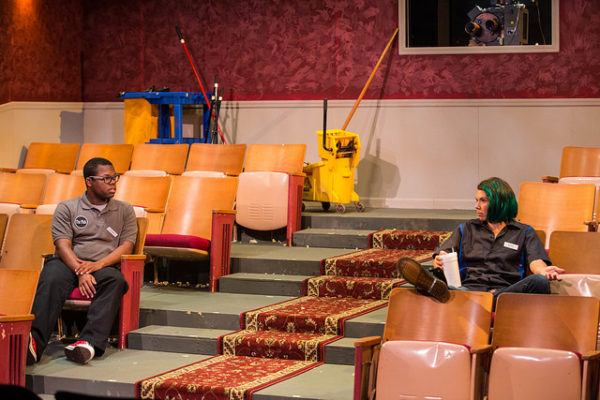 And prepare yourself for an amazing play, one we are extremely proud of, one that I believe is a fantastic start to the season, and, yes, one that you will need to settle down and pay attention to. I think the work happening on stage demands it, but we have to meet them half-way as audience members.
Congrats to everyone who has brought life to this show! To all of you gearing up to see it, I can't wait to hear your thoughts. You know how to find me.