(tl;dr: I love this show and everyone working on it so f*cking much and you're ruining it for everyone — namely yourself — if you don't make a plan and get some of this)
Note: this post uses some links that go to early rehearsal/tech videos and bits from daytime TV, the final product is clearly more stunning. Why not just get a ticket now?
I can't believe that LIZZIE is already coming to a close. It was this time last year that our play selection group was going into high gear trying to figure out what the next great Jaeb musical would be while we were still enjoying a huge success in SILENCE! The Musical. It took us until February to get settled in on one. Some titles were just not available, some were outside of our producing apparatus, still others just weren't equally exciting to our partners. Amy Gray first brought it to our attention that the show was available for licensing (finally), and the Straz agreed it sounded like the right fit.
I reached out to Alison Burns Jackson immediately to make sure she would be available to handle the choreography. LIZZIE has not much in the way of traditional scenes, and I knew that we couldn't get away with just a rock concert version of this show in a space as big of the Jaeb. Alison is a wonderful collaborator and truly deserves way more credit than she's getting over how this show looks. Mark Warren immediately stepped in to begin help me assemble this amazing band, he and Woody Bond were pre-cast as family and as folks I knew would help set the temperature of the room. Then came Jeremy Douglass, Nader Issa, Rebekah Pulley (which stopped me in my tracks – Rebekah Pulley wants to play with US?), and Tom Kersey.
By July we had a cast that the creators had blessed (and whom have blessed us every day since). I screened around 250 headshots and demos that I whittled down to around 20 people to call back for 4 parts. I could have gone about 10 years in either direction with the looks of my Emma and Lizzie (who also need to read a few years apart), and honestly just needed to see what people were going to bring. Fo'I Meleah took me most by surprise. She's not exactly local, she commutes from Orlando, and I simply cannot gush enough about what a gifted and wonderful human she is. True Story: I almost deleted her audition request because her audition video was labeled "Little Mermaid" and I'd already had more than enough of chastising people for not sending me rock auditions ("Seasons of Love" ain't rock, y'all). Then I watched it, a rockin' version of "Poor Unfortunate Souls," and had to STFU. At the callback she asked me if she could use my water bottle as a microphone because she'd always practiced it that way. I said "you be you," which she was and has been ever since and I would never want it any other way. One down, three to go.
Heather Krueger knows I don't ever want to do a musical without her. She's 3 in 1: an amazing performer, dance captain, vocal captain. Look, truth is Heather could have been any of the four characters. She has all the notes, all the tools. And so this is when casting gets fun. How does it all fit together? I sang her for the three roles I still felt in my mind were open. As I did Colleen Cherry. I had so much fun working with Colleen in SILENCE! in what was not the largest role – she almost stole the show (if she didn't) nightly. I knew her commitment, I knew sister had a set of lungs. I knew she could move. And then she brought the crazy …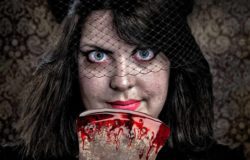 Music director/accompanist Jeremy Douglass referred to her as "Manson Lamps" after the first callback before learning her name. It works. I had several very workable Lizzie's, a blessing. And, again, they could have ranged in age about 10 years. Colleen was the perfect mix of the right range (and power and control within that range), look, dark sense of humor (like my own) with what I already knew to be impeccable timing. I also felt strongly that an audience would take this journey with her. Accept her go from abused shut-in to raging psychotic to full blown rock diva. This is not an easy task, to take us from the gravity and pathos of "This is Not Love" to the wide-eyed murderous glee of her response when Bridget asks at the end of act one "Who's sick?" – "I dunno … somebody …" Heather is the perfect big sister to act as her confidante and collaborator. To add balance of grounding to what would surely be Lizzie's psychosis.
At the end of the second callback I had Fo'i, Colleen, and Heather next to each other singing some of the group harmonies.
Dat blend doe. Sold American.
My last hurdle was casting an Alice, described by the writers as "a luscious pear, the sensuous mother-sister-lover which is sorely lacking in Lizzie's life." Because I'd already made my mind up on the other three it made casting this part the most challenging. This happens as you work down a cast list, you can get a lot less open as the rest of your picture comes in focus, you're looking for a very particular fit. Thankfully I got Christina Capehart in, and fit she did. You have that moment sometimes when you can see it and hear it and feel it and you "THIS. THAT'S IT." Christina rounded out the look, the sound, the vibe. Again, dat blend doe. In every respect.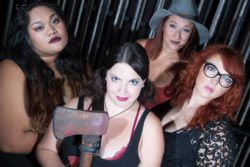 The process through September was a ton of fun and also full of the kinds of adversity and struggles one comes to accept as part of any professional process. The important part is that everyone stayed cool and the room was always a welcome and productive one — even when we had to load a full 6-piece band, PA, microphones, and all of our props in and out of a room a few times in a few days around our rehearsals. The stage management team of Matthew Ray and Kino College made tech painless while Brian Smallheer, Brittany Reuther, Reuben Hirsh and David Cohen made everyone look (and sound) good. Rounding this entire crew our was one of my best friends, Spencer Meyers, who volunteered to AD this show with me since there was not a part for a guy, and Julia Smith who served as the directing apprentice for the production. From callbacks through opening night they were there for me and every other member of the team with ideas, encouragement, and good energy.
And now we're up and running or, well, I should say flying. I have yet to miss a performance, something I have not done in years. I'm already bummed that I know I'll have to miss next Thursday due to a commitment at USF. Every other show? I'll prolly be there. Audiences are eating it alive. I get email after email, comment after comment, and tweet after tweet expressly saying how blown away people are. How they are simply dumbstruck by the power of the voices, the tightness of the band, and the beauty of the harmonies.
I know we keep stressing this is a rock musical, because it is, but don't let that fool you into thinking that this show doesn't have amazing ballads ("This is Not Love," "Will You Lay"), gorgeous group numbers ("Mercury Rising," "Questions Questions"), and tear-jerking duets ("Watchmen of the Morning"). It's all there, I honestly think this is a pretty perfectly written show and I love the transition from musical (I can't say "traditional" because there's not a lot traditional about LIZZIE – a great thing) to out and out concert by the time we reach the song cycle at the end of the second act.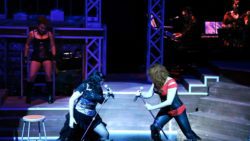 It's got people on their feet every night. And coming back more than once. Hell, even two of the three creators of the show have made it down to see us.
I hope to see you there before it's all over. We just added a show on our closing day, Sun., Nov. 6. We'll now go out with a two show day, 4 and 8pm. Please don't miss it. You're sure to never see anything else like it. And, not for nothing, we need the support of cool stuff when cool stuff is happening so we can continue to do cool stuff so people stop saying that this area isn't cool enough. Cool? So come.