Last year we raised $20,762.80 online in a single day, a new record for us, on #GiveJobsite20. Half of that was raised from the general public in amounts as small as $1 while the remaining came in matching funds put up by our board of directors and the Gobioff Foundation.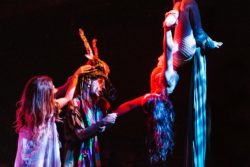 This year our online day of giving, #GiveJobsite2020, is Tue., Apr. 28, and we once again have 2:1 matching funds available. That means that your $10 gift to Jobsite on Apr. 28 can turn into $30, $50 becomes $150, and so on.
Your gifts on #GiveJobsite2020 help in a time of crisis and will ensure we're able to proceed with our 2020/21 season as planned, giving 60 regional artists of all disciplines meaningful and fair-paying work. The economic impact of cancelling the last two shows in the current season while still having DOUBT hanging on uncertainty means that we will lose between $55,000 and $105,000 in ticketing revenue this year, the overwhelming majority of which was to go to artist payroll. 
This is what Jobsite means to some of our Board and Artistic Associates and board members, in their own unedited words (we will continue to add to this album as they come in to us):
We've got these perks lined up for donations on #GiveJobsite2020:
The first gift received on Tue., Apr. 28, gets 2 tickets to our season opener, Dr. Ride's American Beach House. Already a passholder? Bring friends!
All gifts of $25 or more get a Jobsite Swag Bag mailed to them.
Between 9am and 9pm we will randomly draw one donor from the previous hour for a special gift from our merch store (shirts! hoodies! mugs!) or a gift certificate/bag from a local business like The Disco Dolls Studio, Don Banks Music, Tampa Museum of Art, The Straz Center, and more. You can enter every hour if you wish for as little as $1!
All donations during the noon hour will also be entered in a drawing for 2 tickets to A Clockwork Orange next season. Already a passholder? Bring friends!
TWO chances to win a Jobsite Rock Star package (includes VIP season tickets with reserved seating for two people):

We will draw 1 lucky winner from

all

online donations that day to win one package.
The 2nd package will be awarded to whomever donates the most during the day (multiple donations during the day will be added together).

The last online gift Tue., Apr. 28, gets 2 tickets to the last show in our 2020/21 season, Hand to God. Already a passholder? Bring friends!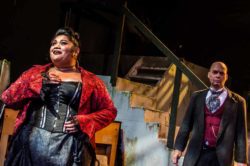 We truly mean it that every $1 counts during an online crowdsourcing day like this. If you are not able to contribute financially please help us raise awareness by telling YOUR story and tagging us on social media and/or using #GiveJobsite2020.
Are you a local business who would like to add a perk and help us raise more money? We'd love to hear from you!
Does your company offer an employer match? You could QUADRUPLE the impact of your gift! Ask your HR rep or send us a note and we'll investigate on your behalf!
IMPORTANT INFORMATION ON TAX BENEFITS FOR GIVING:
DYK: Thanks to the CARES ACT, the federal government has provided some new benefits for donors who want to help non-profits like Jobsite impacted by the current crisis. We hope that this is an added incentive to help us on Tue., Apr. 28. Don't forget that the first $3,000 received that day will be TRIPLED thanks to matching funds from our board the Gobioff Foundation. From the IRS:
The stimulus bill contains a one-time, above-the-line deduction for cash contributions of up to $300 made to certain qualifying charities. All taxpayers would be eligible to take the deduction, even people who use the standard deduction.The incentive applies to contributions made in 2020 and would be claimed on tax forms next year. The new deduction would not apply to non-cash gifts or to gifts contributed to donor advised funds.
For the eight percent of individual taxpayers who itemize their deductions, the bill would suspend for 2020 the normal limit on deductions for contributions, ordinarily 50 percent of adjusted gross income (AGI) or 60 percent for cash. For corporations, the limit on deductions for contributions, ordinarily 10 percent of AGI, is elevated to 25 percent for 2020.
Questions? Call 813.476.7378 or write donate@jobsitetheater.org.