If you enjoyed our set for Gloucester Blue (closing Sunday if you still haven't made it out!), you should be happy to hear that the set of hands behind making Brian Smallheer's design come to life will be with us for the entire 2017-18 season. Three cheers for the fantastic Kristen Kochanik Garza, who will serve as Technical Director for the 2017-18 season!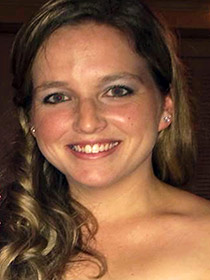 Kristen recently made her return to the area after being in Connecticut for the last year and a half working at the Greater Hartford Academy of the Arts and Chestnut Street Playhouse. Kristen has been involved with theaters all over the Tampa Bay area for years as a scenic designer, technical director, and scenic artist, including Hat Trick Theatre Company (Cash on Delivery, Laughing Stock, Deathtrap), Patel Conservatory (Hairspray, Aladdin Jr, School House Rock Jr), and Blake High School of the Arts (Dining Room, Lord of the Flies, The Tempest). She is a graduate of the University of South Florida (BA; Theatre Design 09).
She's also currently working as an assistant designer and charge artist for the Patel Conservatory's Beauty and the Beast this summer.
Kristen takes over TD duties from Brian Smallheer, who remains with us as a designer in addition to his duties as Technical Theatre Instructor and Technical Director for Tampa Preparatory School.
See the Smallheer/Garza combo in action next with our season opener, Annie Baker's The Flick! Season passes now on sale at a savings of over 30% off PLUS be entered to win a pair of tickets to see HAMILTON when it stops in Tampa if you order by July 17!