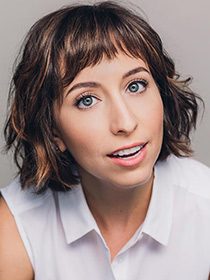 Tatiana (she/they) is a director, theater practitioner, and creative producer hailing from a small city on Florida's lesser known (but equally sunny) west coast.
They serve as Artistic Director of Experimental Bitch Presents, where she makes bitchy & badly behaved new performance. This has included collaborations with artists/companies like Diana Oh, The Bushwick Starr, Upstream Artists' Collective, Performance Project, and Samieva Theater.
Tatiana was a 2020-21 Creative Pinellas Emerging Artist, a 2019-20 Access Theater resident with EBP and part of the 2019-20; 2020-21 SDCF Observership class, where she was recently awarded an observership with Pirronne Yousefzadeh at Geva Theatre Center. In New York City, they have developed theater at Joe's Pub, HERE, BRIC, The Flea, Medicine Show Theatre, Performance Project @University Settlement, Access Theater and the Connelly Theater, among others. In Florida, she has worked with regional companies and venues such as Jobsite Theater, Ruth Eckerd Hall, and American Stage. Tatiana received her BFA from NYU's Tisch School of the Arts.