Jobsite seeks performers for Bertolt Brecht's The Resistible Rise of Arturo Ui, previously cast before the closures in March of 2020. The bulk of the original cast is able to commit to the new dates, May 13 – June 5, however we need to replace at least one performer, possibly more.
Written while in exile in 1941, Brecht's Arturo Ui is a satirical allegory that recasts Hitler's rise as a 1930's Chicago gangster's takeover of the Windy City's green-grocery trade. Terror and bloodshed follow — can anyone stop him? Brecht's skewering of Adolf Hitler and totalitarianism is given renewed significance in 2022 America and is presented here in an adaptation featuring eight performers — Brecht's original featured over 35.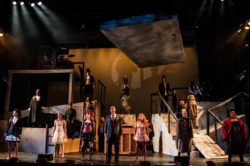 This production was inspired by Producing Artistic Director David M. Jenkins' visit to Brecht's theatrical home, the Berliner Ensemble, where Arturo Ui is still one of their most popular productions. Jobsite previously produced a large-scale version of Brecht's The Threepenny Opera in 2017.
Jobsite is looking for high-energy, fearless, versatile performers of all ages (18+), genders, and ethnicities (with our preference being to cast BIPOC artists in this instance) eager to take on a number of characters and be part of a collaborative ensemble who will devise much of this production as the process unfolds.
All performers are paid $300 a week for no more than 20 hours of rehearsal no more than 5 days a week, and 4 performances a week Th-Sun. once we open. This contract is a total of 8 weeks.
AUDITION REQUIREMENTS:
This call is exclusive to non-union performers 18 years and older in the Tampa Bay area. We cannot offer housing, travel, or per diem for out-of-town performers and are unable to hire member of Actor's Equity Association at this time.
A single PDF file containing both a current headshot/photo and theater resume (no individual files or other formats like .doc, .png, .jpg, or .pages, please!) using the performer's name as the file name (eg Billy-Porter.pdf or BillyPorter.PDF).
A link to an unlisted audition video hosted by a service like YouTube or Vimeo (no file attachments or download links to sites like DropBox or Google Drive, please!).

Kasondra Rose in Jobsite's Shockheaded Peter. (Photo: James Zambon Photography)

The video should be no more than 3 minutes in length and comprised of two HIGHLY contrasting 1-minute monologues that show off the ability to do vastly different character types in a high style of your choosing (camp, Shakespeare, farce, satire, Epic theater, Korean drama, etc) followed by up to 1 additional minute of relevant skills or unique ability the performer would like to show off for consideration (singing, musical instruments, juggling, Chewbacca impersonations, fire-eating, tap-dancing, tap-dancing while juggling musical instruments on fire growling like Chewbacca — you name it). Get weird, blow us away. The additional minute of "human tricks" is not required but encouraged.
Send the headshot/resume file and video link to auditions@jobsitetheater.org with the subject "Arturo Ui casting," acknowledging in the body of the email you have read and understand all stipulations of this call.
Submissions that do not conform to these guidelines may be disregarded.
The deadline has been extended through Mon., Nov. 1. Callbacks will be arranged as necessary.
All performers invited to in-person callbacks must submit proof of full COVID-19 vaccination. Jobsite only hires vaccinated workers, on stage and off.
Performers need to be available weeknights and weekend days for rehearsals beginning Apr. 12. The show runs May 13 – June 5, Thu. – Sat. evenings at 8 and Sun. at 4. Call time is 1-hr before curtain.

As this is an ensemble piece with all actors on stage at the same time, it is critical that performers be available for all days and times.

Jobsite is committed to inclusion, diversity, and equity in our casting.