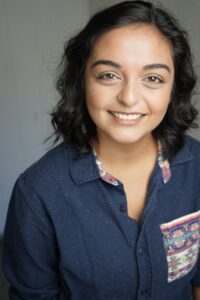 Please help us welcome our new Producing & Engagement Apprentice,
Jena Rashid
! Jena will be an integral part of the company's administrative efforts for the 2022-23 season, from supporting through callback season to devising social media strategies. Jena will also serve this season on Jobsite's play selection committee with Producing Artistic Director David M. Jenkins and the pool of Artistic Associates. We're excited to have her on the team!
Jena Rashid graduated from the University of Central Florida with a BA in Theater Studies and a minor in music. Her career, so far, has consisted of working as a stage manager, director, playwright, actor and other roles through her schooling. Her favorite performance credits include Jessica Jewels in The Butler Did It! for the Orlando Fringe and Understudying Rani in America in One Room at Florida Studio Theater. In her final semester of college she was an intern at the Orlando Shakes as a New Play Development intern and most recently she completed a year-long internship at Florida Studio Theater as a Literary intern. In addition, Jena still writes plays when she can and her works can be found on the
NewPlayExchange.org.