From the works of Edgar Allan Poe
Created and performed by Giles Davies
Oct. 31 – Nov. 4 & Nov. 11, 2011
Wed. 8pm, Fri. – Sat. 10:30pm, Sun. 6:30 pm
Tickets: $13 or $6 with a Gorey Stories ticket stub at the door, cash only; FREE for Jobsite season ticket holders.
Shimberg Playhouse, Straz Center for the Performing Arts
Three years ago, Cincinnati Shakespeare Company presented a new one-man show POE, from the works of Edgar Allan Poe, created and performed by actor Giles Davies. The production featured several of the author's classic stories and poems including The Tell-Tale Heart and Anabel Lee with spatterings of lesser known works to further thrill the audience's imagination. Davies received a Cincinnati Enquirer Acclaim Award for Outstanding Special Event for this production.
Last October, Davies appeared on Jobsite's stage as the Marquis de Sade in Quills and returned in Jobsite's 2012–13 season opener Fahrenheit 451 as Chief Beatty. Since coming to Tampa Bay, Davies has received much praise from audiences and critics alike.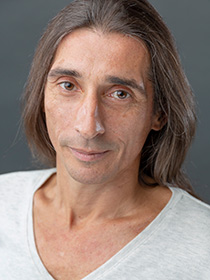 In Nov. 2011, Creative Loafing's Mark Leib wrote the article, "Raw Talent: From a savage Puck to a naked Marquis", actor Giles Davies has quickly established himself as one of Tampa Bay's Best. In it Leib writes, "And [Davies] has a message for us locals: 'You need to fight against the belief that the best work in the country is coming out of New York. That's not the case. And cultivate a direct appreciation for the artists that are working within their own community. … These are your artists. They are staying here because of you, they live here because of the money that you give the theater. And if you like these artists, come see and support their work.' Certainly, one reason to go to the theater recently has been to see Giles Davies. He's that good. He's that surprising. I suspect that he has many more gifts still to bestow."
Giles Davies performed with Cincinnati Shakespeare Company for nine seasons as a member of the Resident Ensemble. He received his M.F.A. from Ohio State University where he specialized in creating solo performances. He has performed two of his solo shows, An Evening with Charles Dickens and Turgid Tales of Turmoil, Terror and Tortured Souls, in Hong Kong, Belgium, Malaysia, California, New Hampshire, Indiana, Ohio, and Florida. His solo performance in the Cincinnati Shakespeare Company production of Frankenstein, The Modern Prometheus received rave reviews and a Cincinnati Enquirer Acclaim Award.