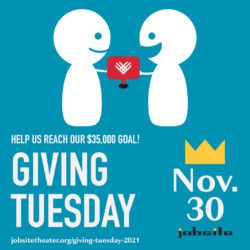 #GivingTuesday is an annual online day of giving and our biggest fundraising event of the year. Funds raised on #GivingTuesday will help ensure our stability through 2022 as we still press on toward a world that looks a little bit more normal.
This year, #GivingTuesday is Nov. 30 and we have set a $35,000 goal. We're not only still trying to make up the catastrophic losses of 2020, but also massive budget shortfalls since re-opening due to higher overhead smaller audiences.
Through your help in 2021, even amid so much strife, we offered the Tampa Bay area 7 fully-produced live professional productions, including an encore, for a total of 116 performances with a live audience. In addition, we offered 8 weeks of streamed performances for those unable to come to the theater, and dozens of online-specific offerings in our Jobsite Digital Shorts series. All of this put together allowed us to offer over 120 paid contracts to regional artists. We even raised wages along the way!
We can't wait to see what 2022 holds. We know things will remain uncertain for a while, but with folks like you having our back we know anything is possible. We hit the ground running in Jan. with a production of Romeo & Juliet — a show that's already filling fast, both standard curtains and the weekday field trip matinees for middle and high schools. "No one in this region "Rocks the Bard" as hard, as relevant, and as daring as Jobsite and their players" – BroadwayWorld.
Your gift today will help ensure Jobsite continues to rock for years to come!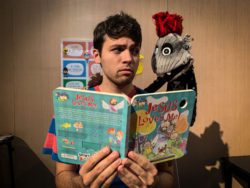 To help get us make our goal sooner, we've collected $15,000 in matching funds thanks to a generous grant from Gobioff Foundation and gifts from our board. That means the first $15,000 raised from good folks like you will be matched $1 for $1, cutting our work almost in half.
We need your help more than ever to ensure we survive these challenging times intact.
How can you help? We'll try to make it easy:
Donate directly on our website from midnight to 11:59p on Tue., Nov. 30. All gifts during that time will be automatically go toward our goal. We will put a big giant link here on the day to make it easy, or you can bookmark jobsitetheater.org/donate
If you would like to pay by check, we need to receive that by Mon., Nov. 29 for it to count. Good news is you'll be first in line to take advantage of matching funds!
If you follow us on Facebook, you'll see a Facebook Fundraiser leading up to the day and all donations made there will also go toward our total.
Would you like to help in another way?
Please share our information leading up to/on #GivingTuesday and tell YOUR story about what Jobsite means to you. Short videos are great, but even just pictures and posts work fab!
Do you work for a local business that would like to add perks for folks who donate like a discount to your store or something we can use as a thank-you gift? We'd love that! Email us to start a conversation!
You tell us! We all ears about your ideas!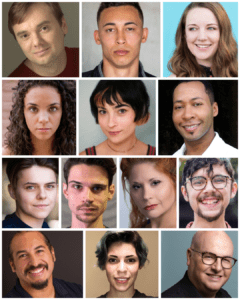 Jobsite is dedicated to performing socially and politically relevant theater to the broadest possible audience. Jobsite has established a collective of like-minded regional artists over 60 members strong, creating both a supportive collaborative environment and professional theatrical laboratory.  Through all forms of theater – experimental, new plays, contemporary work, or the classics – and our expanding education programs, we hope to inspire our community to become not just consumers, but true citizens.