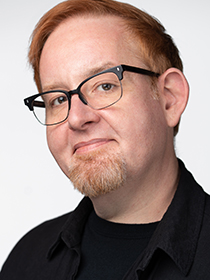 I sincerely hope you're entertained by this play. It's how Brecht would have wanted it, and it's certainly how I want it. I know the topic is heavy, but I've argued for some time now that laughter can be a liberating act, and a seed of resistance that can bear fruit outside of this space. You're going to find a lot of over-the-top broad comedy from some of our audience's favorites, several WTF? moments, silly props — maybe even a puppet — and a few songs. Sure, there's a point in the end, but let's not get ahead of ourselves.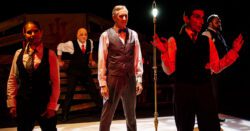 When I began working on this play in 2018 I was thinking of one guy. In 2019 when I visited Brecht's Berliner Ensemble, I was still pretty much thinking of one guy. Now, in 2022, I'm not. This play is not about one guy. Not Arturo Ui, not Adolph Hitler, not You-Know-Who, not Insert-Whomever-You-Like. The play is about how an entire society becomes complicit behind people like Arturo Ui when there's something in it for them (and often even when there's not) until it's far too late to do anything about it. We've seen it time and again.
You can't exactly say Brecht's script was prescient because he was writing about something happening right then, and about things that had happened before that, but that these words continue to come out of our "leaders" mouths so often to this day should trouble us all since we know full-well where they lead. They never fail not to.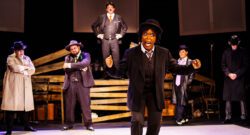 This play is also about choices. We make a lot in this country about our individual freedoms, liberties, and our choices but we tend to do so while ignoring the other sides of those coins – our collective responsibilities, dependence on one another, and consequences. People like Ui get into power not in a vacuum, but by people allowing them to get there.
I also want to underscore that this play is a parable. Everyone here is representative of other people or whole categories of people. Arturo Ui may look like Adolph Hitler, but he's walking the earth in many forms right now. Roma, Givola, and Giri may be based on Röhm, Goebbels, and Göring, but they're also stand-ins for complicit generals, propagandists, and war criminals everywhere. The Cauliflower Trust sounds a lot like Wall Street, and out-of-touch marks like Dogsborough probably appear all-too-familiar. The actors here will editorialize, satirize, more than inhabit.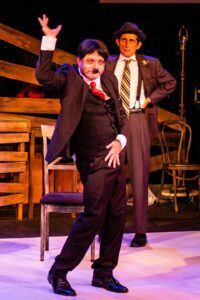 I chose not to beat the horse of how each and every thing in this play mirrors real events in the Third Reich's rise (though they do), just as I chose not whack you to death with a tiki torch to point at Charlottesville, the Capitol Insurrection, or war in Ukraine (which I still hope you see). I'd rather you be entertained now and think about it more later.
Democracy is complicated, ugly, and difficult. It's also precious and incredibly fragile.
Yes, let's please all have a good laugh tonight, but let's never lose sight of that.
Thanks for being here. – dj