"Ui is a parable … written with the aim of destroying a dangerous respect commonly felt for great killers … The petty rogue whom the rulers permit to become a rogue on the grand scale can occupy a special position in roguery, but not in our attitude to history … The play is not so much an attack on Hitler, but rather upon the complacency of the people who were able to resist him, but didn't" – Bertolt Brecht.
The Resistible Rise of Arturo Ui
is simultaneously about our past, present, and future. A curious pastiche of '30s gangster films, vaudeville, Richard III, and actual events from the rise of the Third Reich. Brecht created a very funny, fast-as-the-wind, frightening, accessible, and entertaining piece of theater that still acts as a clarion call to this day.
Learn more about the show!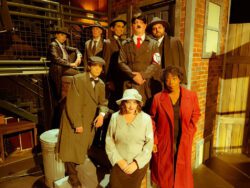 Join us May 11 – June 5 in the Straz Center's Shimberg Playhouse!