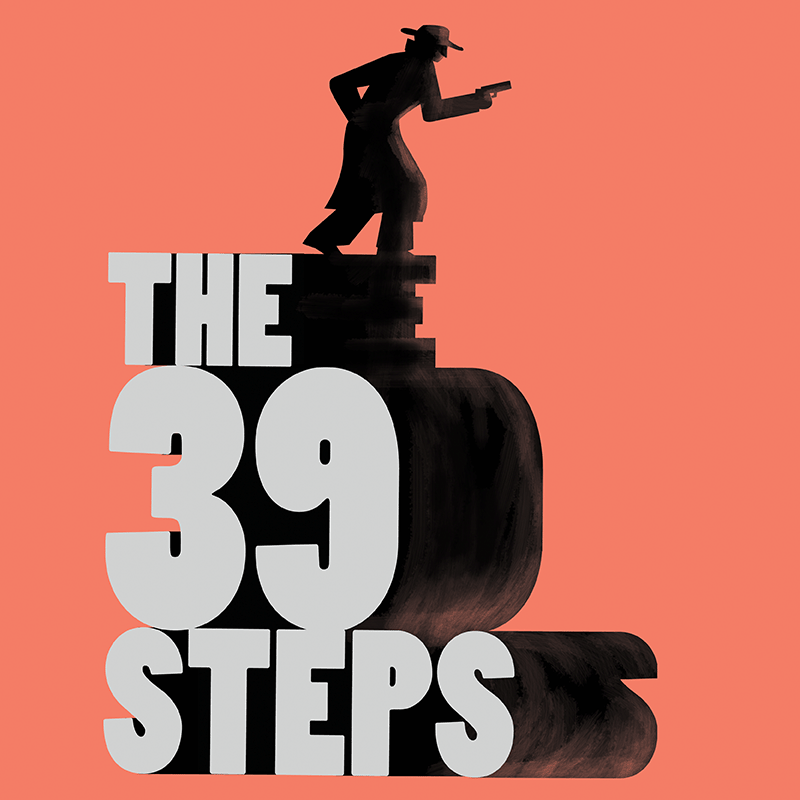 By Patrick Barlow, based on the 1935 film by Alfred Hitchcock
Directed by Katrina Stevenson
Extended! Jan. 12 – Feb. 5, 2012
Thu. – Sat. 8pm, Sun. 4pm
Tickets: $24.50
Shimberg Playhouse, Straz Center for the Performing Arts
WINNER of two Tony Awards and two Drama Desk Awards in 2008 as well as the 2007 Olivier Award
Mix a Hitchcock masterpiece with a juicy spy novel, add a dash of Monty Python, and you have The 39 Steps, a fast-paced whodunit for anyone who loves the magic of theatre.
The 39 Steps is packed with nonstop laughs, over 150 eccentric characters – played by a prodigiously talented cast of four – an on-stage plane crash, handcuffs, missing fingers and some good old-fashioned romance.
In The 39 Steps, a man with a boring life meets a woman with a thick accent who says she's a spy. When he takes her home, she is murdered. Soon, a mysterious organization called "The 39 Steps" is hot on the man's trail in a nationwide manhunt that climaxes in a death-defying finale.
A riotous blend of virtuoso performances and wildly inventive stagecraft, The 39 Steps amounts to an unforgettable evening of pure pleasure.
Katrina Stevenson – Director
Miriam Rochford – Stage Manager
Cast
Amy E. Gray – Annabella Schmidt / Pamela / Margaret
Matt Lunsford – Richard Hannay
Spencer Meyers – Man 1
Brian Shea – Man 2
Crew
Bridgette Dreher – Scenic Artist
Tiffany Gans – Run Crew Ninja
Jaime Giangrande-Holcom – Props Wrangler
David M. Jenkins – Sound Designer / Voice Over Artist
Greg Newcomb – Poster Artist
David Russell – Voice Over Artist
Brian M. Smallheer – Scenic and Lighting Designer
Katrina Stevenson – Costume Designer
Bob Westphal – Run Crew Ninja
Once again, Jobsite has outdone itself! We have been coming to Jobsite performances for almost five years and have been season ticket holders for three years now. You have never done a funnier show. – Dona and John
I'll have to see The 39 Steps again just to catch all the lines I missed because I was laughing so hard. Brian, Amy, Matt & Spencer provided a wonderful way to start my 2012 theater season. – Desiree Fantal
Four actors. Eleventy-nine accents. Wait, did I just see Hitchcock??? – MJ Williamson
39 Steps is a fantastic show! – MaryKay Cyrus
It was absolutely hilarious. Everyone in the cast was wonderful, but have to give extra kudos to Brian Shea and Spencer Meyers due to all of the characters and quick changes. Loved it! – Kim Smallheer
Thursday night's performance was awesome. – Linda Brandt
The 39 Steps last evening – such fun! My stomach still hurts this a.m. from laughing so much…it was a great time! We are fortunate to have Jobsite and all its talented people in Tampa…amazing! – Sandra Corona Johnson
Great show! A must see! – Stephen Tallman
Everyone needs to go see Jobsite's 39 Steps while you still can!! Great job to all involved!!! – Megan Lamasney
Saw The 39 Steps at @jobsitetheater tonight. Very funny. Whole cast was brilliant. – @SkajaW
Enjoyed '39 Steps' @jobsitetheater tonight. Even got a dummy thrown in my lap.#bonus – @macrmccoy
Congratulations to the Jobsite crew. They put on a great show last night. I laughed so hard my throat hurt when I left. Bravo to all!! – Matt Ray
OK Kids… it's that time of year when we see really, really good shows and want YOU to get out of your jammies and see them too. The show? 39 Steps! You'll laugh. You'll cry. You'll duck and cover. You von't be sorry (done in thick Germanic accent). – Roz Potenza
What a fantastic opening night. the show was hilarious. many congratulations to everyone involved. tickets are selling fast. DONT MISS IT! – Jan Lunsford
Kudos great show! – Beth Hyde-Hood
So funny and fast-paced! Saw it Sunday, what a great and talented cast. We especially enjoyed the Scottish innkeepers! – Cindy Kastner Donovan
This Show is AWESOME and Shouldn't Be Missed!!! – Robert Oxley
I had so much fun watching the show yesterday — you guys are fabulous! – Paige Gilley
Tremendously fun show, don't miss it! – Susan Oliver
The 39 Steps was awesome! – David Russell
A fantastic show, everyone was fantastic!!! – Owen Robertson
@jobsitetheater Nice work! Hitchcock would be proud! – @fsu2626