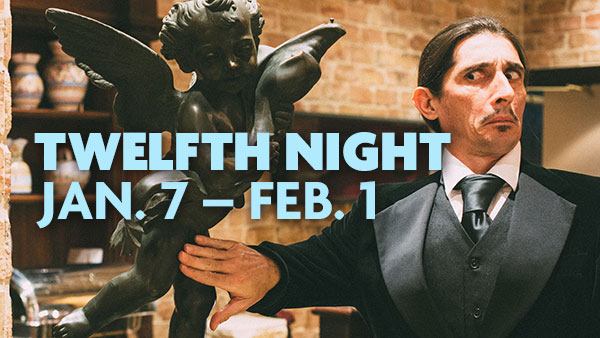 Twelfth Night is upon us!
We kick off 2015 with a masterful comedy!
Just a few days until our first preview (all seats $14), Jan. 7, with opening night right behind it on Jan. 9. We can't believe it's already here!
Shakespeare's hilarious comedy about mistaken identity, midnight revels, wild infatuations and swooning serenades is for our purposes set against the backdrop of 1926 Ybor City. We will also have a display courtesy the Tampa Bay History Center from their Prohibition exhibit as you enter the theater!
We were fortunate enough to have Brazilian theater photographer Victor Iemini visit two rehearsals last week. Crawford Long shot a few members of the cast two the first week of rehearsal inside Ybor's Columbia restaurant, and he will be back tomorrow during our 10 out of 12 technical rehearsal tomorrow to take actual production photos on set in full costume. Expect to see those on Facebook or Twitter in the next few days if you follow us there, or we'll surely post in next week's newsletter.
The show show is selling exceptionally well – we're essentially sold out for all performances Jan. 9-11 (we say "essentially" because season ticket holders exchange a seat here and there up through the day of the show, call 813.229.7827 to check on availability or to buy – avoid the online service charges!) and the Jan. 7-8 previews are right behind them. We are not expecting any ticket to be available the day of the show for any performance Jan. 7-11, and we hope that's a trend that continues through our run which ends Feb. 1!
We made it to almost 90% of our goal for the power2give Adopt an Actor campaign we did to raise funds for the show, which is allowing us to offer more steeply discounted tickets to schools without putting the burden of reduced revenues on the backs of our artists. We've even been able to get the 7th and 8th graders from St. Peter Claver Catholic School in for FREE because of how successful this campaign was. THANK YOU for all of the donations and for the shares, it made a difference! I'm following up with donors now on t-shirts sizes, and the location of our opening week cast party (Sun., Jan. 11 at 7p after the show) will be announced soon. Stay tuned!
We're very, very excited to share this show with you! Hope to see everyone soon!