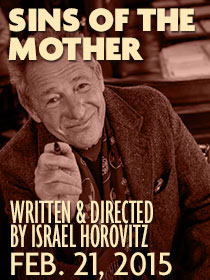 A Staged Reading Written and Directed by Israel Horovitz
Feb. 21, 2015
Sat. 8 pm
TECO Theatre, Straz Center for the Performing Arts
Tickets: $25; $12.50 for students; FREE for Jobsite Rock Stars.
All tickets sold only below or at the door, and NOT available through the Straz Box Office.
This one-night only evening with theatrical treasure Israel Horovitz caps off a week of residency with Jobsite, where he directs his own play featuring a quartet of Tampa Bay actors in a play bursting with banter and the rhythms of working-class one-upmanship.
This very special evening includes a Q&A with Horovitz after the reading and then a meet and greet/book signing to follow.
In Sins of the Mother, Horovitz offers us a group of earthy, brawling, self-sufficient street-talkers who live by their hands, be that in work or violence. It begins with a generational confrontation: Young Douggie Shimmatarro, back in Gloucester, has to prove to Bobby Maloney that he was born there and that his mother lived and died there, though he himself was raised by a grandmother in another town. Everyone knows everyone in a town like Gloucester, and newcomers need to prove themselves. This start defines the landscape on which unfinished wars unexpectedly play themselves out.
A note on the performance
This is a staged reading of the play. It will be blocked and rehearsed for the week under Israel's direction (meaning the actors will move about) and performed on a rudimentary set with costumes and other tech. This is not a straight reading of the play where the actors sit in chairs or on stools with music stands ands simply read. The actors will however carry scripts as they move about through the play due to the limited amount of rehearsal time.
About Israel Horovitz
Israel Horovitz has written over 70 plays, several of which have been translated into as many as 30 languages and performed worldwide. His play Line is now in it's 39th year of continuous performance off-Broadway. He is Founding Artistic Director of Gloucester Stage Company, and of the New York Playwrights Lab. Horovitz teaches a bilingual screenwriting workshop with writers from la Fémis, France's national film school, and Columbia University's graduate film program. He is married to Gillian Adams-Horovitz, former British National Marathon Champion and Record holder, and former USA Track & Field (Masters) Marathon Champion. He is the father of Beastie Boy Adam "Ad-Rock" Horovitz and Moneyball producer Rachel Horovitz. The Horovitz family divides its time among homes in Gloucester, Massachusettes, NYC's Greenwich Village, and London's Dulwich Village. Mr. Horovitz visits France, frequently, where he often directs French-language productions of his plays. He is the most-produced American playwright in French theatre history.
Cast & Crew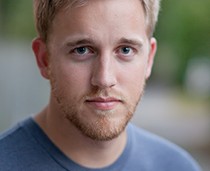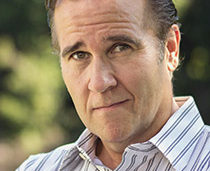 Related Links
Job-side Productions
Season
Share: