Jobsite's 25th Anniversary Season!
2023-24 doubles down on our aesthetic, commitment to our artistic core and regional artists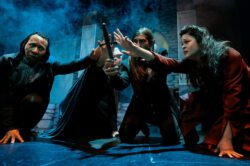 Tampa, FL – The 2023-24 season is Jobsite's 25th year of bringing the Tampa Bay area exciting, engaging live theater experiences between the Jaeb Theater and Shimberg Playhouse as the Straz Center's official resident theater company.
After several years of disruptions and devastating losses, this current season is our most successful to date. Productions of Dracula and Hamlet both set records as back-to-back #1 best-sellers, and our current production of MISERY is quickly climbing up our top 5. Producing Artistic Director David M. Jenkins notes, "for 2022-23 we had very honest conversations as to how critical it is for our survival we line up a season that would be hard for audiences to resist while staying true to who we've always been artistically" – a methodology that is now undeniably successful. The 2023-24 25th Anniversary Season doubles-down on this approach while achieving important goals for us in how we compensate our artists.
"The 25th anniversary season sees artist payroll increase straight down the line between 25-50%, with weekly employees like actors and stage managers seeing a 41% increase. No one will work for us in any position for less than $20 an hour. We had a plan to raise wages in 2020, but, well, we all know what happened," Jenkins offers. These raises put Jobsite's pay scale above the national average for theaters of our budget size, according to the most recent salary survey from Theatre Communications Group.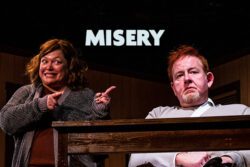 The success of the current season and a strict commitment to "on-brand" programming has secured these adjustments simply from increased box office revenues. We are also unique in how we offer profit-sharing to most artists, splitting any net revenues past breakeven expenses directly with those who create the work.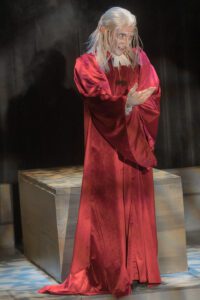 "Jobsite was founded as an artist's company, as an eclectic ensemble across disciplines, and we will continue to do all we can to take care of those who generate the work. This also means in how we commit to those who commit to us — not just in terms of pay scale, but in providing them more consistent work."
Giles Davies, long-time Jobsite collaborator, has been added to our now 15-member panel of Artistic Associates, the group that serves as the de facto artistic brain-trust for the organization, advising Jenkins on play selection and other initiatives.
Jobsite will soon unveil a new logo and branding kit along with the official 25th Anniversary poster designs, and curtain times will change for the first time in 20 years with all evening performances taking place at 7:30pm and weekend matinees moving to 2pm.
Jobsite's 2023-24 25th Anniversary Season
Rosencrantz and Guildenstern are Dead
By Tom Stoppard
Directed by David M. Jenkins
Sep. 13 – Oct 8, 2023
Shimberg Playhouse, Straz Center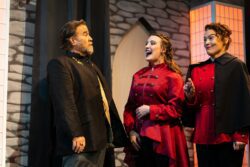 As we celebrated the monumental success of Hamlet, we started to muse "wouldn't it be fun to do absurd comedy Rosencrantz and Guildenstern are Dead using this lights-out cast?" Soon the wild idea caught traction, and everyone decided they were in.
Before winning an Oscar as a writer of Shakespeare in Love, Tom Stoppard delivered another ingenious comic retelling involving the Bard of Stratford-upon-Avon — he dove into Hamlet and retold it from the point of view of two bumbling support players. The entire world is a stage, and Rosencrantz and Guildenstern play their part, finding themselves unwitting pawns in history's greatest tragedy.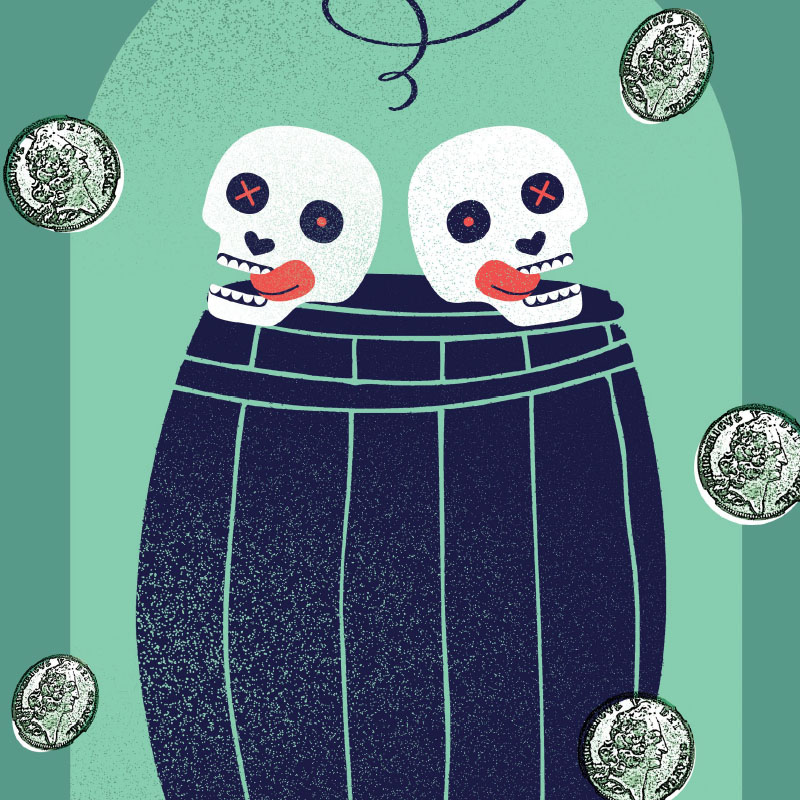 This hilarious contemporary classic was the winner of both the Tony and NY Drama Critics Circle awards when it premiered. TL;DR: Rosencrantz and Guildenstern are the awkward college chums of Hamlet, and this is the story of what "really" happens behind the scenes as events pass them by.
Hamlet alums Nicole Jeannine Smith (Guildenstern) and Katherine Yacko (Rosencrantz) are now in the spotlight, supported by Giles Davies (Hamlet/Tragedian), Roxanne Fay (Gertrude/Alfred), Ned Averill-Snell (Claudius/Tragedian), Hugh Timoney (Polonius/Tragedian), and Carla Corvo (Ophelia/Horatio). Joining this group that just set an all-time Jobsite sales record is beloved regional artist Jack Holloway as The Player (last seen on the Jobsite stage in All New People) for what is guaranteed to be a wild night of laughs and deep thought.
Frankenstein
Adapted by Nick Dear from the novel by Mary Shelley
Directed by David M. Jenkins
Oct. 18 – Nov. 12, 2023
Shimberg Playhouse, Straz Center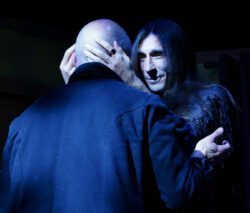 Is it even Halloween if Jobsite doesn't have something spooktacular on stage? Recent years have seen us run down a list of horror literary masterpieces and literary-adjacent works in Dr. Jekyll & Mr. Hyde, Dracula, Misery, and Edgar & Emily – and we can't wait to give Frankenstein our own special spark of life.
Childlike in his innocence but grotesque in form, Frankenstein's bewildered creature (Paul J. Potenza) is cast out into a hostile universe by his horror-struck maker (Giles Davies). Meeting with cruelty wherever he goes, the friendless Creature, increasingly desperate and vengeful, determines to track down his creator and strike a terrifying deal. Urgent concerns of scientific responsibility, neglect, cognitive development, and the nature of good and evil are embedded within this thrilling and deeply disturbing classic of both the sci-fi and gothic genres. Nick Dear's electrifying adaptation emphasizes intense human emotion and the complexities of human relationships over shock and gore, however audiences should still be advised that aspects of the story remain unsettling over 200 years after publication.
Frankenstein, based on the novel by Mary Shelley, premiered at London's National Theatre in 2011 starring Benedict Cumberbatch and Johnny Lee Miller. Potenza and Davies were last seen together in Dracula.
Twelfth Night
By William Shakespeare
Directed and adapted by David M. Jenkins with original music by Jeremy Douglass
Jan. 17 – Feb. 11, 2024
Jaeb Theater, Straz Center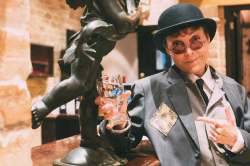 "If music be the food of love, play on!" Jobsite's Shakespeare tradition has become an annual centerpiece of the region's cultural offerings. "No one 'Rocks the Bard' as hard, as daring, or as relevant as Jobsite and their players," according to BroadwayWorld. A five-time finalist for the NEA's Shakespeare in American Communities Award, Jobsite's takes on Shakespeare have proven time and again to be exciting, "must-see" experiences.
In this joyous, rollicking comedy with music (composed by our own award-winning wunderkind Jeremy Douglass), a hurricane forces a shipwreck and young Viola believes her twin brother Sebastian drowned. Determined to survive on her own, she takes on a disguise to explore this new, mysterious land. Thus begins a whirlwind of mistaken identity and unrequited love … This treasured comedy brims with wild infatuations, swooning serenades, drunken high-jinks, and beloved characters.
Jobsite fans may recall an award-winning staging of this play in the Shimberg Playhouse some 10 years ago, but rest assured this will be an all-new production that will take place in the Jaeb Theater.
Weekday field trip matinees for school students are available starting Jan. 23. All groups attending field trips are offered custom study guides and visits from teaching artists before and after the show. Please call 813.222.1016 or write FieldTrips@strazcenter.org to learn more.
The Beauty Queen of Leenane
By Martin McDonagh
Directed by Paul J. Potenza
March 13 – April 7, 2024
Shimberg Playhouse, Straz Center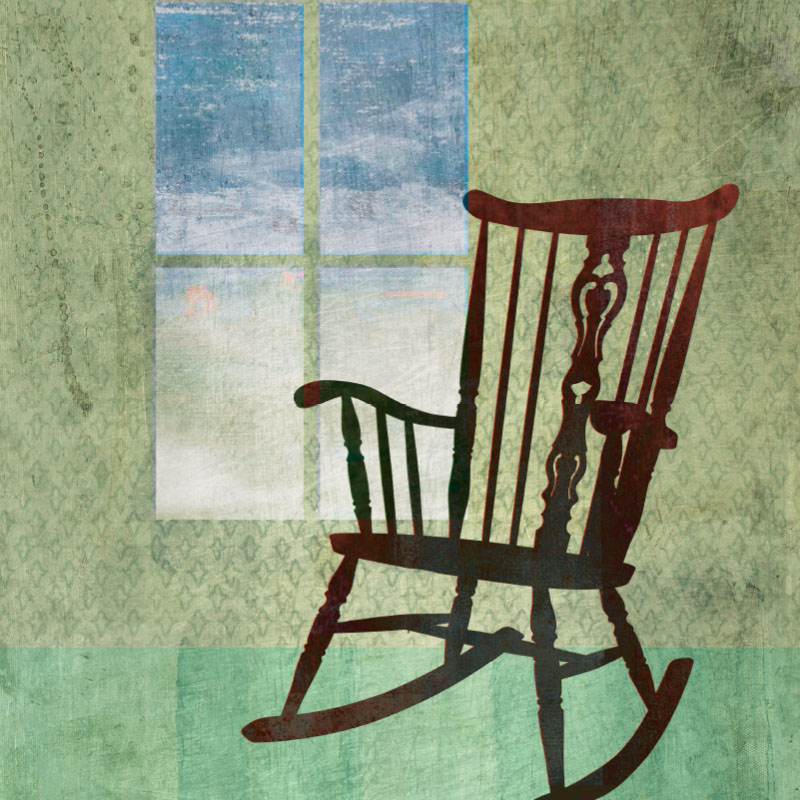 Before he was writing Oscar-bait like The Banshees of Inisherin, Three Billboards Outside of Ebbing, Missouri, and In Bruges, Martin McDonagh wrote two trilogies of plays set on the west coast of Ireland. Jobsite fans often cite McDonagh's work among their favorites when looking back at our 25-year history, and we agree. With The Beauty Queen of Leenane we return to the first of his plays we staged, and the show that convinced then-TBPAC CEO Judy Lisi to make us resident theater company in 2003. That production was noted as a top 10 performance by both Weekly Planet and The Tampa Tribune. Paul J. Potenza returns to direct an all-new cast 21 years later.
Set in a small town in the mountains of Connemara, Galway, The Beauty Queen of Leenane spins the darkly comic yarn of Maureen Folan (Katrina Stevenson), a woman who feels like anything but a beauty queen. After a lifetime spent caring for her bullying tyrant of a mother (Roxanne Fay), 40-year-old Maureen feels that she has been robbed of any chance of romance or a life of her own. When true love (David M. Jenkins) finally does come along for Maureen after a message from one of the town hooligans (Blake Smallen), the two women lock horns until scores are settled. With plot twists and story conundrums, The Beauty Queen of Leenane will have audiences laughing aloud one moment and covering their mouths in stunned silence the next.
El Maleficio de la Mariposa
A spectacle based on the unfinished work by Federico Garcia Lorca
Directed by TBA
May 15 – June 9, 2024
Shimberg Playhouse, Straz Center
Building on the inventive work of both Shockheaded Peter and this season's ALICE, Jobsite again brings our friends from all fields together to fuse live music, visual art, puppetry, aerial and circus arts, and plenty of good ol' fashioned theater magic in an evening audiences won't soon forget.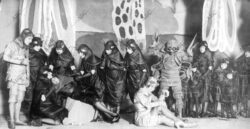 This dark comic fable takes place in a garden where a community of different insects is disrupted by the appearance of an injured butterfly. El Maleficio de la Mariposa (English translation: The Butterfly's Evil Spell) was the first play written by 20th century Spanish poet and dramatist Federico Garcia Lorca, however the script was lost and only later found incomplete – missing several pages and the ending. Now in the public domain, Jobsite intends on adapting this work in our unique style to create an event for audiences of all ages and both speakers of English and Spanish.
The Rocky Horror Show
by Richard O'Brien
Directed by David M. Jenkins, music direction by Jeremy Douglass
July 10 – August 4
Jaeb Theater, Straz Center*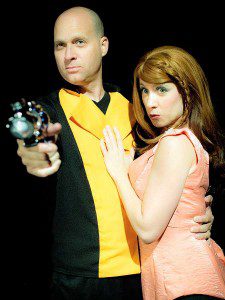 In 2014, Jobsite first took over the Jaeb Theater for a co-production of Return to the Forbidden Planet with the Straz Center. 10 summers later they take on the show they've been waiting for as part of their 25th Anniversary Season! Jobsite fans must know this cult-hit rock musical is a no-brainer for the company who has consistently taken home Creative Loafing Best of the Bay Awards like "Best Theater Rockers," "Best Musical," and "Best Local Production" for scorchers like Forbidden Planet, Hedwig and the Angry Inch, Joe Popp's Pericles, SILENCE! The Musical, LIZZIE, and others.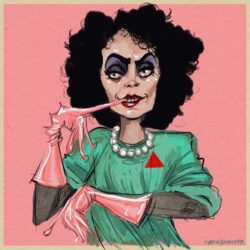 The antici … pation is over for Jobsite's spin on the OG kitschy rock 'n' roll sci-fi gothic musical! Straightlaced Brad Majors and Janet Weiss, stuck with a flat tire during a storm, discover the eerie mansion of Dr. Frank-N-Furter as they look for a phone to call for help. As their innocence (and more) is stripped away, they encounter a castle-full of wild characters while the not-so-good Dr. and his motley crew unveil his latest creation — a Charles Atlas-inspired beefcake named Rocky. Give yourself over to absolute pleasure at this iconic landmark of musical theater and — now at almost 50 years old – enduring part of popular culture.
* This performance will, pending clarification on Florida law, be restricted to guests 18 years and older. Our understanding is that there is NOT a parental consent override here.
The Smuggler: A Thriller in Verse
By Ronán Noone
Starring Giles Davies
Aug. 14-25
Shimberg Playhouse, Straz Center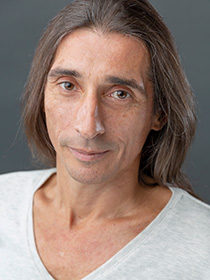 Irish immigrant Tim Finnegan wants to be a writer in America but struggles to find his path. That all changes when a stranger arrives with a plan to make people "disappear and reappear." In this mischievous, one-man, rhyming-verse dark comedy, Tim learns the price he must pay to become an American. Step into his secret speakeasy (with a real working bar!) to hear a twisty story with unsavory characters and shady shenanigans.
Regional audiences may recall Davies' highly acclaimed run of this show in Sarasota at Urbanite Theatre. Tampa Bay area audiences can look forward to a slightly different ending, fresh from the playwright! "Captivating! I sat horrified and charmed, watching Davies smoothly wrap us in his web of deceit and crime" —Sarasota Herald-Tribune. "A masterful performance … A level of excellence we rarely have the chance to witness in person" —Bradenton Times.
SAVE THE DATE
Sat., Dec. 2, from 6-10pm is Jobsite Rocks! 25th Birthday Bash, to be held in Tampa's New World Music Hall. Enjoy an incredible variety show featuring members of the Jobsite ensemble and our friends from around the region, food, drinks, silent auctions, opportunity drawings, and more! This ticket is separate from the season pass, but Rock Star and All-Star donors get free entry for this event.
TICKETS AND PASSES
A season pass is the best way to save money and provide meaningful support to Jobsite's ensemble of over 60 regional artists. Passes will be available May 10 and cost a total of $185.50 for regular nights and $150.50 for the first Thu. preview. Passes are not subject to additional fees or demand-based pricing (saving folks up to 80%), come with unlimited free ticketing exchanges, and additional tickets to bring friends may be purchased at a discount.
Single tickets start at $40 for standard performance, previews at $25, and increase by performance date based on demand. Single tickets are also subject to ticketing and restoration fees levied by the Straz Center. A schedule for when single tickets go on sale will be released later this summer, until then the only way to secure seats is through a pass.