We have immediate openings for technical apprentices to learn from our staff while providing us meaningful support. Our technical apprenticeships are available on a show-by-show basis or for the duration of the season, and are paid hourly for their time.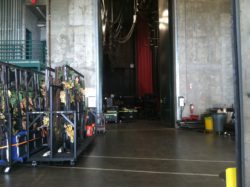 Jobsite's apprenticeship program is designed to give early-career residents of the Tampa Bay area access to training and employment in professional theater. We are particularly interested in creating opportunities for members of historically marginalized communities and anyone who has faced barriers trying to enter the field of technical theater.
Technical apprentices will work on mainstage performances at one of the largest performing arts centers in the nation under the supervision of award-winning industry professionals in a variety of technical theater areas to include carpentry, scenic painting, set dressing, props, and lighting. Jobsite performs in both the Jaeb Theater and Shimberg Playhouse as the resident theater company of the Straz Center. It is possible that Jobsite apprentices may be invited to work additional hours on Straz Center productions as needed throughout their season of produced shows.
Production hours can be irregular, varied, and might include weeknight and weekend shifts in addition to standard weekdays. We are willing to work with apprentice schedules as best we can to create mutually-beneficial partnerships.
Apprenticeships may be worked out for individual shows, a run of shows are the season. We want to hear from you!
Persons interested in learning more about our apprenticeships should send a letter of interest and theatrical resume to djenkins@jobsitetheater.org. Internships for academic credit are also available.
Underwriting opportunities are available for our Apprenticeship Program, call 813.476.7378 or contact us online for more information.
Jobsite is sponsored by Gobioff Foundation, Cornelia T. Bailey Foundation, Saunders Foundation, State of Florida Division of Arts and Culture, Hillsborough County, Straz Center for the Performing Arts, and Illumination Advertising.