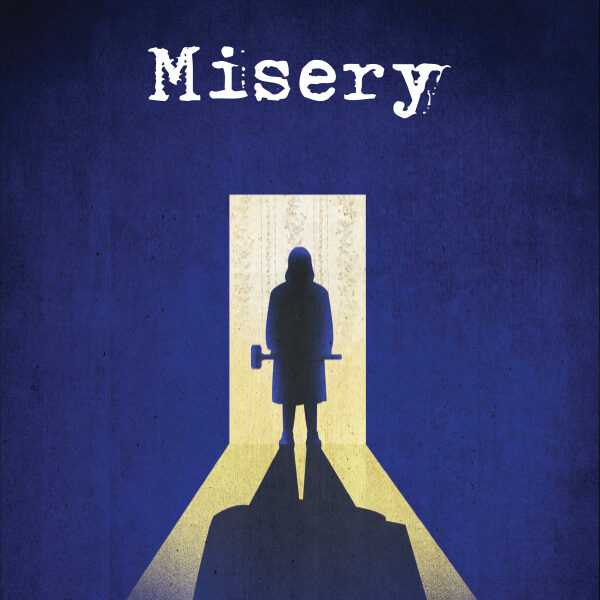 Mar. 15 – Apr. 9
Shimberg Playhouse
Jobsite presents
MISERY
by William Goldman
Adapted from the novel by Stephen King
Direction 
Paul J. Potenza
Set Design
Brian Smallheer
Light Design
Jo Averill-Snell
Costume Design
Roz Potenza
Composition
Jeremy Douglass
Fight Direction
Brianna McVaugh
FEATURING
Summer Bohnenkamp, Josh Goff, and David M. Jenkins
PLEASE silence and stow all electronic devices before the performance starts. The taking of photographs and/or use of other recording equipment is strictly prohibited during the performance, but you are welcome to snap shots when the house lights are still up. Tag us on Instagram, etc., @JobsiteTheater and/or use #JobsiteRocks
Jobsite is a proud member of Theatre Communications Group, the league for professional American theater, the Network of Ensemble Theatres, Florida Professional Theatre Alliance, and Theatre Tampa Bay, the area's alliance of professional theaters. Thank you for supporting regional professional artists!
Help Us Make Our 2023 Goal!
Help us to continue entertaining and inspiring more than 15,000 audience members a year while reaching an additional 5,000 middle and high school students directly in the schools: become part of the family by joining our Annual Campaign! Our 2023 goal is $100,000, which will allow us to continue offering affordable access to the arts while increasing the quality and working toward a living wage for all our artists.
Thanks again for being with us tonight. Enjoy the show, and please let us know what you thought.
Tips Appreciated!
If you would like to drop a tip for tonight, hit Jobsite through Venmo @JobsiteTheater or select the "Other" option at JobsiteTheater.org/donate. Please tip the Straz Center directly through your app!
The Cast
Annie Wilkes: Summer Bohenkamp
Paul Sheldon: David M. Jenkins
Sheriff Buster: Josh Goff
Who's Who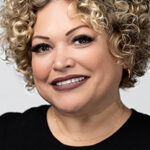 SUMMER BOHNENKAMP [she/her] (Annie Wilkes) has worked with Jobsite Theater in various capacities since 1999 – as director (DOUBT, Constellations, Time Stands Still, The Flick), co-director (Annapurna), performer (Vampire Lesbians of Sodom, The Odd Couple, Dog Sees God, Dead Man's Cell Phone, boom!, Gorey Stories, The March of the Kitefliers, subUrbia and others), assistant director (reasons to be pretty, All New People), costume designer (Gloucester Blue, American Buffalo, True West, The Taming of the Shrew) and more. By day, she is the chief marketing and programming officer for the Straz Center. She lives in Tampa Heights with her husband and squad of rescue critters.
JOSH GOFF [he/him] (Sheriff Buster) has been performing theater in the Tampa Bay area for the last 25 years, he is looking forward to returning to the Jobsite stage, he was last seen in the RL Production of, Along The Way. Other productions include Fluid Expressions production of Top Dog/Under Dog, American Stage's production of August Wilson's Jitney, Stageworks' production of Mother's**ker With The Hat.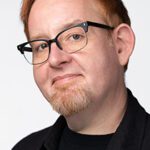 DAVID M. JENKINS [he/him] (Paul Sheldon) is a co-founder and Producing Artistic Director of Jobsite. He holds a Ph.D. in Communication (Performance Studies) from the University of South Florida, an M.F.A. in Acting from the University of Florida, and a B.A. in Theater Performance, also from USF. He has additionally studied with Moscow State University, the Russian Academy of Theatre Arts (GITIS) and the San Francisco Mime Troupe. In addition to his full-time work for Jobsite, David teaches interdisciplinary coursework in the Judy Genshaft Honors College at USF. He has been on stage in recent years in DOUBT: A Parable (Father Flynn), The Complete Works of William Shakespeare (abridged) [revised] (himself), 1984 (O'Brien), Cloud Nine (Betty/Edward), A Skull in Connemara (Tom Hanlon), and Time Stands Still (James). Recent directing credits: Hamlet, Dracula, The Resistible Rise of Arturo Ui, Romeo & Juliet, and Shockheaded Peter for Jobsite; Avenue Q and Little Shop of Horrors for the Straz Center. Creative Loafing Best of the Bay Awards: Best Stage Director (2022, 2020, 2019, 2014), Best Artistic Director (2013, 2008, 2006). Theatre Tampa Bay Awards: Outstanding Director (2017), Outstanding Featured Actor (2017), Outstanding Sound Design (2011), BroadwayWorld Regional Awards: Best Actor (2015), Best Director of a Musical (2014). He lives in Tampa Heights in a neat old house with his rad wife and a mess of critters.
PAUL J. POTENZA [he/him] (Director) has worked as an actor and director in the area for over 30 years. He performed in the first play to grace the stage of the Shimberg Playhouse: Eric Bogosian's Sex, Drugs, Rock & Roll. Potenza has worked with many Bay area theater companies including Eckerd Theater Company, The Loft, Tampa Players, Stageworks, freeFall and American Stage. He is happiest about his continued collaboration with Jobsite. In 2011, Paul was honored to win best actor in the first Jeff Norton Awards for Felix Unger in The Odd Couple, which also garnered him a Creative Loafing Best of the Bay award. Favorite roles include Edgar Alan Poe in Edgar & Emily, Ulysses in Annapurna (which won him a 2015 Best of the Bay Award), Jack in Race, The Player in Rosencrantz and Guildenstern are Dead, Michal in The Pillowman, Nick the Fire Captain in The Guys, Johnny in Frankie and Johnny in the Clair de Lune, and Arnold in The Boys Next Door. Most recently, he portrayed the MC in Shockheaded Peter. Paul is a Goldsmith by trade and has owned and operated Design One Jewelers in Clearwater, now in its forty-third year in business. Potenza shares his life with his wife Roz (the artist in the family), and their dogs Pinot and Bean who own.
CONNOR AVERILL-SNELL [he/him] (Assistant Stage Manager)
JO AVERILL-SNELL [she/her] (Lighting Design) is delighted to light Dracula. Audience members may have previously seen her lighting designs here at the Straz in Dracula, Picasso at the Lapin Agile, Avenue Q, Animals Out of Paper, Nunsense: A-Men, Little Shop of Horrors, A Clockwork Orange, Romeo & Juliet, Dr. Jekyll & Mr. Hyde, Dr. Ride's American Beach House, Shockheaded Peter, Henry V, Hand to God, Always … Patsy Cline, Twilight: Los Angeles, 1992, Frankenstein: The Modern Prometheus, SHOUT! The Mod Musical, A Tuna Christmas, or at StageWorks, Tampa Rep, freeFall, or Urbanite Theatre.
TEAH BANKS [she/her] (Props) has been a happy member of the Jobsite family since Spring 2017, when she joined as an intern. She has since worked several Jobsite shows, including: Animals Out of Paper, The Complete Works of William Shakespeare, Constellations, Dancing at Lughnasa, as well as running the matinee's for Othello and The Tempest. She would like to thank David, Newt, Ned, her mother Kelly, and step-father Tom for being so supportive and awesome.
JESSIE DORSEY [he/she/they] (Stage Manager) is excited to finally begin working with Jobsite! He has stage managed many productions throughout the bay area over the last decade (recently, ThinkTank TYA: All the Great Books (Abridged), TampaRep: The Curious Incident of the Dog in the Night-Time in rep with ThinkTank TYA: The Giver). Jessie is also currently pursuing her Doctorate in Educational Leadership with Saint Leo University.  Jessie would like to thank David Jenkins for welcoming them to the Jobsite crew!
JEREMY DOUGLASS [he/him] (Compositions) is a pianist, professional live mannequin, and leader of acclaimed megasuperband the Florida Björkestra. He's been hailed as "punctual" and "inevitable". His recent past sees him as music director for Jobsite Theater's productions of LIZZIE: A Killer Rock Musical, The Threepenny Opera, Hedwig And The Angry Inch, and Shockheaded Peter. He's composed original music for Jobsite's productions of The Thanksgiving Play, Hedda, The Complete Works of William Shakespeare (abridged) [revised], Othello, The Tempest, Meteor Shower, A Midsummer Night's Dream, Shockheaded Peter, Romeo & Juliet, The Resistible Rise of Arturo Ui, Dracula and with Björkestra cellist Tom Kersey co-wrote an original score for Jobsite's Edgar & Emily. As founder of the Florida Bjorkestra, he's brought to the stage the music of pop pioneers like Bjork and David Bowie (and also a musical from Buffy the Vampire Slayer) with his 24-piece ensemble of Tampa Bay area musical geniuses.
BRIANNA McVAUGH [she/her] (Fight Direction) is a graduate of The University of South Florida where she earned her B.A. in Theatre Performance. She is and actor/singer/dancer as well as an advanced actor/combatant certified by the Society of American Fight Directors in all eight recognized stage combat weapons. Brianna has worked as a performer professionally in productions such as A Clockwork Orange and Jobsite  here in Tampa, Florida and Unto These Hills at Mountainside Theatre in Cherokee, North Carolina. She's also been seen as a stunt performer in The Big Test Stunt Show at Legoland in Goshen, New York. Along with being a performer, Brianna is also a professional fight/intimacy director, working on shows such as House of Desires at The University of South Florida, and most recently productions of Macbeth and And Then There Were None at Florida Repertory Theatre. She has also been an intimacy director for Jobsite's production of Animals Out of Paper. Brianna is so excited to be back at Jobsite as the fight director for Misery.
ROZ POTENZA [she/her] (Costumes) is happy to be part of the Misery team.  She's been creating things in fabric for many decades, both wearable and artistic.  She competed professionally in what is now called "Cosplay" and was ranked as a Master Costumer.  She was resident costumer and an actress for eight years with the Eckerd Theater Company.  She has also created looks for many area theaters, including American Stage, Jobsite Theater, and Hattrick Theater. Roz also acts, writes and directs, and sits on the board of Lab Theater Project. Always enthused about collaborating with Jobsite, Roz looks forward to working with them even though she may have to pick a few Great Dane hairs off of something.
JULIA RIFINO [she/her] (Scenic Artist) …
BRIAN M. SMALLHEER [he/him] (Scenic Design and Technical Direction) received his education from Harrison Center for the Visual and Performing Arts, Polk Community College (Visual Arts), and University of South Florida (Theatre Design). He has been an Artistic Associate and designer for Jobsite since 1999. As a designer for Jobsite, his work has received two Best of the Bay awards; Best Lighting Design for Einstein's Dreams (2011) and Best Local Set Designer (2014). He also received Broadway World's Best Set Design for Time Stands Still and Return to the Forbidden Planet. Other select design credits include SHOCKHEADED PETER, Henry V, Hand to God, DOUBT: A Parable, A Skull in Connemara, LIZZIE, Lebensraum, Annapurna, Orlando, Twelfth Night, Macbeth, Mindgame, Picasso at the Lapin Agile, boom!, The Lieutenant of Inishmore, The March of the Kitefliers, Gorey Stories, subUrbia and Dracula. In what little spare time he has, Smallheer pursues his passion for visual arts by doing photography and painting. More info at his website bms-designs.com.
JENA RASHID [she/her] (Producing and Engagement Apprentice) graduated from the University of Central Florida with a BA in Theater Studies and a minor in music. Her career, so far, has consisted of working as a stage manager, director, playwright, actor and other roles through her schooling. Her favorite performance credits include Jessica Jewels in in The Butler Did It! for the Orlando Fringe and Understudying Rani in America in One Room at Florida Studio Theater. In her final semester of college she was an intern at the Orlando Shakes as a New Play Development intern and most recently she completed a year-long internship at Florida Studio Theater as a Literary intern. In addition, Jena still writes plays when she can, and her works can be found on the NewPlayExchange.org.
Production Staff
Technical Director – Brian Smallheer
Stage Manager – Jessie Dorsey
Assistant Stage Manager – Connor Averill-Snell
Properties – Teah Banks
Scenic Artist – Julia Rifino
Promotional Photos – Stage Photography of Tampa (SPOT)
Videography – Sickles High School TV
Online Producer – Shawn Paonessa
Producing and Engagement Apprentice – Jena Rashid
Jobsite Producing Artistic Director – David M. Jenkins
Special Thanks
Everyone at Straz Center for their belief in our vision and their unyielding support. Jobsite's board of directors and our mighty ensemble – for keeping this ship afloat. All of our fantastic season sponsors who are helping us realize our dreams. Most importantly, thanks to YOU for joining us here tonight.
Jobsite Theater's Artistic Core
Salem Brophy
Colleen Cherry
Jeremy Douglass
Roxanne Fay
David M. Jenkins
Michael C. McGreevy
Spencer Meyers
Fo'i Meleah
Andresia Moseley
Maggie Phillips
Paul J. Potenza
Brian M. Smallheer
Nicole Jeannine Smith
Katrina Stevenson
Jobsite Theater Board of Directors
Margaret Marchak, board chair
Autumn Bonsall, fundraising chair
Tim Burke
Brad Casey
Stephanie Clegg
Roxanne Fay
Elissa Getto
David M. Jenkins
Randini Meyer, board vice-chair
Tony Mutchler
Lauren Parker, fundraising vice-chair
Kim Russell, volunteer coordinator
Jobsite proudly hails from planet Earth, North American continent, in what we know can once again be called the Great State of Florida. We're the resident theater company of the Straz Center in downtown Tampa, located near the ancestral lands of the Tocobaga people. We hope to do good things and inspire others to do the same.
Jobsite Theater is a 501(c)(3) not-for-profit arts organization and all donations made to Jobsite are tax-deductible to the fullest extent provided by law.
Jobsite believes that art is for everybody, and we want to know how we are doing by you.
Contact us to give us comments, suggestions, brickbats or bouquets, ask to be added to our mailing list or request more information on what we're all about. We'd love to hear from you!
Program information and artist biographies provided by the cast and/or production company.