By Steven Dietz
Directed by Karla Hartley
Jul. 9 – Aug. 3, 2014
Thu. – Sat. 8pm, Sun. 4pm
Tickets: $28
Shimberg Playhouse, Straz Center for the Performing Arts
2014 BroadwayWorld Tampa Regional Award
Creative Loafing Best of the Bay
Theatre Tampa Bay Nominated
Patrick Stone (Steve Fisher, in his Jobsite debut), a contemporary painter, is hired to forge this final masterpiece—and finds himself squaring off across the years with van Gogh himself (Jordan Foote, a recent transplant, in his Tampa Bay debut). The result is a compelling and poetic mystery about madness, the obsession to create, and the fine line that separates truth from myth.The other three actors in the play appear in both the past and present under different guises: Ned Averill-Snell as Rene Bouchard and artist Paul Gauguin, Nicole Jeannine Smith as Hailee and Marguerite, and Greg Thompson as Dr. Miller and Dr. Gachet.
This stunning play takes place in two parallel universes: Stone's modern-day studio and 19th century France, where van Gogh is nearing the end of his life. Sometimes the universes merge, putting Stone directly into conversation with van Gogh himself in Stone's studio or in drawing Stone into van Gogh's life in the past. This play is a lyrical, gorgeous meditation on some of humanity's inner struggles – whether you are an artist yourself or not – that shouldn't be missed.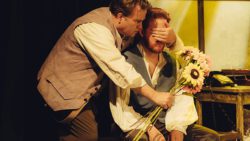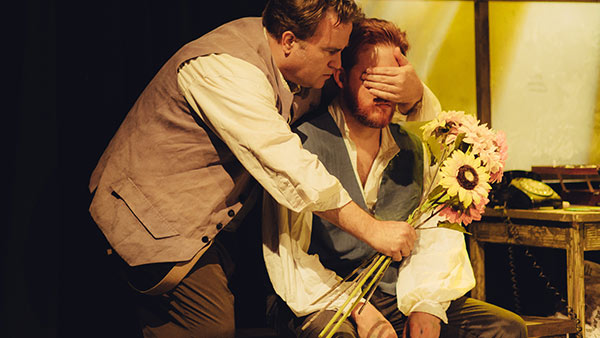 Congrats to all the Jobsite artists who won the 2014 BroadwayWorld Tampa Regional awards.
Read More »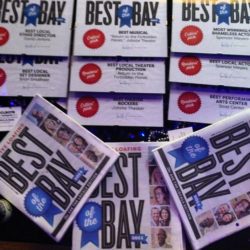 We had a blast at the Creative Loafing Best of the Bay Awards party last night! It was great to see so many friends and
Read More »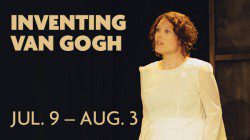 Our best deal on season tickets expires on Aug. 1, and there's only 8 performances left of Inventing Van Gogh.
Read More »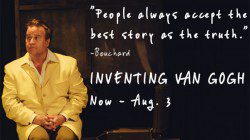 Share your favorite Inventing Van Gogh character and show some love at the same time on Facebook or Instagram. It's super easy!
Read More »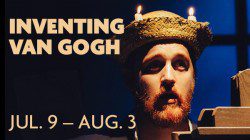 I had the pleasure of seeing Inventing Van Gogh yesterday afternoon in tech before the final Return to the Forbidden Planet performance. Damn, what a beautiful show.
Read More »
Karla Hartley – Director
Mariana Rocha – Production Stage Manager
Cast
Ned Averill-Snell – Bouchard / Gauguin
Steve Fisher – Patrick Stone
Jordan Foote – Vincent Van Gogh
Nicole Jeannine Smith – Haley / Marguerite
Greg Thompson – Dr. Miller / Gachet
Crew
Bailee Booser – Costume Designer
Kaylin Gess – Lighting Designer
Karla Hartley – Lighting, Sound & Video Designer
Paul Poppe – Assistant Stage Manager
Matthew Ray – Rehearsal Stage Manager
Brian Smallheer – Scenic Designer
Blog Us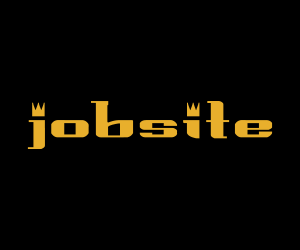 Want to add a groovy graphic like this to your blog or website?
Jobsite provides a variety of cool banners that you can put on your website. AND they update automatically. So just drop it in once, and when we're ready for our next show, we'll update the graphic, and it'll automatically update on your site too!