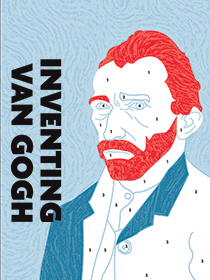 By Steven Dietz
Directed by Karla Hartley
Jul. 9 – Aug. 3, 2014
Thu. – Sat. 8pm, Sun. 4pm
Tickets: $28
Shimberg Playhouse, Straz Center for the Performing Arts
Media
Cast & Crew
Patron Reviews
Season
2014 BroadwayWorld Tampa Regional Award
Best Director of a Play – Karla Hartley
Best Sound Design – Karla Hartley
Creative Loafing Best of the Bay
Best Director – Karla Hartley
Best Character Actor Who Can Do Anything – Ned Averill-Snell
Theatre Tampa Bay Recommended
Theatre Tampa Bay Nominated
Outstanding Production, Play
Outstanding Featured Actor, Play – Ned Averill-Snell
Outstanding Lighting Design – Kaylin Gess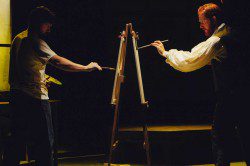 Patrick Stone (Steve Fisher, in his Jobsite debut), a contemporary painter, is hired to forge this final masterpiece—and finds himself squaring off across the years with van Gogh himself (Jordan Foote, a recent transplant, in his Tampa Bay debut). The result is a compelling and poetic mystery about madness, the obsession to create, and the fine line that separates truth from myth.The other three actors in the play appear in both the past and present under different guises: Ned Averill-Snell as Rene Bouchard and artist Paul Gauguin, Nicole Jeannine Smith as Hailee and Marguerite, and Greg Thompson as Dr. Miller and Dr. Gachet.
This stunning play takes place in two parallel universes: Stone's modern-day studio and 19th century France, where van Gogh is nearing the end of his life. Sometimes the universes merge, putting Stone directly into conversation with van Gogh himself in Stone's studio or in drawing Stone into van Gogh's life in the past. This play is a lyrical, gorgeous meditation on some of humanity's inner struggles – whether you are an artist yourself or not – that shouldn't be missed.
Cast & Crew
Cast
Ned Averill-Snell – Bouchard / Gauguin
Steve Fisher – Patrick Stone
Jordan Foote – Vincent Van Gogh
Nicole Jeannine Smith – Haley / Marguerite
Greg Thompson – Dr. Miller / Gachet
Mariana Rocha – Production Stage Manager
Matthew Ray – Rehearsal Stage Manager
Crew
Bailee Booser – Costume Designer
Kaylin Gess – Lighting Designer
Karla Hartley – Lighting, Sound & Video Designer
Paul Poppe – Assistant Stage Manager
Brian Smallheer – Scenic Designer
Patron Reviews
A wonderful play, one of the best I have seen in a long time, great cast, great lighting, enjoyed every moment. Keep them coming. – Danielle Slaugenhoupt
Via Instagram
Such a beautiful show! Well acted and directed. I love @bms_design set and Kaylin Gess lighting. @jobsitetheater has another hit. Don't miss it! #artislife #vangogh (see photo) – @dramamask17
Via Facebook
I find that anything I try to write about Inventing Van Gogh does not seem to do it justice. Go and experience this show. Jobsite has got a mesmerizing one on its hands. – Nick Hoop
GO! Great opening night – Jonathan Harrison
I just got back from seeing Jobsite's Inventing Van Gogh with the lovely Kim Goodman and it was fantastic! Cast, set, lights- beautiful! Had a wonderful time. – April Bender
Great performance. The second act was as intense as any performance we have seen. Super job by some really talented performers. We ordered our 2014-2015 season tickets before the show and am glad we did. Great acting, direction, and production. – Jerry Phillips
Hauntingly beautiful , aching poignant … Disillusioned entitlement. Such rich characters that resonated with me. Go see Inventing Van Gogh … It will mesmerize you. – Carmen Lusignan
Went last night. It was an amazing show! All the artist in me wants to do is paint the cerulean blues and Thylo greens!! So inspiring!! – Michelle Stone
Only a couple performances left but some of the best theatre I've seen in the bay. Def go. – David Harris
Saw it last night- fabulous!! – Erin O'Brien Greaser
Just saw "Inventing Van Gogh"; incredible passion in the acting of Jordan Foote; Ned Snell was amazing as he jumped from character to character; Greg Thompson slid from one person to another like changing coats and Nicole Smith was graceful as she changed from girlfriend to lady of long ago! Writing was truly amazing and set/lighting was ridiculously creative! Absolutely worn out at the end of performance! Thrilled to have been there! Many thanks to performers and staff!!!!! – Connie Worthington
We saw "Inventing Van Gogh" yesterday and I was blown away by the passion and intensity of this production! It would be impossible to say which actor was the best, as they were all incomparable! The lighting, set design, costumes, music, every facet of the show contributed to its overall perfection! Yay Jobsite!! – Melodie Oleson
Via Twitter
Oh by the way Inventing Van Gough at @jobsitetheater was so great go see it and cry as Vinnie says things about art that also apply to life – @mostlikelyRegan
Just got home from the @jobsitetheater production of Inventing Van Gogh. Wow, what an incredibly beautiful and moving piece. – @kradrussell90
But you all really need to go see Inventing Van Gogh @jobsitetheater First rate performers telling a great story. – @HoopSwoop
It was great! – @Justin_M_L
Had a great time at the @StrazCenter tonight thanks to @BrightHouseNow … @jobsitetheater put on a great play! pic.twitter.com/qL8fwFg8jd – @DatDudeKR
@jobsitetheater Inventing Van Gogh was a great finale for the 13/14 season. If you are in Tampa Bay before 8/3, head to the Straz – @cartjac
Wow, amazing production of #InventingVanGogh ! Thanks @BrightHouseNow @StrazCenter for the tickets @jobsitetheater pic.twitter.com/tM4SIDwMma – @slaughterfern
Went to see @jobsitetheater #InventingVanGogh tonight and thought it was fantastic!! – @vdpace
amazing show last night! Keep up the great work. thanks for a great night we loved #inventingvangogh  – @discodolls
@jobsitetheater #inventingvangogh #bragtag @ Shimberg Playhouse instagram.com/p/q94UE0tM3p/ – @NewMediaChic
Saw @jobsitetheater's Inventing Van Gogh last night @StrazCenter. Show was fantastic. Kinda heady, but a great look at art and madness. – TBBJWilkerson
Blog Us
Want to add a groovy graphic like this to your blog or website?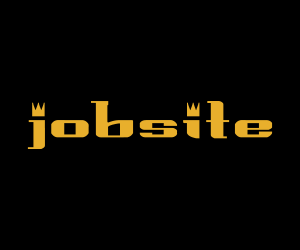 Jobsite provides a variety of cool banners that you can put on your website. AND they update automatically. So just drop it in once, and when we're ready for our next show, we'll update the graphic, and it'll automatically update on your site too!
Share: