Jobsite is accepting audition materials for our Jan. 2021 production of Shakespeare's Henry V.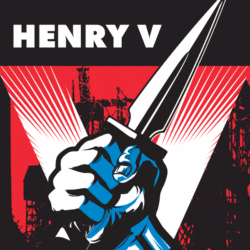 England's in tumult and who ascends the throne but playboy prince Hal—an untested royal who spent his youth slumming around London. Now crowned King Henry V, he must win the respect of a nation and lead his country to greatness in an epic battle with archnemesis France. Henry gathers his troops and marches abroad only to find himself outmanned, outgunned and outmatched. In the face of death, Henry must also face himself. Can he become the king his country needs?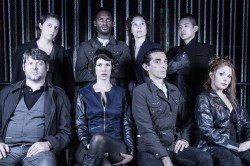 We're "rebooting" Henry V using 8 actors and a shortened text, taking Henry's timeless tale and setting it to an original, blistering industrial score by Jeremy Douglass. A high-def video design also helps transform Shakespeare's work into a modern, mesmerizing spectacle of tension, nationalism and excitement.
We're assembling a highly versatile, diverse ensemble each responsible for playing a number of characters. Please consider these points before submitting materials:
Rehearsals begin on or around Dec. 7 with virtual tablework before moving to in-person rehearsals. Actors will need a reliable device and internet access.
The production runs Jan. 13 – 31 at the Straz Center for the Performing Arts in a reconfigured-for-distance space, with an online stream also available.
Rehearsals are held weekday evenings and weekend afternoons, with Monday and Friday nights typically off during the process.
Dec. 24-25, 31 and Jan. 1 are off in honor of Christmas and New Year's, but we're unable to accommodate extensive holiday conflicts for anyone planning on leaving town beyond those dates.
This call is currently exclusive to non-union performers local to the Tampa Bay area. AEA is not currently contracting their members in the state of Florida, and we do not have the ability to offer housing, travel, or per diem for out of town performers.
All roles are paid bi-weekly on a scale comparable to AEA SAII.
Jobsite and The Straz operate with great emphasis on health and safety, following recommended practices and protocols while in rehearsal and performance. A full 54-page plan is available and will be provided to those who pass initial screening.
Jobsite is committed to inclusion, diversity, and equity in our casting practices and this is of particular importance in our approach to Shakespeare. We urge members of historically marginalized groups to submit materials. We want to know you!
Audition requirements:
A single PDF file containing a current headshot/photo and theater resume (no separate files or other formats like .doc, .png, .jpg, or .pages, please!) using the performer's name as the file name (eg Amiri-Baraka.pdf or TaylorMac.PDF).
A link to to an unlisted, private video hosted by a service like YouTube or Vimeo (no file attachments or download links to sites like DropBox or Google Drive, please!). The audition video should contain two distinctly contrasting Shakespeare monologues that actively showcase versatility no more than 4 minutes in total length.
Send the headshot/resume file and video link to auditions@jobsitetheater.org with the subject "Henry V casting," acknowledging in the body of the email that you have read and understood the above considerations.
Submission deadline is Mon., Nov. 9.
We will interview and conduct further health and safety screenings on candidates we are interested in prior to a virtual callback to be held no later than Nov. 22