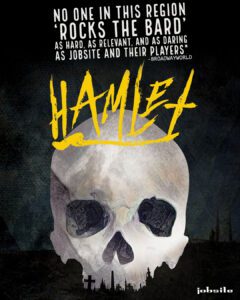 Hamlet has long been argued as "the best play written in the English language." While that might be an impossible claim to prove, its influence on culture in the 400+ years after Shakespeare first staged it is undeniable.
DYK: like many of Shakespeare's plays, Hamlet wasn't all his invention. Will actually had a few sources of inspiration that went into this soup: actual Danish history, Icelandic and Finnish folklore, Kyd's The Spanish Tragedy, and the death of his own son, Hamnet.
I've been thinking about the number of places that references to this play pop up in some way, and wanted to share a few of my personal favorites (at least my favorites today, I'm notoriously lousy with "top/best/favorite" lists).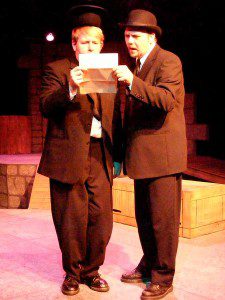 Rosencrantz and Guildenstern are Dead, by Tom Stoppard. I read this play for the first time in 10th grade and immediately fell in love. My junior year I paired with my best friend at the time to do a scene which got us a superior at both districts and state thespian festival, and led to my first performance on the Straz's Morsani Hall (then TBPAC's Festival Hall). I'd also later take on the same role (Guildenstern) at Acrosstown Rep in Gainesville in the mid '90s before playing Rosencrantz (opposite Shawn Paonessa's Guildenstern) for Jobsite in 2008.
If you're not in the know, this play is an absurdist, post-modern look at the events of Hamlet through the eyes of two characters completely left in the dark through the original. Heads!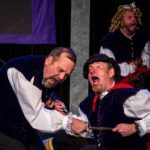 The Complete Works of William Shakespeare (abridged) [revised] actually contains 4 distilled performances of Hamlet in it: the abridged version (roughly 20 minutes), the faster version (about a minute), even faster (maybe 3 seconds) and then Hamlet backwards. Like Ros & Guil, I've been around the block a few times on this one, going back to 2001. I'm just now starting to get over wanting to laugh at many of the famous lines from the show as I hear them spoken seriously by our gifted cast. 🙂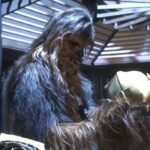 Deep cut: Star Wars: The Empire Strikes Back! Ok, while not related to the plot, this image from ESB as Chewie tries to reassmble 3PO was clearly inspired (Ivan Kershner confirmed) by Hamlet's iconic pose with the skull of Yorick. This moment had to land on this list at least as an honorable mention since it was the most influential franchise on my childhood. Alas poor C-3PO! I knew him, Han!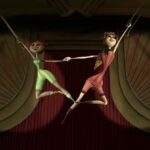 While I'm bringing up nods over overt influence, how about the trapeze act in Coraline that includes Hamlet's "what a piece of work is man" speech? This is just one more reason to love Neil Gaiman, who spent a few issues of his comic (and now Netflix series) The Sandman focusing on a Bard-centric storyline.
Ooh! Speaking of sci-fi scenes of Shakespeare, what about the Doctor Who episode where we see Francis Bacon give the Bard the idea for the play? And I can think of about a billion references to Shakespeare across all of the Star Trek franchises (his plays are always best in the original Klingon, I hear).
Soapdish, IMO one of the most underrated comedies of all time, has a scene with Kevin Kline making a pitch to perform a one-man Hamlet, arguing since the whole play takes place in his head you only need one actor.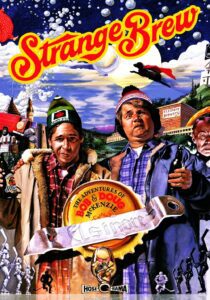 Strange Brew. Ok, this might be contentious for some, but I absolutely loved this movie as a kid. The film came out in 1983, and I'm pretty sure by 1984 it was running daily somewhere on cable. I had to have watched this 1,000x by my 12th birthday. Featuring SCTV favorites Bob and Doug Mackenzie (Rick Moranis and Dave Thomas), this flick intentional ripped-off the plot of Hamlet because, allegedly, the leads thought it was a "pretty good story" and gave them a vehicle to grow their schtick from short sketches where they just sat on a couch to carry an entire film. Taketh off, thou hoser!
As I started to piece together an inspirational music playlist for the show I couldn't shake The Birthday Party's Hamlet (Pow Pow Pow). The Birthday Party was Nick Cave's first band (and, plate of shrimp, the name is taken from a play by Harold Pinter). If you want to check what was on that original inspiration playlist, you can! While I'm talking music, what about the band This Mortal Coil, who took their name from the "To be or not be be" soliloquy?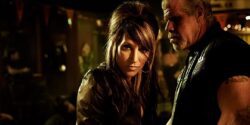 This is maybe my favorite from recent memory: Sons of Anarchy. Kurt Sutter owns Hamlet as a prime part of his inspiration, and the first season in particular feels incredibly close to the original. Instead of Danish nobility we're enmeshed in a California motorcycle club, and there is more than just one thing rotten in the city of Charming.
The son-recently deceased father-hastily re-married mother setup is obvious, but some of the characters have been completely retooled and the relationships changed: it feels like Ophelia is represented in SoA not as a love interest but as his best friend Opie (even up to the point of "suicide" – spoiler alert) and his dad Piney is a stand-in for Polonius.
Growing up in biker culture, this show's fusion with the plot of Hamlet made it an insta-hit for me when it premiered in 2008.
I'm sure I'll hit "post" on this blog and think of like 10 other things I should have included, but this is good enough for my quick and dirty take.
What's your favorite thing/s inspired by Hamlet, or favorite bit of pop culture that references it?
Hamlet plays the Straz Center's Jaeb Theater Jan. 11-Feb. 5. You may book tickets here.