The Guys
PLEASE NOTE: ALL PERFORMANCES OF THE GUYS HAVE BEEN CANCELLED DUE TO HURRICANE IRMA
By Anne Nelson
Directed by Shawn Paonessa
Sep. 8 – 25, 2011
Thu. – Sat. 8pm, Sun. 4pm
Tickets: $24.50
Shimberg Playhouse, Straz Center for the Performing Arts
Tickets
Media
Cast & Crew
Patron Reviews
Season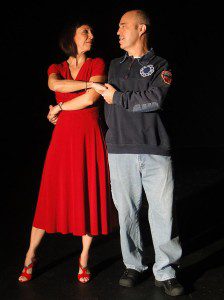 Days after 9/11, Joan (Roz Potenza), a New York City editor, is asking the same question Americans are asking everywhere: "what can I possibly do?" Then, she meets Nick (Paul Potenza), an FDNY captain who lost most of his men in the attack. He needs someone with the tools to help him craft the eulogies.
"Stark and simple, potent and poignant, brimming with edgy humanity. It's a generous, sad, touching play about the braveries of grief." – New York Post
The afternoon meeting turns to evening, as Nick and Joan recall these ordinary guys: their humor, their faults, their passions. In the process, they discover the possibilities of friendship, their shared love for the unconquerable spirit of the city, and of course, the tango. They realize that the common thread that made these men extraordinary is the same merit that can help unite and heal us all: brotherhood.
The Guys is based on a true story.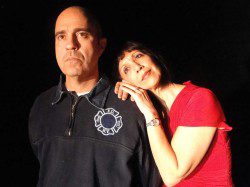 "To me, it's not about September 11," says Director Shawn Paonessa. "It's about September 12. September 12, 2001 and 2011.
"While the piece is still a remarkable tribute, in a way it bears a greater relevance now. Through all the war, patriotism and politics since 9/11, we've lost focus on the spirit, compassion and humanity we all shared in the aftermath. The Guys is a refreshing reminder that we still have that in us. That's what these guys died for. That's why we're bringing this show back."
Production History
Anne Nelson's The Guys was written in just nine days. It almost immediately opened at Tribeca's off-off-Broadway's The Flea and starred Bill Murray and Sigourney Weaver. Since then, stars of stage and screen have taken turns in this piece across the country, as well as a film version starring Weaver and Anthony LaPaglia.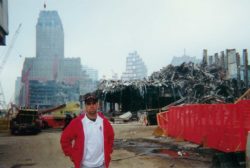 The Jobsite production began when Jobsite Artistic Associate Paul Potenza traveled to New York City shortly after September 11th and was given a tour of Ground Zero by his brother-in-law Tommy DaParma, a fireman and Queens Trustee for the FDNY. It forever changed Paul's life. The following January, Paul saw the original production of The Guys, and he knew he had to bring this important work to Tampa. DaParma put Paul in contact with Anne Nelson to get the project moving.
Jobsite originally produced The Guys, directed by Brian Shea on Sep. 3 and 10, 2003, in the Jaeb Theater, TBPAC, and toured the production to Tampa Preparatory School and Blake High School.
Jobsite produced an encore memorial performance of The Guys directed by Brian Shea and associate directed by Shawn Paonessa on Sep. 9 and 11, 2006 at Clearwater Central Catholic High School and the Jaeb Theater respectively.
Proceeds from the productions benefitted the widows and children of the FDNY, the Hillsborough County Firefighters and the Tampa Firefighters Museum.
Jobsite produced The Guys, directed by Shawn Paonessa, as part of its mainstage season, Sep. 8 – 25, 2011 in the Shimberg Playhouse at The Straz Center.
"One of the most important shows the company has done all year … The play's beauty lay in its honesty. It wasn't maudlin, depressing or angry … both actors generated a sense of kindness and empathy. Their work on stage, Paonessa's direction and Nelson's dialogue actually created a 'safe place' in this tiny corner of the world – an impression of security in the arms of human generosity and goodness." – Tampa Tribune
"This is theater in the ancient sense: as a religious act, a call to fundamentals…. The acting is first-class…. These two fine performers can make even the incredible seem likely … scrupulously directed by Shawn Paonessa on Brian Smallheer's elegantly simple set." – Creative Loafing
Shawn Paonessa – Director
Cast
Paul J. Potenza – Nick
Roz Potenza – Joan
2011 Crew
Miriam Rochford – Stage Manager
Crew
Greg Newcomb – Poster Artist
Shawn Paonessa – Sound Designer
Roz Potenza – Costume Designer
Brian M. Smallheer – Scenic and Lighting Designer
Kyle White – Choreographer
Via Facebook
Loved it! Congrats to Roz and Paul, and all the folks behind the scenes, for a moving, funny, touching piece of entertainment. – Paige Gilley
Loved the show! The acting was superb as always. – Kelly Lamb Feinerman
Saw The Guys at Jobsite Theater last night. Stunning performances, beautiful production, we've seen this before but never with such emotional power. Don't miss this very important play. – Susan Oliver
I thoroughly enjoyed Jobsite's production of The Guys last night. It's a heart-wrenching show about the after effects of 9/11 that made me laugh and even tear up a little. Paul and Roz were amazing and Brian did another great job with the set. I can't say enough good things about this show. You need to go see this and it runs until 09/25. – Kim Smallheer
Went and saw The Guys tonight. Amazing work by Roz Potenza and Paul Potenza, fabulously directed by Shawn Paonessa and a beautiful set and lights byBrian Smallheer. Please see this beautiful and poignant show. – Kari Goetz
Amazing play. Go see it!!!!! – Rebecca Becnel Heimstead
Saw the last showing of Jobsite Theater's production of The Guys – a truly great show! Looking forward to the rest of the 2011-12 season. – Vinny Tafuro
Via Twitter
Don't miss @jobsitetheater 's production of The Guys. You'll laugh and learn a little about who we lost that day. – Sam Wills
Just saw The Guys at @jobsitetheater in #Tampa. Serious at times, light-hearted at others. Really is worth seeing. – SkajaW
Blog Us
Want to add a groovy graphic like this to your blog or website?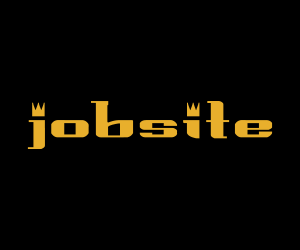 Jobsite provides a variety of cool banners that you can put on your website. AND they update automatically. So just drop it in once, and when we're ready for our next show, we'll update the graphic, and it'll automatically update on your site too!
Share: