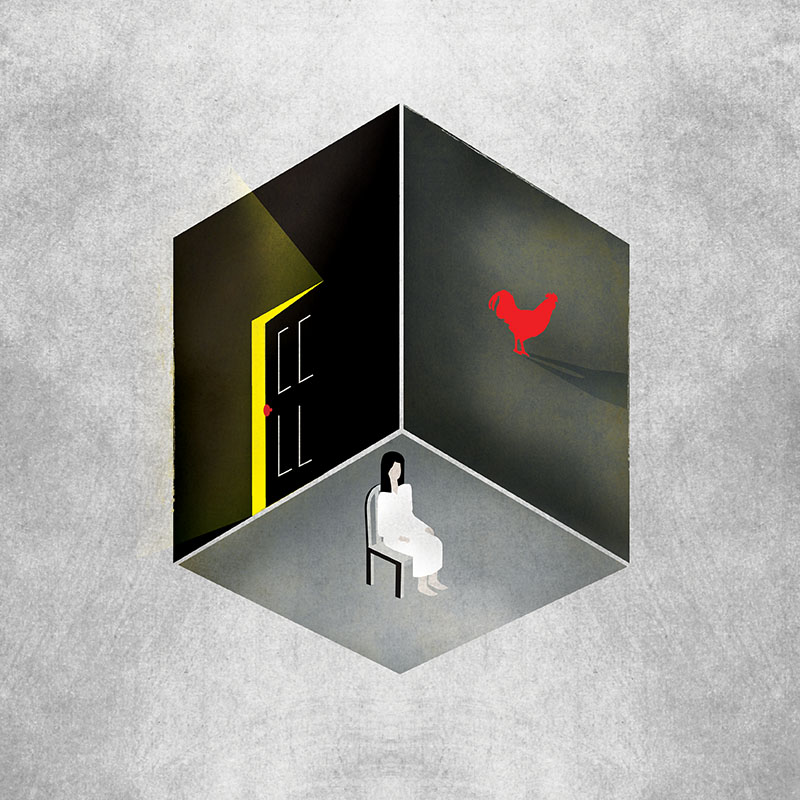 By Radha Bharadwaj, based on her 1991 screenplay
Directed by Gavin Hawk
Jul. 12 – 29, 2012
Thu. – Sat. 8pm, Sun. 4pm
Tickets: $24.50
Shimberg Playhouse, Straz Center for the Performing Arts
Creative Loafing Best of the Bay
After a successful run of David Mamet's Race, which engaged bay area theatergoers in a powerful dialogue in and out of the theater, Jobsite hopes to do the same with a story dealing with human rights, censorship, and the enduring power of the human spirit: Closetland.
In an unnamed country, in unspecified times, a man purporting to be the government's representative (David M. Jenkins) interrogates a female author of children's fiction (Katrina Stevenson) on the grounds that her harmless story of children and farm animals, Closet Land, is politically subversive.
This begins Radha Bharadwaj's powerful and terrifying play that ultimately links political, state-sponsored violence with intimate, personal abuse, asserting that both forms of violence stem from the self-same root. This work explores the psychological landscape of those who engage in torture and aggression, while also defining the nature of courage and resistance. Its gripping, unflinching scrutiny of both, and its sweep and power, earned the film that the play was based on (also by Bharadwaj) the status of a cult classic.
Longtime fans of Jobsite can expect an intense two-person production that hearkens to previous successes: The Pillowman by Martin McDonagh and Harold Pinter's One for the Road.
Bharadwaj won special kudos for capturing the nature of violence and violence against a woman, in particular, without resorting to exploitative gore. She trusts the viewer's imagination to fill in the blanks, and the viewer is, in turn, left with a deeper understanding of why some human beings violate others – and why some manage to soar above the abuse.
Jobsite is currently working with several organizations that deal in abuse and human rights and plans on working with as many as possible during the run of the show, including another post-show public forum. The post-show forum after Race was a highly successful event, and the company is still receiving feedback and requests for more information from attendees and non-attendees alike. More details on the partnerships and public forum to come as soon as all details are finalized.
Warning
Closetland contains adult language, subject matter, and some staged violence is intended for adult audiences only.
Events
Jobsite is hosting a collection drive during the run of Closetland to benefit The Spring of Tampa Bay. We will accept the following items in front of the theater Thu. – Sat. nights between 7 and 8pm, and Sun. afternoons from 3 to 4pm.
The items in need are:
New children's clothing
Personal hygiene products
Health and beauty aids
Diapers
Gavin Hawk – Director
Matthew Ray – Stage Manager
Cast
David M. Jenkins – Man
Katrina Stevenson – Woman
Crew
Gavin Hawk – Sound Designer
Greg Newcomb – Poster Artist
Brian M. Smallheer – Scenic/Lighting Designer
Katrina Stevenson – Costume Designer
Margo Stewart – Asst. Stage Manager / Run Crew
You always know a production is good… when you are so riveted to your seat that you forget time. And you always know when the actors are the best when you forget not only any prior part they have had in the past, but you also forget that you know them personally. That is what Closetland did for us on Sunday. It was the best drama Jobsite has done since Yellowman. Congrats! People NEED to see this show! – Dona & John H.
In an era where standing Os are commonplace, last night's performance truly was deserving of the accolade. The audible and collective reaction followed by the noticeable pause prior to the applause and standing O, solidified the actors' success in keeping the audience simultaneously off balance and engaged. Bravo, Katrina and David. – Scott Lynch
Closetland is fantastic. But be warned before you go… Its intense. – Nick Riggs
WOW! Bravo to David Jenkins and Katrina Stevenson. Thank you for a powerful, gut wrenching, brilliant Friday night. – Mariaelena Bartesaghi
It was hard to watch but reminded me how incomplete my life would be without art. – Dawn Morgan
Chilling, thought provoking, even at times shocking. Cast was excellent! Absolutely worth seeing, but it's not for the faint of heart. – Rick Stutzel
Whatever you have going, catch a performance of Closetland at Jobsite Theater with David Jenkins and Katrina Stevenson. Intense look at the violence of tyranny of all forms. Three week run. It's a powerful experience and you'll leave stronger. – David Harris
If you have the opportunity, go see this! Intense, intimate, intricate—challenging, cutting, critical. The performances are subtle and explicit at the same time, a lot like the story itself. The sound is unsettling and industrial, echoing the lighting and staging, which all work to highlight the focus of the play—that being the disquieting, powerful, and raw-yet-refined performances by David and Katrina. Experience Closetland for yourself, while you still have the chance! – Chris Patti
Thanks for a moving and chilling performance, David Jenkins and Katrina Stevenson! Brian Smallheer you had me at Jenkins' first entrance with the film-noir-like lighting. It was all so well done. Go see this if you haven't, but make sure you're in a mellow state of mind as this is one tense, disturbing play! – Julie Garisto