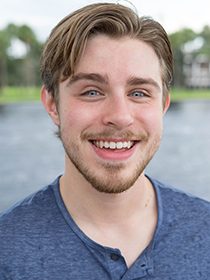 Evan Fineout is eternally grateful for each and every opportunity to work at Jobsite. He made his debut in 2021 as Timothy in Hand to God and has also worked in the area with companies such as Stageworks Theatre and Hat Trick Theatre.
Evan discovered his affinity for playing characters and telling goofy stories when he moved to St. Pete, in 2011. He's spent the past decade dabbling in theatre, comedy, and film in the Tampa Bay Area and is excited to pursue his next phase of artistic growth as he moves to Chicago this summer with his girlfriend, also named Evan, and his step-doodle, Oliver.
Evan dedicates his final performance whilst living in Florida to the man who helped him realize it just might be possible to do this thing for a living, Scott Cooper.