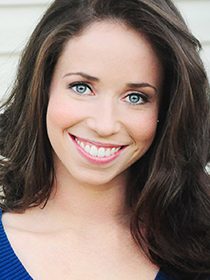 Danielle Barnes is honored to be joining Jobsite as the new 2021-22 Arts Administration Apprentice. Hailing from Fort Myers, she earned her B.F.A. in Musical Theatre from UCF in '08, and is now a graduate student earning an M.A. in Musical Theatre, also through UCF.
As a performer, some of her past credits include: national tour: 7 Brides for 7 Brothers (Ruth/dance captain); regional: Mamma Mia (Sophie), Chicago (Mona/Go-To-Hell Kitty), Charlotte's Web (Charlotte A. Cavatica), Swing! (Dancer), CATS (Jellylorum/Griddlebone), A Christmas Story (Mother u/s, show captain), Shrek The Musical (Wicked Witch/dc), South Pacific (Dinah/Nellie u/s), My Fair Lady (Eliza Doolittle u/s, dc), Phantom (Fleur), Funny Girl (Emma), Sister Act (Sister Mary Steven), et al. 
Her theatre career extends beyond the stage; she is also a pianist/accompanist and music director. Some past credits include: with Prather Entertainment (The Broadway Palm and Dutch Apple Dinner Theatres): Crazy for You (music director/pianist), Hairspray (md/pianist), The Music Man (pianist), Church Basement Ladies: Rise Up, O Men (md), Phantom (associate conductor/pianist), Ring of Fire (pianist); regional: Mamma Mia (conductor/pianist; Suncoast Dinner Theatre), Music of Denali (Pianist/actor; Holland America/Princess), Cirque Musical Holiday Spectacular (pianist; Amalie Arena), La Cage aux Folles (Keyboard 2; New Phoenix Theatre), Divas and Happy Holidays! (md/pianist; Herb Strauss Theater), Chasing George Washington (md; Orlando Repertory Theater), et al. She is also currently serving as an accompanist at the University of Tampa. 
When not in a theatre, Danielle can be found listening to true crime podcasts, day-dreaming about flying, or eating nachos.