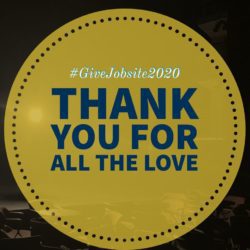 We are so thankful for your support of our online day of giving on Tue., Apr. 28. You completely blew away our every expectation, and your generosity will help ensure our work will continue without compromise once the current crisis passes. Last year we raised almost $21,000 with this event (a one-day fundraising record at the time), and were uncertain if perhaps our 2020 goal was too high at a time like this — or if proceeding with the day was even appropriate.
By the time the clock struck 12 last night and Jenkins made good on his promise for a Jobsite Drunk History session if the day took in more than $30,000. The final total on the day was $31,130. 
We're also happy to announce the winners of the daily drawings, we'll be in touch soon to set you up. All other owed perks like swag bags will be mailed out as soon as we can pack them up and get them out the door. If you are one of the hourly drawing winners and you have a special request what you'd like from our Merch Store, take a look and send us a note! We're happy to oblige if we can (doesn't cover tickets, passes, Rock Star, etc, but any actual merchandise). We also have some special packages/gift bags/certificates from awesome neighborhood businesses.
Dr. Ride's American Beach House winner (1st donation): Nick Hoop
9a drawing: Pete and Carolyn Terzian
10a drawing: Jeanne Piazza
11a drawing: Phyllis Gocklin
12n drawing: Brenda Lovell
A Clockwork Orange winner (noon drawing): D Granke
1p drawing: Kathryn Lee
2p drawing: Amy Gray
3p drawing: Amanda Kinderman
4p drawing: LeRoy Mitchell, Jr.
5p drawing: Sabrina Jakway
6p drawing: Brendan Regan
7p drawing: Kimberly Pacini
8p drawing: Laura Mulligan
9p drawing: Chris and Briget Hart
Hand to God winner (last donation): Tiffany Schilling
Random Rock Star package for 2 from all donations on the day: Joseph Michael-Kenneth
Rock Star package for 2 for the largest gift of the day: Bradley Speck and Chris Sgarlata
"Good Effort" Special Prize for the Most Donations Throughout the Day: Chris and Briget Hart
Once again, thank you for all the love. We are ebullient to have such committed fans, and sincerely humbled by your generosity.
If you missed the event and still want to contribute to our 2020 Annual Campaign, you may do so here.