Board of Directors – Chair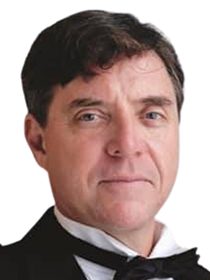 My name is Anthony J. Mutchler, but most people call me Tony. My clients call me Dr. Tony, at least when things turn out alright with their pets whom I treat at the clinic where I work as a veterinarian. They may have other names for me if things don't work out quite as well as they had hoped. My daughters, both of whom recently graduated with high honors from USF, call me Dad, at least to my face.
My involvement in theater dates back to my early teens, when I started acting in productions staged by the Tampa Little Theater. I continued acting, with a bit of set construction and deconstruction mixed in, at other local theater groups, including the Tampa Players, until my daughters were born over twenty years ago. As a teenager, I also appeared in multiple local and national TV commercials, though I somehow managed to avoid the pitfalls of early fame. (All kidding aside, my grandparents in Philadelphia were the only people, other than my immediate family members and close friends, who recognized me from commercials.)
After my last role — as Jacob Marley, in a 1998 production of Scrooge — my interest in the theater has continued from off-stage as I have attended dozens of productions, ranging from Broadway shows to community theater plays. My wife, Jamie, and I first began attending Jobsite productions in 2015 and became Jobsite patrons in 2016. In addition to supporting Jobsite, Jamie and I are involved in working with and contributing to other non-profit groups, including the Crisis Center of Tampa Bay, the Leukemia and Lymphoma Society, Meals on Wheels, and the St. Petersburg Free Clinic. I have also served needy pets by providing veterinary services for various animal-rescue groups in the Tampa Bay, Ocala, and Jacksonville areas.