An Evening of Local One Acts
An Evening of Local One Acts
Directed by Caitlin Eason
Jan. 18 – 19, 2015
Sun. – Mon., 8pm
Tickets: $10 at the door; FREE for Jobsite season ticket holders.
All tickets sold at the door.
Shimberg Playhouse, Straz Center for the Performing Arts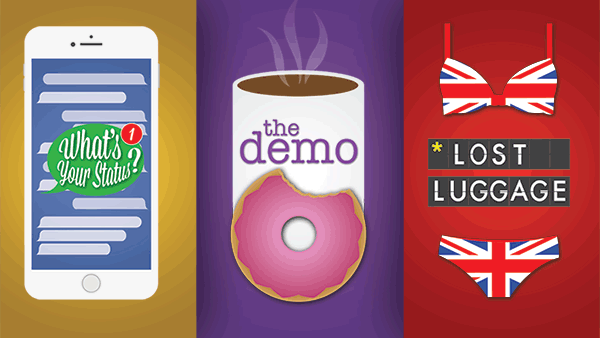 What's Your Status?
By Shaina Sine
Sick of technology's influence on her relationships, one woman decides to throw caution – and her sanity, according to her best friend – to the wind and embark upon the dating scene without mining the World Wide Web for information. But can her suitor do the same?
The Demo
By Graham Morris
Everything is not what it seems at the offices of VisionTech. Computer programmers must scramble to get their work done against an impossible deadline, but at the same time, find they must also solve a mystery. A dim-witted Starsky and Hutch of the computer world, an ambiguous boss, a beautiful intern, and a guy named T-Bone. Hard to believe any of them could pull of a heist like this…but someone did. Or did they?
Lost Luggage
By Shaina Sine
Two American girls set out for a tour of Europe – but as soon as they land, chaos ensues as their luggage is lost, along with their hopes of a relaxing trip abroad. A couple of local lads appear to assist, they may not be who they seem.