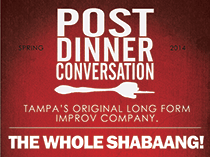 by Post Dinner Conversation
May. 18, 2014
Sun. 8 pm
Tickets: $10 at the door; FREE for Jobsite season ticket holders.
Shimberg Playhouse, Straz Center for the Performing Arts
Job-side Productions
Season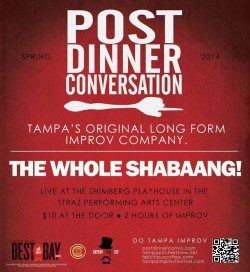 For the first time ever, Tampa's original long form improv company comes together for one big night in the Shimberg! Featuring their own Tampa-grown style of long form improv, it's a full force show that pushes the boundaries of comedy and roasts the traditions of improv theater.
Having worked with some of the best in the business, PDC combines Chicago, New York, and Boston-styles of long-form into a "flash-form" approach of game play and scene work that's wickedly serious, dangerously funny, and utterly captivating. Featuring Harold, Armando, Duo play, and Improv 360, watch over 30 players in the best dramatic and comedic improv performances the bay has to offer.
Players
Nicholas Riggs, Hannah Prince, Carlos Hernandez, Jessica Sarris, Matt Rhoades, Zach Mouriz, Patrick Daley, Ricky Romeu, Murphy Barthe, Jules Lopez, Daniel Lattimore, Luan Pham, Claire Samuels, Scott Smith, Kelly Kowalski, Vangeli Boussias, John Peterson, Ian Dibble, Kris Orwig, Jarory deJesus, Griffin Pelaia, Mikey Hall, Sara Savitz, Tyler Sloan, Daniel Iglesias, Alex Collado
Go to the official Post Dinner Conversation website.
Share: