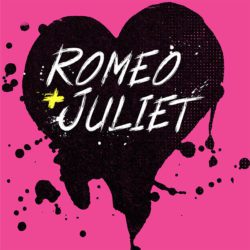 Jobsite is accepting materials for our Jan./Feb. 2022 production of William Shakespeare's Romeo & Juliet. This is a 7-week contract (extendable to 8), paid bi-weekly. 
20 years after establishing a Tampa Bay area tradition, Jobsite finally tackles the Bard's most famous play. It's 1985: an unprecedented epidemic and social unrest compete for the soul of our nation (sound familiar?) as Romeo and Juliet, the offspring of sworn enemies, defy their world by choosing love over hate. As relevant today as it was in 1595, this production uses the backdrop of the 1980s to explore the entrenched polarization that dominates contemporary culture and the tragic costs of intolerance and division. Jobsite's Romeo & Juliet features an 80s-influenced original score by resident composer Jeremy Douglass and high-definition video design by director David M. Jenkins. Jobsite's approach to Shakespeare has historically been powered by sociocultural influence, and this will be no exception with inspiration drawn heavily from two other pastiches set in the 1980s – Stranger Things and the graphic novel Prince of Cats.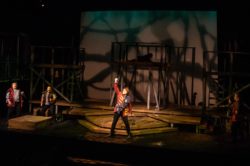 Romeo & Juliet is performed in the Straz Center's Jaeb Theater (now at 80% capacity) for three weeks, Jan. 12 – Feb. 6, as both part of our  2021-22 season. 
Rehearsals begin Dec. 11, working weekday evenings 6:30-10:30pm and weekend afternoons 1-5pm.
PLEASE NOTE: this show rehearses through a major holiday season. While Dec. 24-25 and Dec. 31-Jan. 1 are off, we cannot accommodate folks otherwise not available due to travel or overlapping bookings during this time.
The show runs Thu. – Sat. evenings at 8pm and Sun. at 4pm. All personnel are called 1 hour prior to curtain.
Weekday field trip matinees for middle and high schoolers are scheduled at 10:30am on Jan. 18-19, 25-26, and tentatively on Feb. 1-2. Performers must be available for all dates, confirmed or tentative.
This call is exclusive to performers 18 years and older in the Tampa Bay area. We cannot offer housing, travel, or per diem for out of town performers.
All roles are paid bi-weekly on a scale comparable to AEA SAII.
Jobsite and The Straz operate with a great emphasis on health and safety, and while information changes frequently we keep protocols public and up-to-date.
All performers passed to callbacks must submit proof of full COVID-19 vaccination.
Jobsite is committed to inclusion, diversity, and equity in our casting practices. 
Audition requirements:
Members of Jobsite's Shakespeare company from Henry V, A Midsummer Night's Dream, Othello, As You Like It, or The Tempest do not need to submit but should instead email David M. Jenkins to open a discussion.
A single PDF file containing both a current headshot/photo and theater resume (no separate files or other formats like .doc, .png, .jpg, or .pages, please!) using the performer's name as the file name (eg Amiri-Baraka.pdf or TaylorMac.PDF).
A link to an unlisted video hosted by a service like YouTube or Vimeo (no file attachments or download links to sites like DropBox or Google Drive, please!).
The video should be no more than 3 minutes in length and comprised of two contrasting Shakespeare monologues that showcase character range (not just emotional state). All performers in R&J play multiple characters.
Send the headshot/resume file and video link to auditions@jobsitetheater.org with the subject "R&J casting,"

acknowledging in the body of the email you have read and understand all considerations and stipulations in this call.

Deadline is Wed., Aug. 4. We will not follow up with submissions that don't conform to the guidelines.
Callbacks are scheduled for Mon., Aug. 16 from 6:30-10:30pm. Proof of full COVID-19 vaccination at least two weeks prior to this callback must be presented to receive callback information.