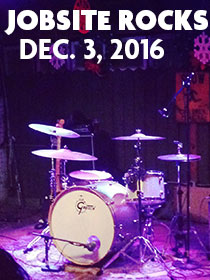 Jobsite has been hosting an end of the year party/fundraiser at New World Brewery for well over a decade. It's always a relaxed evening of great music, great raffles, great friends, and great food and drink on our favorite sleepy corner of Ybor City.
We're continuing the variety show format that we brought in last year! We're drawing from every possible circle in the Tampa Bay area to bring together artists of every discipline as well as some of our best/brightest/most notorious who just want to moonlight or try something out for fun.
Attendees will enjoy live music, stand-up, storytelling, recitations, and who-knows-what-else, while sitting comfortably at a table under the canopy or in the open-air biergarten, or from a bar stool while enjoying the ice-cold AC indoors (hey, it could be 90 degrees or 40 on Dec. 3, we're just trying to be prepared.)
Raffle Prizes
Another core part of any Jobsite Rocks! event is the raffle, where we offer a wild assortment of prizes donated by all manner of Bay area business. Raffle tickets are $4 each, three for $10 or get your string of lucky seven for just $20. All proceeds go to support your friendly neighborhood theater company!
Raffle Prizes Include
New World Brewery
New World Brewery is tucked away in a sleepy corner of Ybor City and features dozens of import and microbrew beer on draft, and dozens more in the bottle, all in a lush beer garden setting. New World Brewery is located at 1313 8th Ave. E and is a 21+ establishment.
New World is in many ways a home away from home (next time you're on the patio look around for the final typewriter David Jenkins smashed with a golf club in True West hanging on the wall).
Can't Make It?
All donations are tax deductible to the extent provided by law. Jobsite will also offer receipts to anyone requesting them for their records at the event.
Share: