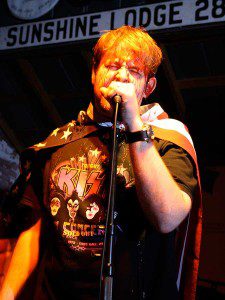 That's right, on December 7, Jobsite Theater celebrates hatching a crazy idea for a theater company some 15 years ago. Now the resident theater company at the Straz Center, Jobsite is a fixture of the Tampa Bay arts and entertainment scene. Doors are at 8pm with the program starting at 9.
Please join us at New World Brewery for a fun-filled evening of live music, dancing, karaoke, raffles, and carousing with your favorite Jobsiteers.
Admission is a minimum donation of $8 at the door, but Jobsite urges attendees to give what they can as every penny benefits the theater directly. Receipts for personal or tax purposes will be available as Jobsite is a 501 (c)(3) tax-exempt not-for-profit organization and gifts to Jobsite are full tax-deductible to the extent provided by law. Interested parties may also sign up at the event to become an official donor; information on levels and benefits of giving will be available.
New World Brewery
New World Brewery is tucked away in a sleepy corner of Ybor City and features dozens of import and microbrew beer on draft, and dozens more in the bottle, all in a lush beer garden setting. New World Brewery is located at 1313 8th Ave. E and is a 21+ establishment.
Musical Guests
Scott Harrell
Poetry 'n Lotion
Late-night karaoke featuring KJs Stevan J. Polansky and Robert Ryan!
Raffle Prizes & Silent Auction
The ever-popular Jobsite Rocks! raffle features gift certificates and baskets of goodness from local businesses like The Hub, The Independent, The Refinery, Sherry's Yesterdaze, and Microgroove Records among others.
Raffle tickets are $2 each, 6 for $10 or get your string of lucky 13 for just $20.
All proceeds go to support your friendly neighborhood theater company!

Can't Make It?
All donations are tax deductible to the extent provided by law. Jobsite will also offer receipts to anyone requesting them for their records at the event.
Share: